When we are willing to buy hair, some new problems come to us. We can understand Brazilian, Peruvian Indian and Malaysian hair. We can also understand straight, body wave, loose wave, or any other kinds of style. But what's the virgin hair and remy hair? And if you want to but the hairs , how to choose from the both? OK, now I will introduce the two hair.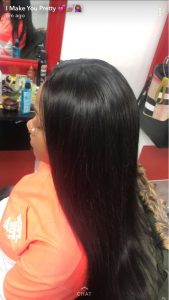 Virgin hair is not remy hair and remy hair is not virgin hair, there are always difference between the two kinds of hair. Maybe you had seen many different blogs to show the difference, but actually they use the specific words to give you a describe, maybe you think it's very fashion and professional, but do you really understand that? So, I will introduce it to you in a easier way in order that you can have a fully understanding of the difference between them.
Virgin hair, the bundles are only made from one person, it will not accept the other one's hair. What does that mean? It means the quality and the hair is all the same in one way. When it goes through industrial processing, it will use some way to make it looks better. But don't worry it will not be harmful to your body because it don't go through with chemical. After that, the process was over. So, the virgin hair have these characteristics. Same hair, natural black color, no damage, not be dyed or blenched, even not go through chemical process. All are natural.
Remy hair, which the cuticle is intact, and running from one direction. If you get a remy hair, just use your finger to run from one direction, if no hair shed, congratulation, you get the high quality remy hair. Because the hair comes from one person, so it will look more natural, even you wear the wig, but in other eyes, it's not wig, it's your hair. Also, remy hair lasts litter longer than the non-remy hair. You can wash it, but remember to take care of the hair, cause it was go through the chemical processing, but don't worry, it will not be harmful to you. After wash for some time, it will make the chemical out of your hair, so the hair may get tangle or shed more than before.
So, how to choose the hair? I do suggest you to get virgin hair which is much longer for using. This kind of hair also can be dyed and blenched. You can also color it with the color you like. Hope you are more beautiful with the virgin hair.
Any question contact with me.
Email: admin@recoolhair.com
Website: www.recoolhair.com