A month ago, i custom my new wig using hair provided by Recool hair, Since then, I've been enjoying being about that wig life and tried many different hairstyles. There is often a misconception that wigs require less maintenance than regular hair weaves or extensions, but I find out that this is far from the reality. If I simply flung on my wig in the morning and walked out the door, it's most like that my hair would looks like a mess. In fact, wigs require careful maintainance and accurate application, and it needs to be styled everyday to get the most flattering and realistic look. If you're looking for some tips and suggestions on how to take care of your wig so that it will lasts longer then you've come to the right place.
Proper care and the use of specially-formulated hair products will extend the life of your wig. How often you wash your wig depends on how often you wear it. The general rule of thumb is every 6-8 wearing days, or about once a week.
Here is the steps for cleaning and conditioning your wigs:
1. Clean your wig:
Using a wide-tooth comb to brush your hair and remove tangles gently, turn inside out. (Do not comb curly hair; Using your finger to style it after washing.)
Soak for 5 mins in a solution of cold water and a cupful of our shampoo.
Swirl gently without wringing or rubbing the hair.
Rinse in cold water and turn right side out again.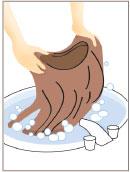 2. When your wig is wet
Do not wring, rub, twist, comb or brush the hair.
Place on wig stand or a tall wig stand for longer wigs. (Avoid using a Styrofoam styling head when wig is wet, as the cap may stretch).
Spritz thoroughly with our conditioner.
leave the wig to air dry at room temperature.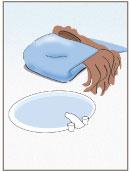 3. WHEN DRY
Brush, comb, pick or finger-style into your desired look. Never brush a curly synthetic wig; finger-style it or use a pick comb. When brushing a human hair style, start at the ends and gently work your way to the root.
Note: 100% human hair styles can be curled, straightened, blown dry – even custom cut.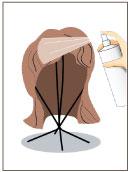 4. MAKING THE LOOK LAST
Always keep your own hair clean to avoid washing frequency.
Use our wig care products to extend the life of your wig.
Store your wig on a Styrofoam styling head when not in use.
Keep an extra wig on hand to allow for proper cleaning time.