Every woman wants to have a fashionable and beautiful hairstyle. Braided updos, many black women are very fond of it. You can create various beautiful and attractive braided updos. You will gain an elegant appearance or a wild appearance. Regardless, you will be an attractive presence on various occasions, highlighting your elegant, noble, lonely, or proud and confident temperament.
If you need some beautiful styling references, today's blog will share and recommend 8 super popular braided updos for you. Hope this blog can be beneficial to you, please continue reading.
8 beautiful braided updos for black women
1. High bun with burgundy braid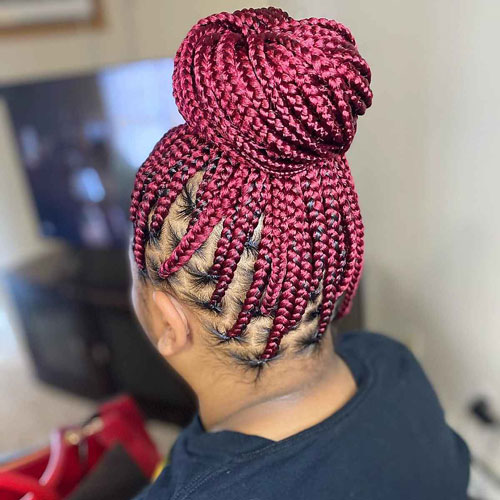 In this style, the color of hair is its characteristic, which is a gorgeous dark red shadow wrapped in a high bun. You will be amazed, and this style will look amazing on special occasions.
2. Low bun with side braids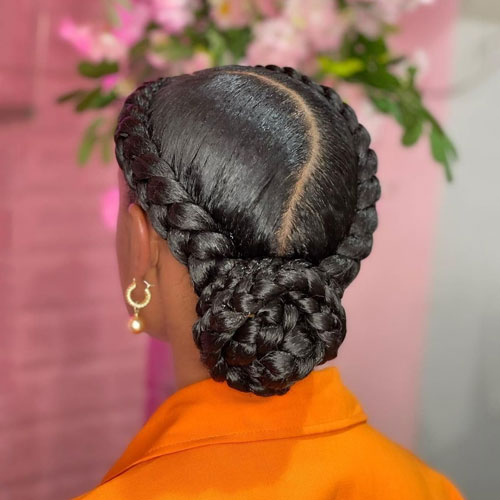 This high bun is characterized by a side braid and a low bun. And the fashionable golden hair band adds icing on the cake to your style. Of course, you can also choose to use other hair bands with different colors, and freely mix colors to get your favorite appearance, which adds countless possibilities to your modeling and better shows your personality.
3. A bun with fashionable loose braids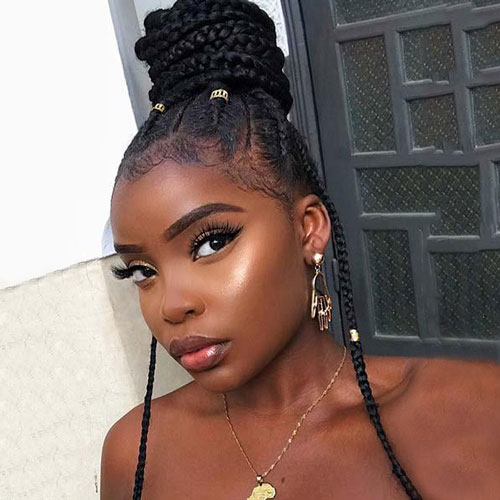 This is an amazing braid bun. The braid on the head consists of a thin braid and a thick braid, and then the hair is made into a high bun. There are two loose braids in front, and the overall appearance is very dynamic, with a good sense of spatial layering, which is a fashionable, avant-garde but attractive style.
4. Weaving space buns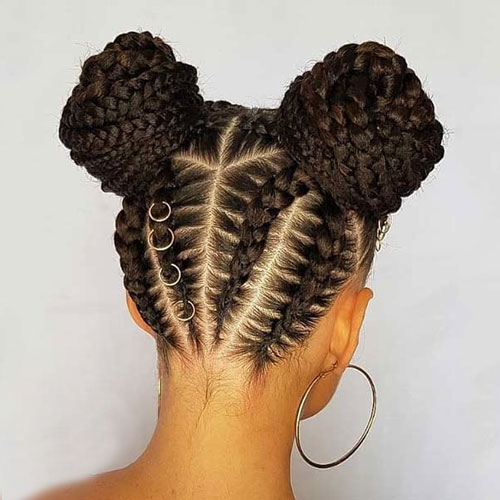 This is an interesting and lovely new look. This model has two woven space buns. The high bun with double bun is fashionable and full of energy, which makes your style lively.
5. Like inverted large ears of corn with a bun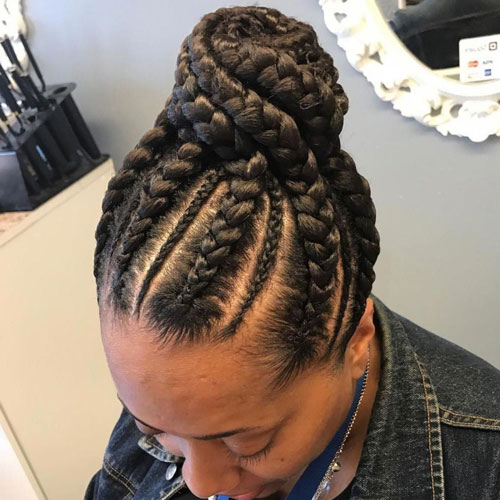 This hairstyle is suitable for a long face or a diamond face. You can weave your hair into thick ears of corn. The ears of corn are smaller at the bottom and get bigger when you get close to the center of your head. Then bundle the ears of corn into a unique bun. Simple in shape, easy to operate, and good protective hair for those with sparse hair.
6. Weave side buns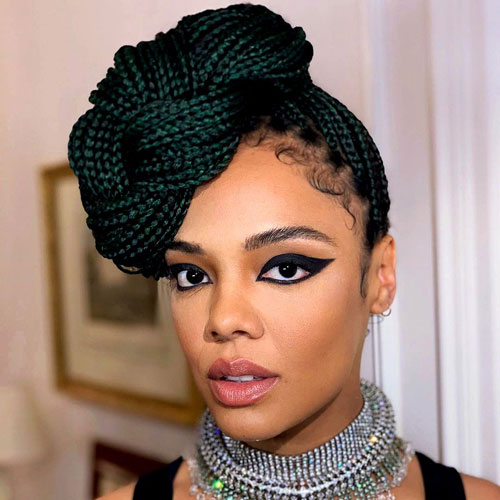 This is a very simple and fashionable braided updo! Perfect for your leisure or party. When you make a side bun with beautiful braids, the rate of turning back is not less.
7. Zig-Zag braid bag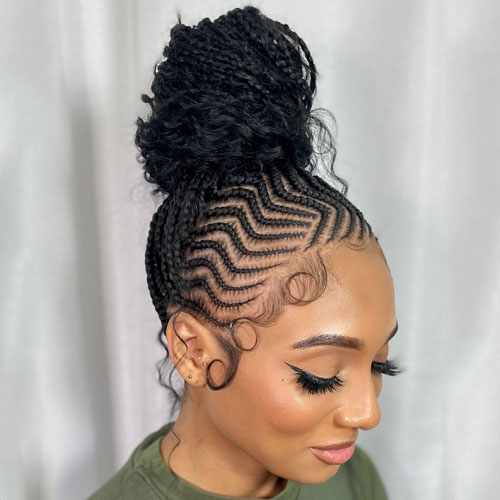 You can weave your hair finely first, then put your braid in a zigzag shape on the top of your head and stick it to your scalp, and then make a top bun with the rest. This beautiful and complicated hairstyle will greatly increase your hair charm.
8. Three-woven bread
If you have a round or heart-shaped face, you must try to like this hairstyle. You can increase the height of your hair with a bun made of three braids, and then decorate your face with extra bangs on both sides of your hair, which will make your face look slimmer and give you a better appearance.
Why do you use the human hair wig?
Nowadays, many women are facing the problem of hair loss, and the amount of hair is often not enough to do braided updos. Moreover, doing this style is easy to cause damage to your hair, such as kinking, knitting, and other operations. If you choose a wig, these problems can be well avoided. You can do it directly on your wig instead of your natural hair. And the wig has enough hair to help you knit and shape the braided updos.
Choosing a human hair wig can give a good protection on your natural hair and help you achieve the desired hair updos that needs long and thick hair. And the human hair wigs are low maintenance that is not easy to tangle and shed.
Where to buy the best human hair wigs?
Recool Hair is one of the best wig suppliers with a wide range of high-quality wigs. You can choose various hairstyles and colors of wigs with different densities and lengths.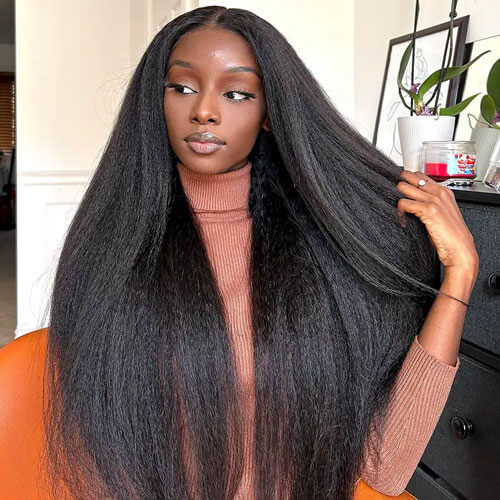 The kinky straight wigs are wear&go pre-cut lace wigs. You can wear the wigs easily for the pre-cut lace and pre-plucked hairline. And it is a glueless wig as well. The wigs are very friendly to beginners, busy, and lazy women. You can use the wigs to do all kinds of braided updos for 10A hair quality.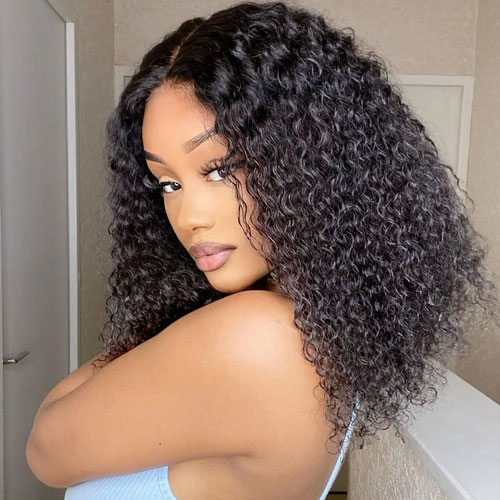 It is a short bob wig with kinky curly hair. The lace is HD lace which is the most transparent to make natural hairline. The hair quality is very good. You can use the wigs to do the wonderful messy braided updos.
Final thoughts
Hope you can know what kinds of braided updos you want to try. And if you are troubled by hair length and density, you can buy human hair wigs of high quality with full and long hair in Recool Hair. The prices are all affordable under big discounts. Welcome to buy the wigs in Recool Hair. And you can learn a lot of information about wigs' maintenance and recommendations.
Related Articles