You know many people like frontal more than lace closure, I will be talking about how you can slay closure and make it look like a frontal.
Why Choose Lace Frontal Closure?
It will be a good choice for some people when they want to achieve a more natural look while installing a weave is to use lace frontals. Frontals are also available in silk, but the lace option is more popular since they are much cheaper than silk-based frontals.
Now, a new 360-frontal option has also been added and have quickly gained popularity. The 360-frontals cover a person's entire hairline and goes around the person's entire head, but still leaves some space at the center of the frontal to allow for the weave hair to be installed.
A frontal hairpiece is very similar to a closure piece that is used when wearing wigs, weaves or hair extension pieces. The most obvious difference between a frontal and a traditional closure is that the frontal encloses the entire front area of your head from temple to temple right at the hairline whereas a closure only encloses about a 4×4 area at the of your head.
Why to wear frontal sew in ?
A: The purpose of wearing a frontal hairpiece is to protect the hairline from damage and provide maximum versatility when it comes to styling hair extensions.
B: Frontal hair pieces allow more versatility when styling your hair. It also stretches from ear to ear and the hair can be parted freely to be worn in the middle, left, or right side.
C: Frontals work great for women who may have thinning or balding edges because they mimic the natural hairline so well.
D: It can save your time and achieve the natural hairstyle you want quickly.
E: Great style quality at an affordable price:today frontals are affordable and available, They are also available in various qualities and will cost you approximately the same price as you would pay for a full sew-in.
Recool Brazilian Straight Hair With Free Part Closure 20 22 24 With 18
FabbulousC TV received our hair from recool hair, she made a hair wig tutorial and this is her hair video about Recool Hair
Looking At Her Hair Tutorial Video About Brazilian Hair
The Hair Link: Recool Hair Brazilian Straight Virgin Hair 3 Bundles With Closure
She loves our Brazilian hair with closure, she made a straight wig and do a closure sew in weave like a frontal tutorial, she installed it and love it so much.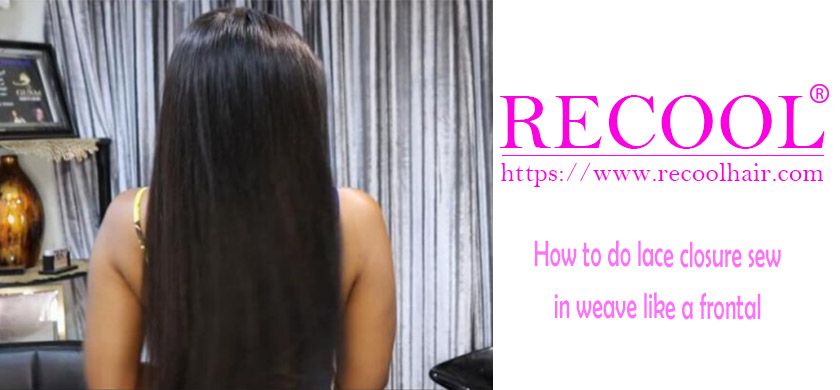 Difference Between Remy Hair and Human Hair
Many people will ask what is remy hair: The remy hair's cuticles are kept intact and always going in one direction.The Remy refers to the characteristics of the hair and the method used to manufacture the hair extensions. Remy hair extensions are the most popular human hair extension on the market due to the quality and price.It is a high-quality hair that lasts up to a year and blends very well with your own hair. When all hair strands follow the same direction, there will be almost no tangling and matting (if processed properly). With true high-quality Remy hair, the hair collected is healthy, the cuticles intact and all cuticles flow in the same direction from root to the tip.
At Recool we process our Remy hair gently with an advanced technology (similar processing as cashmere) which ultimately preserves the cuticles even after processing, so they remain intact.
Human hair is usually collected from hair brushes and hair that has fallen on the floor. It is in greater supply and is therefore much cheaper than Remy Hair. The majority of human hair sold today is non-Remy hair.Because of the method of collection, the cuticle for each hair strand tends to be in all different directions.In order to compensate for this, the hair will go through a process sometimes referred to as an"acid bath", to completely remove the entire cuticle. This can be equivalent to about ten relaxers in a row.After the cuticle removal process, the hair is dipped in silicone to make it shine and to cover up any cuticles that were not removed in the acid bath.
The silicone adds weight to the hair and ups the selling price as hair is sold by weight. At first glance, the non-Remy hair will appear silky and shiny.
After a few shampoos, the silicone layer will start to wash off. The hair will slowly become duller, brittle and will tangle and matte very easily. This type of hair is not recommended for any long-term hair extensions for the obvious reasons.
NOTE
As you might guess,human hair includes Virgin hair, Remy hair, Non-Remy hair. Here's a simple comparison:
Virgin hair is chemically unprocessed human hair, which is collected from a single donor. The virgin hair is Remy hair that has not been altered by dyes, perms, bleaches or harsh washes.
Remy Hair does not always mean virgin hair, in fact, it rarely means that. Although the two terms are used synonymously, they are completely different in meanings.
Non-Remy hair is very popular and is readily available as well. This hair has both the roots and the tips mixed up so that all the hairs are not running in the same direction. This type of hair undergoes the shaving off of the cuticles or sometimes the ends of the hair. This reduces the possibility of friction between hair strands and as such allows the hair to remain tangle free as the name suggests. Non-Remy hair has undergone chemical processing.
Virgin hair and Remy hair both are 100% natural human hair. The difference is that the donor of Remy hair used to dye, perm or bleach his or her hair while the donor of virgin hair doesn't use any chemical products. And Remy hair needs to be rearranged but virgin hair always comes as it is.
Virgin hair is more precious and expensive, and it's the best product among all the hair extensions. But both of the virgin and Remy hairs are smooth, healthy with perfect shape and quality.
Recool Recommend Hair
Recool sell all kinds of hair : body wave, straight hair, water wave, loose deep and so on. You can get hair you want from our webstie. You can try brazilian hair, peruvian hair, malaysian hair and indian hair, what is very popular. Our wig is doing promotion now, the discount is up to 25%, the promotion will be end on 16th.