Deep wave wigs are one of the most popular wigs for girls today because of their easy care and realistic look. A damp and wavy hairstyle that looks excellent in warm weather can also be achieved with deep wave wigs. Deep wave wigs are indeed very attractive. With its almost perfect look and very sleek curly waves, a deep wave wig is a perfect choice whether you want to create a new look or add volume to your own hair. Today this blog will help you know deep wave wigs more and make your choices of hair wigs.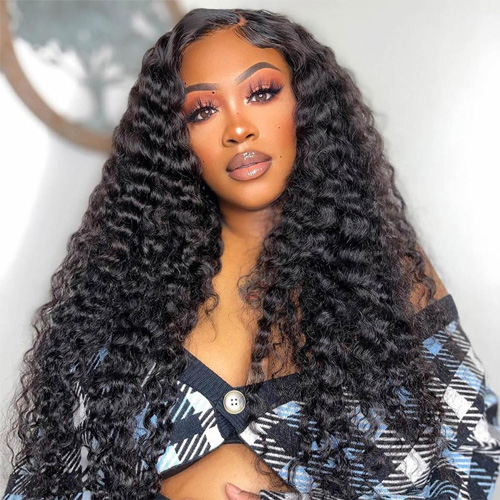 Understanding the deep wave wigs
Deep wave hair is a popular type of virgin human hair that is highly compatible with natural hair textures, particularly those of ethnic origin. It is available in various forms, such as straight, wavy, and curly. The deep wave hair has a tighter curl compared to body wave, loose wave, or natural wave textures. It can hold styles for extended periods with the use of different styling techniques.
The deep wave wig has a visually appealing small "c" shape, with curls stacked up densely, giving it a full appearance. This texture is especially suitable for individuals with thinning hair, as it adds volume. If you are looking to add more hair to your natural hair, a deep wave wig is a great option because it blends well and provides a voluminous and thick look.
Proper care and maintenance are essential to prevent shedding and tangling, both for the deep wave hair and your own natural hair. The pattern of deep wave hair is similar to Jerry's curly pattern. It features smooth and flowing waves, adding a luxurious touch to your hair. Following appropriate care routines, deep wave hair can typically last at least 12 months. Women appreciate deep wave hair for its ability to provide a shiny and voluminous appearance, fulfilling the desire for fullness in hair.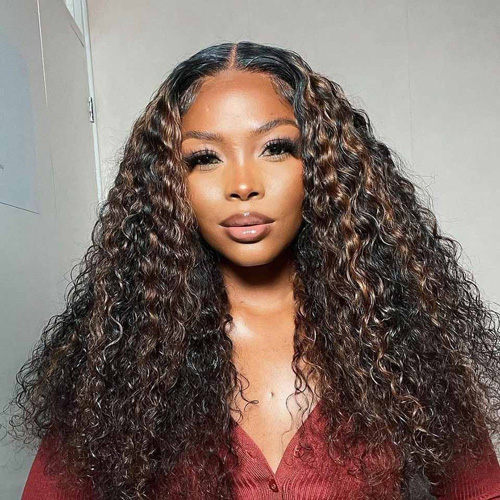 The benefits of deep wave wigs 
Deep wave wigs have become increasingly popular in recent years due to their numerous benefits.
1. Natural and realistic look 
Deep wave wigs are designed to mimic the natural texture and curl pattern of human hair. They give a more realistic appearance, making it difficult for others to distinguish between the wig and natural hair.
2. Versatile styling options 
Deep wave wigs offer a wide range of styling options. They can be straightened, curled, or styled in different ways to achieve various looks. This versatility allows for more creativity and experimentation with hairstyles.
3. Low maintenance 
Compared to natural hair, deep wave hair wigs require less maintenance. They are pre-styled, so you don't need to spend much time styling them every day. Additionally, deep wave hair wigs maintain their curl pattern for a longer time, reducing the need for constant restyling.
4. Protection for natural hair 
Wearing deep wave hair wigs can be a protective style for your natural hair. It allows your hair to rest and grow without exposure to heat, chemicals, or constant manipulation. This can help prevent damage and promote healthy hair growth.
5. Convenience and time-saving 
Deep wave hair wigs are convenient and time-saving. They can be easily worn and removed, allowing for quick and effortless hair transformations. This is especially beneficial for individuals with busy schedules or those who prefer not to spend a lot of time on their hair.
6. Confidence boost 
Deep wave hair wigs can enhance your overall appearance and boost your confidence. They offer a way to change your hairstyle and experiment with different looks without making any permanent changes to your natural hair. This can be particularly empowering for individuals experiencing hair loss or thinning.
How to maintain your deep wave wigs well? 
I. Take care at night 
To maintain your deep wave wigs while you sleep, it is recommended to avoid using cotton pillowcases and sheets. Cotton can cause friction and potentially ruin the natural shine and texture of your waves. Instead, opt for silk pillowcases or use a silk scarf to wrap your hair before bed. This will help protect your hair and maintain its glossy appearance. Additionally, consider using a silk wrap while exercising or spending time outdoors to further protect your hair from damage. Making these small changes can make a significant difference in the overall health and maintenance of your deep wave wigs.
II. Brush correctly 
Deep wave weave hair must be handled carefully when being brushed to prevent the curls from becoming loosened. We recommend using a wide-tooth brush instead of a standard brush or paddle brush. This is because a standard brush or paddle brush can cause the coils to unravel while brushing. The wide-tooth brush is a better choice as it helps detangle the hair without disrupting the wave pattern. When brushing, always start from the tips of the hair and gently work your way up to the roots. This technique should be followed for all hairstyles to prevent unnecessary damage and maintain the integrity of the deep wave wig.
III. Wash carefully 
Washing is a crucial step in caring for weave hair, especially deep wave weave hair. Before washing, it is important to gently comb the hair with your fingers to ensure that all strands are free-flowing.
When washing, it is recommended to use mild water. Proper shampooing is essential for maintaining the longevity of the waves. The process begins even before stepping into the shower.
To minimize tangles, it is advisable to comb the hair with a finger comb. This will allow for a thorough wash without causing any damage.
Additionally, using a pre-conditioning treatment before washing can help reduce drying time. When applying conditioner, it is recommended to use a generous amount and distribute it through the hair in a downward motion using your fingers. Leave the conditioner in the hair for at least 10 minutes.
Washing your hair is essential for removing excess oils, dirt, and product buildup. However, if you don't rinse your hair properly, it may not be as effective. To rinse your deep wave hair, it is important to let water flow through your hair in a downward motion. Using your fingers can help in the process of removing any conditioner that you have applied.
IV. Keep the curls with styling 
Over time, it is normal for the curls in your deep wave hair to loosen slightly. As the hair is made from virgin human hair, you have the option to use a curling iron on a medium heat setting or plastic curlers to redefine the curls. It is important to be aware that hairpieces require maintenance, so keep this in mind. When styling, remember to use a heat protectant to prevent any damage from high heat and ensure the safety of your wigs.
Where to buy the best deep wave wigs? 
If you're in search of a new deep wave wig, Recool Hair is the ideal online store for all your wig needs. They have a diverse range of deep wave wigs, Human Hair Bob Wigs, and water wave wigs available in various styles and colors, ensuring you can find the perfect one for you. Additionally, they offer free shipping on select special orders, making it convenient for your new wig to be delivered directly to your doorstep. When it comes to finding your ideal deep wave wig, Recool Hair is the ultimate shopping destination with its extensive selection of styles and colors.
The end 
Deep wave wigs have gained popularity as a trendy and distinctive hairstyle option. This blog post aims to provide comprehensive information for those considering a deep wave wig, ensuring they can make an informed decision. The post covers various aspects, including the history of the style and tips on how to care for your wig properly. With this comprehensive guide, you'll have all the necessary information to confidently choose and maintain your deep wave wigs.