613 blonde hair wig is one of the most popular color wigs. Many women, especially African American women, like this wig very much, but there are still some customers who do not know whether they are suitable for this wig or not.
So, today's blog will show you the content:
What Is 613 Hair Color?
What Are 613 Blonde weaves and Wigs?
Why is this hair so popular?
How to tone this wig?
Some FAQs about 613 blonde wigs
Where to get the best 613 blonde hair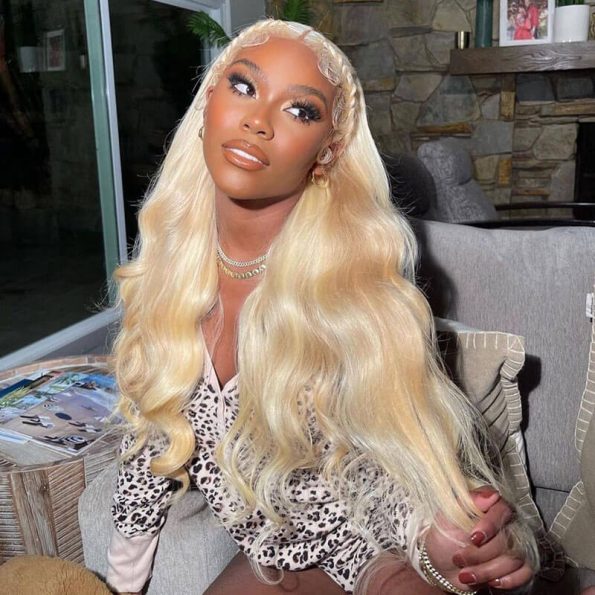 What Is 613 Hair Color?
613 wig is a wig composed of golden or light golden hair, which is a popular substitute for No. 60.
613 represents the color number of hair dyeing, and the first number in the number represents the basic color that determines the shade of hair color. 1.0 represents black, 5.0 represents light brown, 6.0 represents dark gold, 7.0 represents medium blond, and 10 represents the lightest blond.
What are 613 blonde weaves and Wigs?
Weaves and wigs are all hair extensions, which is made by the synthetic or human hair. While the 613 blonde weaves and wigs means the hair color is 613 blonde hair color. This is a light gold wig, which is the best choice for more fashionable and confident women.
Why 613 blonde hairs so popular among African American women
1. Dark skin and light hair match well

Wearing 613 wig, African American women can show the depth and clarity of their skin color. 613 blonde hair is crowning your beauty, and you should be proud of your skin color and beauty. Your dark skin and 613 Blonde Hair can be well matched, which is very eye-catching and creates a beautiful and fashionable appearance.

2. Younger choices

You can make your appearance younger, after wearing 613 blonde hair wigs. You will look more charming and elegant, and 613blonde wig will give your appearance a new look. Because you look a few years younger, 613 blonde hair wig is very bright and energetic, which can keep you young. Moreover, this wig is very eye-catching and the best partner for participating in activities.

3. Perfect natural hairline

The high-quality lace of 613 blonde wig is transparent lace, and you can get a great natural and charming hairline. 613 Blonde wigs can make your wig have an invisible hairline, making it easy and natural.

4. Multi-style design

High-quality 613 blonde hair wig can be designed in a variety of wig styles, such as bangs design, wavy hair design, bob design and so on. 613 blonde colors can easily match any hair style, which is very natural and beautiful.

5. Suitable for all skin color

613 blonde hairs have a strong applicability. No matter what color people are, 613 blonde hairs will be very beautiful and full of charm. Please don't miss this color wig, you will get an unexpected appearance.

6. Long hair lifespan

High-quality 613 blonde hair can last at least 2 years with good maintenance. When you are maintaining, remember to use mild conditioner and shampoo for colored hair. If the color of the wig loses its luster, you can also use a toning shampoo that can increase the luster.

How To Tone 613 Blonde Hair

Given that they contain substances that alter hair color, toning shampoo and conditioner, semi-permanent color, and gloss can all be thought of as toners. You can use toner to improve and brighten the color of your 613 blonde hairs, get rid of the copper tone from it more completely, and change the overall shade of your hair to the shade you desire.

Steps To Tone Your 613 blonde hairs
Warm water can be poured into a big plastic bowl or your sink.
Squeeze a few drops of toning shampoo into the water, then swish it around until it dissolves. Be gentle and kind to your 613 blonde hairs.
Dip a little piece of hair in the water to test the product, then gently work the color into the hair. Always focus on one project at once.
If it goes as planned, proceed incrementally with the remainder.
Shampoo should be rinsed off.
To ensure there is no residue left, properly rinse.
Then After toning your hair extensions, condition them.
Put conditioner all over each piece. Maintain moisture in your 613 blonde hair and leave on for 5 to 10 minutes to allow hydration.
Use the clear new warm water to rinse well your hair to remove all traces of conditioner.
Distribute your 613 gold on the towel, gently pat it dry to eliminate any excess water, and then hang it to dry naturally on the wig rack. Avoid using a hot hair dryer since it will harm your hair.
Brush thoroughly after drying completely.
Some helpful FAQs about the 613 blonde hair
Can African American women wear Blonde Hair?
Black women can be suitable for all kinds of hairstyles and hair colors. As long as it looks good, it is suitable. This is a hair color suitable for black women, because many black women look so dazzling and beautiful after wearing 613 blonde hairs. If you are a beautiful and fashionable black woman, you should have the confidence to suit all hairstyles and hair colors. 613 blonde hair is not a weird color, it is very natural and beautiful, which can better show your beauty and skin color, and has a unique beauty.
Is 613 blonde hair great on African American women?
Many African-American women think about whether they look beautiful and beautiful in 613 blonde hairs. Please don't worry, dear. 613 blonde hair is a kind of beautiful wig hairstyle, which is suitable for all skin color groups to use and wear. If you take it seriously and design it, you will definitely have a beautiful hair appearance.
Our hair shop has many high-quality 613 blonde hair, which is 100% human virgin hair. And our 613 blonde human hair wigs are all transparent lace, which can give you more natural hair look. We have many kinds of 613 hair wigs and weaves in stock for sales now. They are 10A quality with affordable prices, waiting for your purchases.