U-part wigs are the glue less wigs which are popular all the hair market now. Many women who like wearing wigs fall in love with this wig. Have you ever heard of this wig? If you are very interested in U-part wigs and want to know more, this blog is the best place for you to study. You will learn a lot here.
Content:
What is a U-part wig?
Features of U-part wigs
Benefits of U-part wigs
How to wear a U-part wig?
How to maintain your U-part wigs?
Where to purchase the best U-part wig?
What is a U-part wig?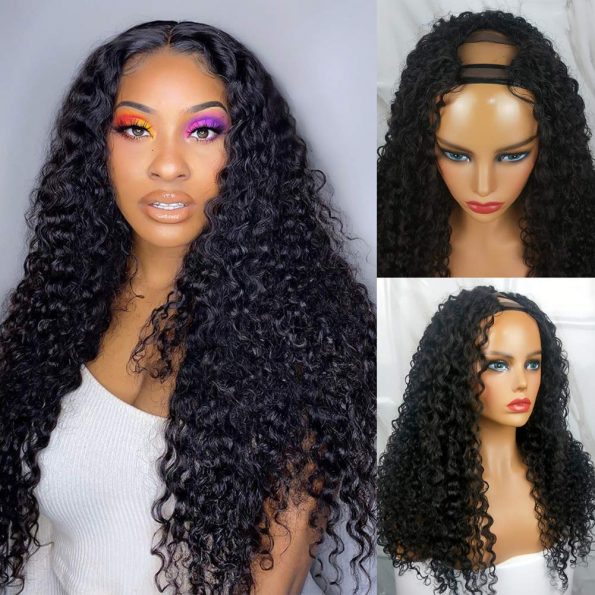 U-part wig is a wig without lace and glue. The front of the U-part wig has a small U-shaped opening. You can put your natural hair through here and mix it with wig hair, so that you can create a very natural appearance. This kind of wig is easy to install, and it is glue-free, which also ensures the safety of your hairline and skin. It is very suitable for novices, busy workers and those who are allergic to glue.
Features of U-part wigs
1. At the top of the wig, there is a small U-shaped opening.
2. It can be blended into natural hair to provide a more natural hairline.
3. Low production cost, low price, no lace and no glue.
4. And the installation and removal are quick, without smearing and removing glue and cutting lace.
5. Your natural hair and scalp can breathe better for the opening.
6. High quality U-part wigs are all 100% human virgin hair.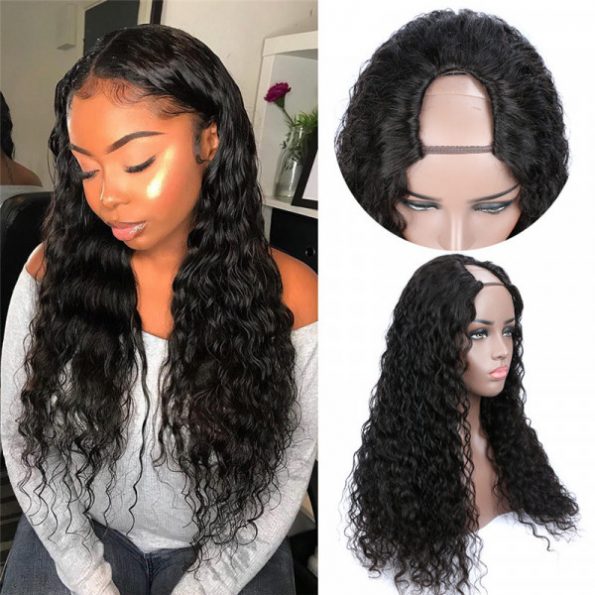 Benefits of U-part wigs
1. Nice Protection
U-part wigs are wigs that do not require glue installation. You deliberately avoid glue allergy or injury after cumulative use. These injuries may thin your hairline and make your scalp allergic and itchy.
In addition, U-part wigs can also protect your natural hair from air pollutants and ultraviolet rays. Most wigs have the same functions as U-part wigs.
2. More natural look
You can mix your natural hair with U-part wigs to get a very natural wig appearance. You can create a more natural hairline, making your hair more like it grows from the scalp.
3. Budget-friendly
U-part wigs have no lace. They can be made by machine in the whole process. The cost is much lower, the price is not expensive, and the variety is diverse. You can easily buy your favorite U-part wigs. U-part wigs are very budget friendly.
4. Save your time
You can save a lot of time if you use U-part wigs Your installation and removal are very simple, without dealing with the trouble of glue and lace. You can do this quickly and save yourself time and energy.
5. Low maintenance
U-part wigs are low maintenance wigs. You don't need to spend much time and money to maintain them.
6. Save your money
Whether in terms of purchase price or installation and maintenance cost, U-part wigs are very economical wigs, which are very suitable for novices and those with limited funds.
7. Comfort wearing
Comfort is a very important advantage of U-part wigs. Its U-part opening, and soft hair cap materials make your wearing very comfortable and breathable. Even if you wear it for a long time, you will not feel stuffy. It is suitable for all seasons and is almost unaffected by the weather and seasons.
How to wear a U-part wig?
1. Comb your hair and determine the U-part area
You need to comb your natural hair, then put on your U-part wig, and roughly determine the position of your U-part on your head and how much hair you need.
2. Braid your own natural hair
Hair in your U-part area needs to be knitted together separately, and then pressed on your U-part area. Then you can weave the rest of your hair into small braids and distribute them around the top of your head.
3. Put on and fix the wig
You can put on your U-part wigs, fix it with hair clips and adjustment straps, and make sure it fits our heads.
4. Mix your hair
Make sure that after the wig is fixed, you can release your own hair that was previously pressed in the U-part area and let it mix with the wig hair.
5. Create a stylish and natural look
You can make a baby hair style by cutting your hair short, or other styles to increase your volume and fullness and make your hair look more fashionable and natural.
How to maintain your U-part wigs?
1. Regular cleaning and care
You need to clean and maintain your wig regularly. You can use sulfate-free shampoo and conditioner to clean and care your wig once a week.
2. Correct carding skills
You need to use a wide-toothed comb or a professional fake carding to comb your U-part wigs. This will better protect your hair. Also, you shouldn't comb your wet hair, it will hurt your hair. You can use essential oil to help comb to get rid of tangles. It's best not to comb with wet water. After you wash your wig, don't comb it immediately.
3. Do a good job in thermal protection.
U-part wigs are vulnerable to heat damage. You can wear a hat to protect against strong ultraviolet rays when you go out. You can also apply heat protection liquid to protect the wig when using a hair dryer or a heat setting tool.
4. Silk nightcap
You can wrap your U-part wigs in a silk nightcap when you sleep, which can protect your U-part wigs by reducing friction.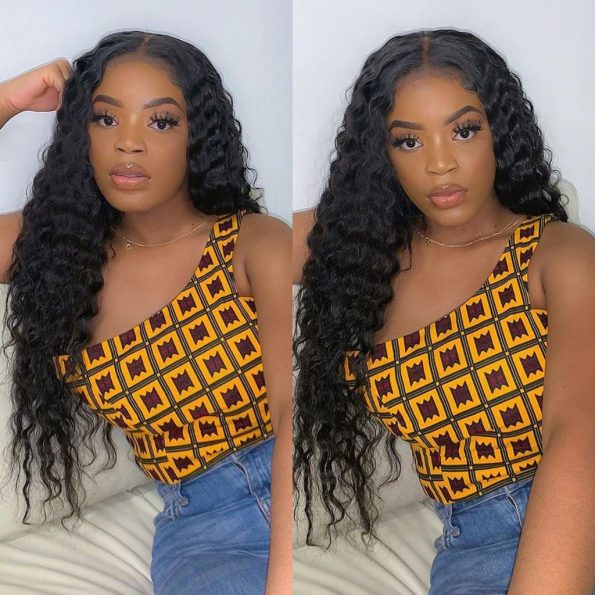 Where to purchase the best U-part wigs?
Human hair wigs including U-part wigs have a hot promotion in our hair shop. All wigs in our hair shop are 100% human virgin hair in 10A quality. And You can get them in good prices. Welcome to consult and make orders.