In the world of fashion, hair plays a crucial role in showcasing personal style and individuality. Whether it's for enhancing one's appearance or trying out a new look, wigs have become a popular accessory. Among the diverse range of wigs available, human hair short wigs specifically designed for black women have gained significant popularity. These high-quality wigs offer versatility, comfort, and style, allowing black women to effortlessly express their unique beauty.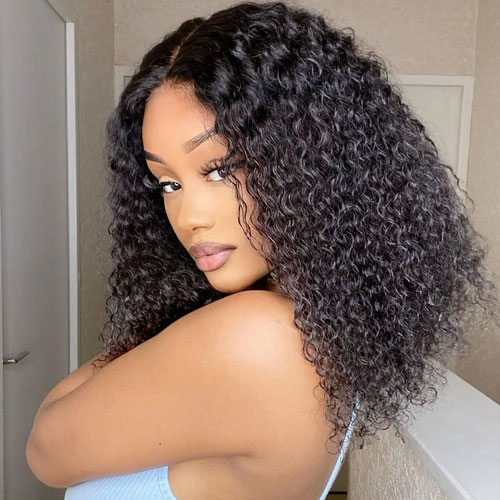 Understanding human hair short wigs.
Human hair short wigs have become increasingly popular among women, particularly black women. As they provide a versatile and convenient way to transform their hairstyles. These wigs are designed to mimic natural hair, offering a realistic and seamless look. In this section, we will delve into the definition and types of human hair short wigs, as well as explore the reasons why they are highly sought after.
Types of human hair short wigs:
a) Pixie cut wigs:
These wigs feature short and cropped hair, offering a bold and edgy look. Pixie cut wigs are known for their versatility and can be styled in various ways to suit different preferences.
b) Bob wigs:
Bob wigs are characterized by their classic and timeless style. They typically feature hair that falls around the jawline or slightly below, creating a sophisticated and polished appearance.
c) Tapered cut wigs:
Tapered cut wigs are designed with shorter hair at the back and sides, gradually transitioning to slightly longer hair at the top. This style adds volume and dimension to the overall look.
Why human hair wigs?
Human hair wigs offer several advantages over synthetic wigs or other hair extension methods. Some key reasons why many individuals prefer human hair wigs include:
a) Natural appearance:
Human hair wigs are crafted to mimic the look and feel of real hair, providing a more natural and realistic appearance. The strands move and flow just like natural hair, enhancing the overall authenticity.
b) Styling versatility:
Unlike synthetic wigs, human hair wigs can be styled using heat tools, allowing for endless styling possibilities. Whether it's curling, straightening, or even coloring, human hair wigs offer the freedom to experiment with different looks.
c) Longevity and durability:
Human hair wigs, when properly cared for, can last significantly longer than synthetic wigs. The high-quality hair used in these wigs is more durable, making them a worthwhile investment for long-term use.
d) Comfort and breathability:
Human hair wigs are generally more comfortable to wear compared to synthetic wigs. The lightweight and breathable nature of human hair allows for better airflow, reducing the chances of scalp irritation.
Benefits of short wigs for black women:
Short wigs specifically designed for black women offer numerous advantages, including:
a) Convenience:
Short wigs require less maintenance compared to longer wigs or natural hair. They offer a quick and effortless styling solution, saving time and effort in daily hair routines.
b) Protection:
Wearing short wigs can help protect natural hair from harsh elements and excessive styling, promoting healthier hair growth. It also allows for easy access to the scalp, making it easier to maintain cleanliness and apply necessary treatments.
c) Versatility:
Short wigs provide versatility in terms of styling options. They can be easily customized to suit different occasions and moods. Whether it's a professional setting, a casual outing, short wigs offer flexibility in achieving desired looks.
Styling options and trends of short wigs.
Short wigs offer a world of styling possibilities, allowing you to switch up your look effortlessly. Whether you want to go for a sleek and polished appearance or embrace a more textured and voluminous style, short wigs can be customized to suit your preferences.
Sleek and straight:
Achieving a sleek and straight look with a short wig creates a polished and sophisticated style. To achieve this look:
– Use a flat iron or straightening tool to straighten the hair strands.
– Apply a heat protectant spray before styling to minimize damage.
– Use a fine-toothed comb or a styling brush to create a sleek finish.
– Apply a lightweight hair serum or oil for added shine and smoothness.
Textured and messy:
For a more effortless and casual look, embrace the textured and messy trend with your short wig:
– Use a texturizing spray or sea salt spray to create volume and texture.
– Scrunch the hair gently with your fingers to enhance the tousled effect.
– Consider using a curling iron or wand to add loose waves or curls to the hair.
– Apply a texturizing or styling wax to separate and define individual strands.
Curly and natural:
Short wigs with natural curls can add vibrancy and playfulness to your style. To enhance and define the curls:
– Use a wide-toothed comb or your fingers to detangle the curls gently.
– Apply a curl-enhancing mousse or cream to add definition and hold.
– Allow the hair to air dry or use a diffuser attachment on a low heat setting to dry the hair.
– Avoid excessive brushing or combing to maintain the integrity of the curls.
Pixie cut styling:
Pixie cut wigs offer versatility in styling options. Here are some ideas to experiment with:
– Use a pomade or styling wax to create texture and piece out the hair for an edgy look.
– Consider adding side-swept bangs or styling the fringe to create different looks.
– Play with different parting options, such as a deep side part or a center part, to change the overall appearance.
– Use a small round brush or a flat iron to add volume and lift to specific sections of the hair.
Colorful accents:
Short wigs also provide an opportunity to explore different hair colors and highlights. Consider these options:
– Opt for a wig with highlights or ombre colors to add dimension and depth to your style.
– Experiment with temporary hair color sprays or chalks to add pops of color to specific sections of the wig.
– Explore bold and vibrant colors, such as pastels or vivid shades, to make a statement.
Accessories and hairpieces:
Enhance your short wig by accessorizing it with various hairpieces and accessories:
– Add a headband, scarf, or decorative hair clip to accentuate the style and add a personal touch.
– Consider using a wig cap with a fringe or bangs to change the look without altering the wig itself.
– Explore different hats, such as beanies or fedoras, to create a stylish and casual look.
High-quality human hair short wig you must try in this season!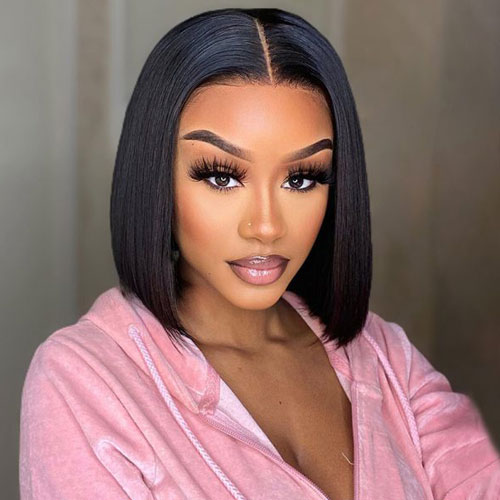 Introducing the Short Bob Wig Brazilian Straight 13×4 HD Lace Front Human Hair Wig! This wig is crafted from high-quality Brazilian straight human hair, giving you a sleek and sophisticated look. The 13×4 HD lace front provides a natural-looking hairline and allows for versatile parting options.
With a density of 150%, this wig offers the perfect balance between thickness and manageability. Whether you're attending a special event or just want to switch up your style, this short bob wig is the perfect choice.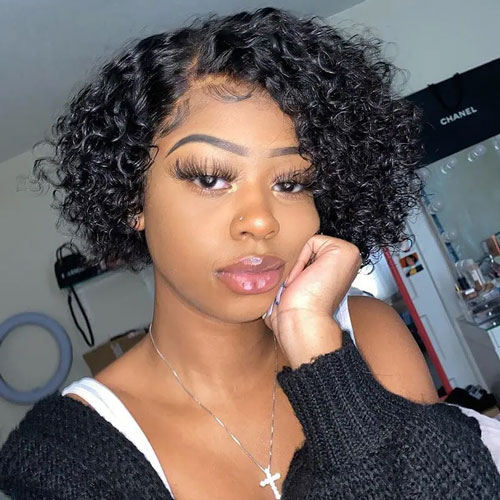 Get ready to embrace your natural curls with the Short Curly Pixie Cut Bob Glueless Lace Front Wig! Made from Brazilian curly human hair, this wig offers a trendy and effortless curly style.
The glueless lace front design provides a seamless and natural-looking hairline, while the pixie cut bob adds a touch of sass and sophistication. Whether you're going for a casual or glamorous look, this wig is sure to turn heads and boost your confidence.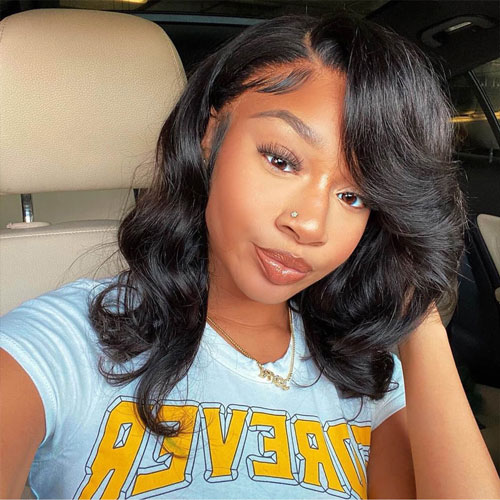 This wig features a stunning body wave texture that adds volume and movement to your look. Made from high-quality human hair, it offers a natural and realistic appearance.
The 13×4 HD lace front ensures a seamless blend with your scalp, and the glueless design allows for easy and comfortable wear. With a density of 180%, this wig provides a fuller and more luxurious look. Whether you want to rock a casual or glamorous style, this short body wave wig has got you covered.