99j Burgundy color wig is one of the most popular wigs in 2023. Many customers are trying the Burgundy lace front wigs. Do you also want a 99j Burgundy wig? Today's blog will share 6 ways to dye wigs into Burgundy color. I hope I can help you.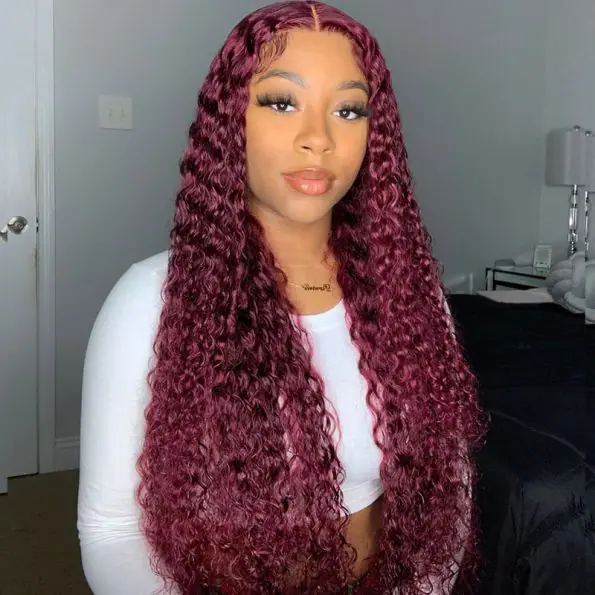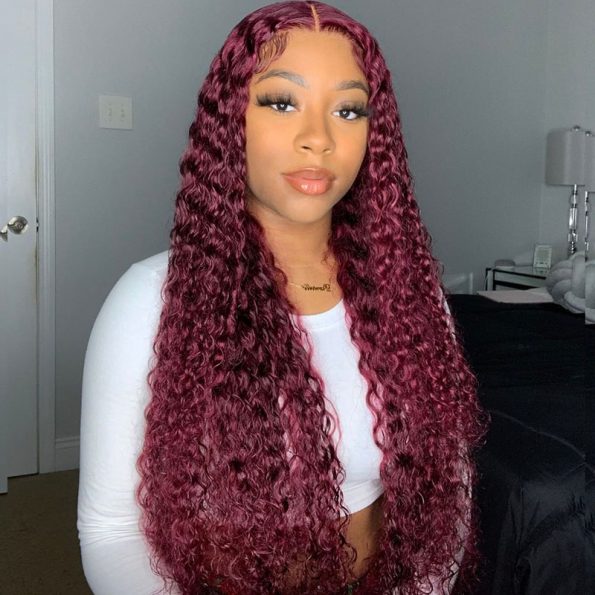 Burgundy is a dark red-purplish color. This hair color can be applied to any wig, a bit like the color of wine, also known as wine red. This is a very unique and stylish hair color that makes you younger, mysterious, elegant and charming.
6 different ways to Dye Wig Burgundy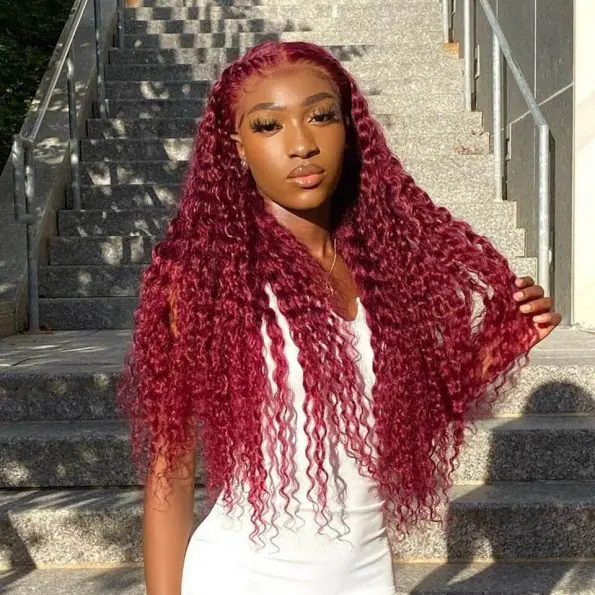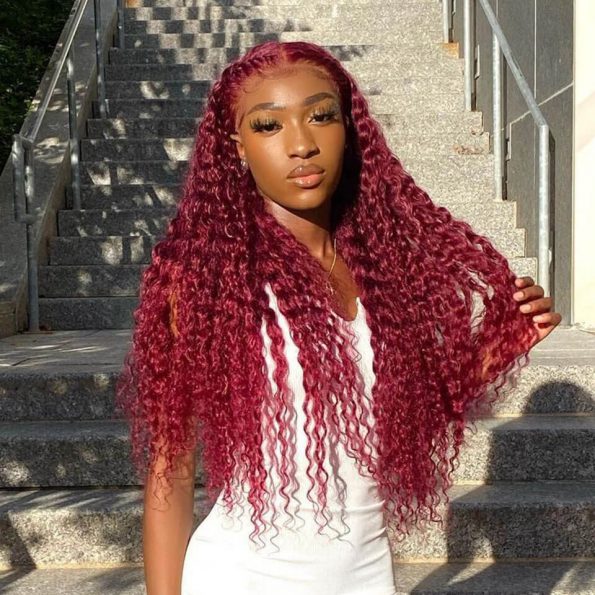 100% human virgin hair Wigs are the best wigs to do the dying. All wigs in our hair shop are 100% human virgin hair in 10A quality. If you want the best Burgundy human hair wig, you need to use the human hair wigs to dye burgundy color. How to dye a human hair wig?
First way: How To Dye A Black Wig Burgundy
1. Choose dyeing products.
You can choose your favorite Burgundy dye, such as L 'Oreal Hi Color Highlights. You also need a 40-roll developer.
2. Mixing dye and developer.
You should pour Burgundy hair dye into the container, and then pour No.40 developer into the same container. You should mix them with a hair dye brush. The consistency of the mixture should not be too dense or too thin. You can continue to add 40- developer to mix until the density of the mixture is appropriate.
3. Apply it to your hair.
You should put a wig on the mannequin's head and fix it with a hairpin. You can divide the hair of the wig into several parts and put the plastic bag on the floor. Then you can put on gloves, apply the mixture on the wig and let it soak the whole wig. Remember not to smear it on the lace.
4. Send the wig into a plastic bag.
After you finish applying it, you can distribute bob's fake hair into a plastic bag before your hair lace. Leave it in a plastic bag for 20 to 30 minutes.
Finally, you should rinse off all the hair dyes, and then clean the wig with conditioner. After air drying, your Burgundy wig is dyed successfully.
Second way: Dye black wig to Burgundy color with bleaching
You need a developer with a volume of 20, BW2 bleaching powder and Burgundy stain.
Put on gloves. Put all BW2 powder into a container. Pour in the developer with a volume of 20, which is neither too thick nor too thin.
Put the hair band on a large piece of aluminum foil. Dye your hair with a hair brush from the end of the wig, and then up. Make sure that the wig is completely saturated with the mixture, including the root of the wig, that is, the upper side of the wig cap.
4. Package bleaching and washing.
Fold the wig in aluminum foil for at least 2 hours. Then rinse the wig with water.
5. Prepare watercolor painting.
Spray got2b glue on the lace and let the wig cap dry. When you dip the wig lace in Burgundy dyeing water, the lace will not dye.
Finally, boil the water and pour two Burgundy hair dye bottles into it. Immerse the wig in colored water for a few minutes. Take it out to dry.
Third way: Dye Blonde wig to Burgundy color
It is not difficult to dye your 613 golden lace wigs from the original gold or dark color into red wine. You can dye your hair Burgundy directly with box hair color.
Read the instructions on the base color box you want to use.
According to the instructions, put on gloves and apply hair dye to your hair with a brush.
Keep it for the recommended time and then wash it off.
After the hair is dried, apply Burgundy to the freshly dyed brown/red hair according to the instructions on the box.
Let your hair stand for a recommended period of time, then do shampoo and conditioner for your hair.
Fourth way: Dye Burgundy color For Dark Brunette
When you have dark hair, bleach your hair to brown or red, and then dye it.
Wear gloves and mix one part of bleach and two parts of developer with a brush until a uniform concentration is reached. For bleach to work, your hair needs to be unwashed for two days.
Apply it to your hair and keep it for 10-15 minutes until your hair is obviously light and brown. If you often apply henna to your hair, it may take longer.
After rinsing the bleach out, let your hair air dry. It's a good idea to take a day off to condition your hair before dyeing it.
Apply it to dry hair according to the instructions of Burgundy box dye. Let it stay for the recommended time.
Rinse it off, then take care of it with shampoo and conditioner.
Fifth way: Dye Burgundy color For Light Brunette
If your hair is naturally brown, then your dyeing will be simple.
Put on gloves and apply the dye to the dry hair with brushing. Make sure you read the instructions beforehand.
Follow the instructions and let the dye stand for the recommended time.
Rinse the dye, then use shampoo and conditioner.
Sixth way: Dye Burgundy color With Henna
Using henna can naturally dye hair purple without using any chemicals.
Mix all the ingredients together. If your hair is dry, or you want to make it darker, drink less lemon juice and more water. Mix until you get a smooth paste consistency.
Put on gloves and apply henna to your hair with a brush or finger.
Let henna stand for one hour.
Wash with shampoo and take care of it.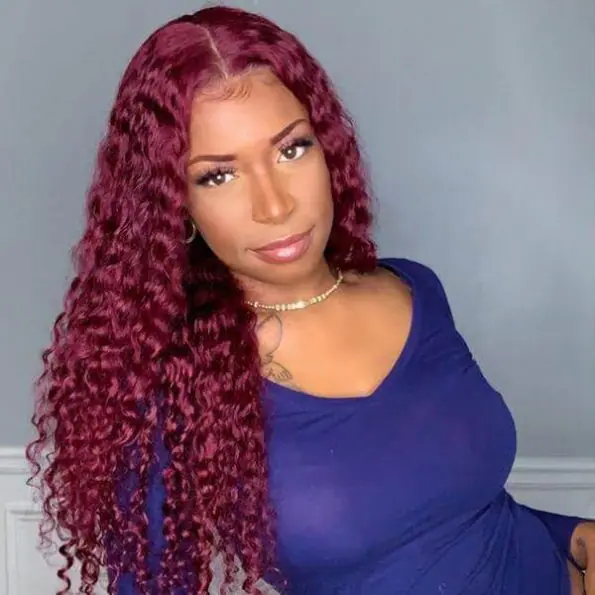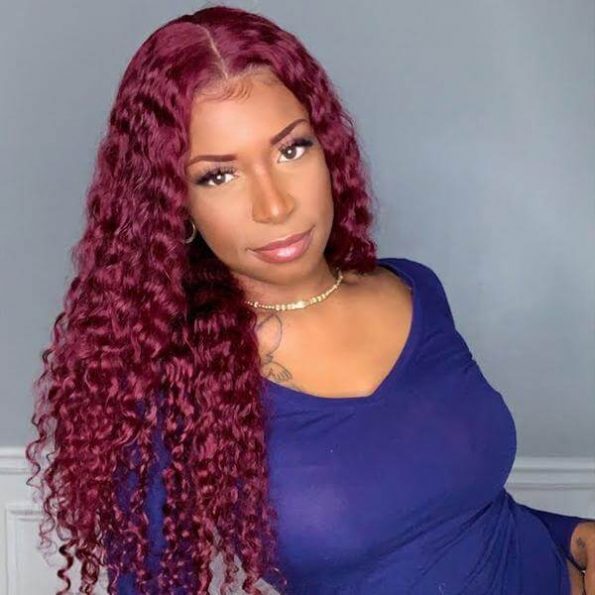 How care for Burgundy wigs?
You can clean your Burgundy wig with mild sulfate-free shampoo and conditioner for colored wigs. This can better protect your wig from fading and keep it beautiful for a longer time.
If you don't want to spend time dyeing wigs, you can buy high-quality Burgundy hair wigs. We have many styles of Burgundy human hair wigs on sales, such as Burgundy curly wigs, burgundy body wave wig and burgundy bob wigs and so on. Welcome for your orders.