Maintaining a wavy hairstyle with body wave hair is a great way to enhance your overall look. However, for some people, especially those without much experience, it may seem like a challenging task. To help you out, we have compiled a few tips to help you keep your body wave weave hair wavy. Whether your goal is to maintain the waves or not, these tips will prove useful.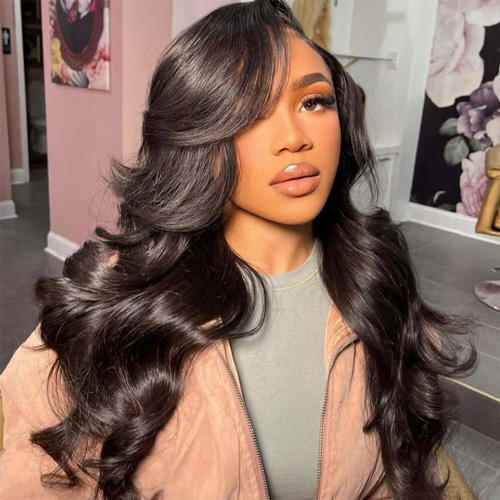 Content:
1. What is a body wave hairstyle? 
2. Pro of Body wave weave hair 
3. Cons of Body wave weave hair 
4. How to make body wave hair wavy normally? 
5. How to maintain the body wave hair wavy daily? 
6. How to care for body wave hair wavy at night time? 
What is a body wave hairstyle?
When purchasing wigs, many girls often worry about whether the wig will suit them. If you are interested in a curly hair look, we recommend considering body wave hair as your first choice. But what exactly is a body wave hairstyle? It is a hairstyle where the hair is styled into consistent deep "S" waves, creating a beautiful big wave curl. The hair clump retains its original wave pattern and often has a glossy appearance and texture.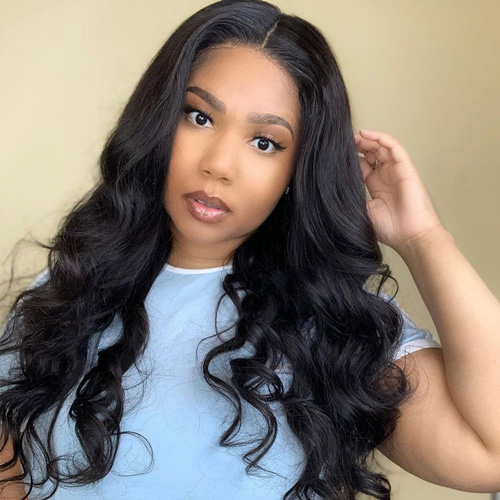 Pro of Body wave weave hair
Wavy hair has a natural beachy wave, which is often desired by many people who use styling products to achieve the same look. Having naturally wavy hair gives a carefree and effortless beachy vibe.
Wavy hair has a youthful appearance. The thickness, volume, and slight wildness of wavy hair contribute to a youthful and vibrant look, especially when it is left in its natural state.
Styling wavy hair is easy. Unlike those with straight hair who need to put in a lot of effort to achieve curls or waves, people with wavy hair can embrace the natural flow and texture of their hair, which often has better-holding power.
Cons of Body wave weave hair
While maintaining body wave hair is not necessarily challenging, it does require a significant time investment to ensure it looks its best.
Keeping the wavy texture intact can be costly, as it may require purchasing defining creams, styling irons, and moisturizing products. Many individuals often express frustration when their hair loses its waviness or curl after washing.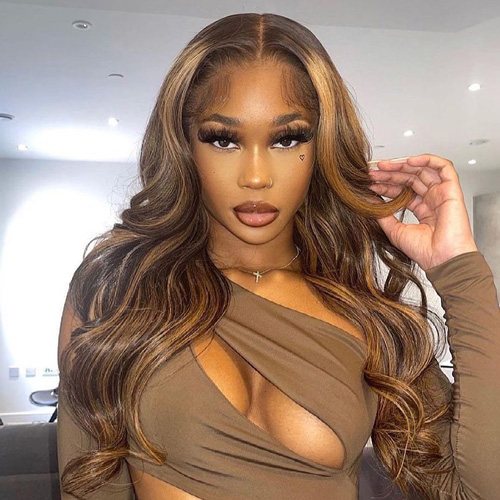 How to make body wave hair wavy normally?
Step1:
No need to be concerned if your hair becomes straight or loose after washing it. Here's a suggested method to dry and care for your hair: After washing, pat your hair gently with a clean towel instead of using a hairdryer. Avoid drying it too vigorously, as wet hair is more prone to breakage. Allow your hair to air dry naturally until it is no longer dripping, but not completely dry. Then, apply a small amount of hair care oil onto your palm and gently massage it into your hair.
Step2:
After following the previous steps, use your fingers or a wide-toothed comb to gently comb through your hair from the ends to the roots. Avoid using too much hair oil – focus on applying it more lightly towards the roots for a natural look. It's important to maintain and enhance the waves or curls, so work from the top to the ends of your hair. You can also shape the hair by rolling it evenly with your hands while applying the hair oil. This will help enhance the overall beauty of the waves or curls.
Step3:
To finalize the hairstyle, it is recommended to use a high-quality mousse. Apply the mousse evenly on your wavy or curly hair, ensuring that you follow the natural curve of your hair while rolling it. Be careful not to use too much mousse, as it can attract dust and weigh down the hair.
Step4:
Lastly, allow your hair to air dry completely. It is important not to use a strong wind or blow dryer to avoid disrupting the wave or curl pattern. Instead, use a diffuser attachment with a wavy or curly dryer. This will help dry your hair while maintaining and defining the wave or curl pattern effectively.
Step5:
Additionally, it is important to incorporate deep hair maintenance into your routine every two weeks. This involves providing nourishment to your hair to prevent it from becoming dry and brittle. Regular deep conditioning treatments will help keep your hair healthy and reduce issues such as tangling and shedding.
How to maintain the body wave hair wavy daily?
Step1:
To maintain clean hair, there are two methods: wet cleaning and dry cleaning. Wet cleaning is considered more effective in thoroughly cleaning the hair, while dry cleaning offers convenience and helps to maintain the hair's natural texture.
Step2:
After washing your natural black or blonde body wave hair, allow it to air dry until no water droplets remain. However, it is important not to let the hair dry completely. When the hair is about 80% dry, apply some hair protection care oil to your body wave weave Remy human hair.
Step3:
To maintain the wavy texture of your body wave hair in daily life, it is crucial to regularly moisturize your hair. This practice helps to keep the cuticles intact, preventing tangles and shedding. As a result, your body wave hair will appear smooth and maintain its wavy pattern.
Step4:
The final step in maintaining body wave hair in daily life is to finish your curls. To do this, use a blow dryer at medium heat to dry your hair. Once the hair is heat-dried, it will curl as it cools down. This step helps to enhance and define the body wave pattern in your hair.
Step5:
Another crucial tip is to ensure that you provide deep care and maintenance for your short body wave hair, body wave long hair, and body wave transparent lace front wig. It is recommended to seek the assistance of a professional hair salon for this task. They can provide specialized treatments and care routines to keep your body wave hair in optimal condition and ensure its longevity.
How to care for body wave hair wavy at night time?
Lying and sleeping in the wrong way can indeed cause damage to your hair, especially when wearing body wave hair extensions. It can flatten the waves and create frizz.
Here are some tips to help maintain the wavy pattern of your body wave hair:
Braid your body wave hair extensions into a loose tail before going to bed. This helps prevent hair strands from rubbing against each other, reducing the risk of breakage.
Wear a soft nightcap, such as one made of silk or cotton, to cover your braided hair. This protects your hair from friction and helps maintain its wavy texture.
Consider changing your pillowcase to a silk one. Silk is a smooth and gentle fabric that reduces friction and keeps your hair in good condition while you sleep.
Pay attention to your sleeping posture. Certain positions can cause hair to tangle or become flattened. Try to choose a posture that minimizes friction and preserves the waves in your hair.
By following these tips, you can help keep your body wave hair extensions wavy and minimize damage while you sleep.
Final thoughts
Indeed, it will make the body wave hairstyles look popular and beautiful if we can keep the body wave weave human hair wavy. This can help women attract more and more envious visions. Let's try these tips now to have the amazing hairstyle you always want!
All body wave wigs in Recool Hair are 100% virgin human hair which has 10A-quality Hair. Body wave wigs can keep wavy easier than synthetic hair wigs. And the wigs of human hair can be styled with less damage and less effort. You must try the human hair body wave wigs in Recool Hair.