When it comes to hair, many of us want to have the ability to change our style easily and conveniently. The introduction of pre-cut lace wigs has completely transformed the hairstyling industry, providing a simple and hassle-free solution for those who want to enhance their appearance. Whether you have a passion for fashion, a busy schedule, or simply enjoy experimenting with different hairstyles, pre-cut lace wigs are a revolutionary option.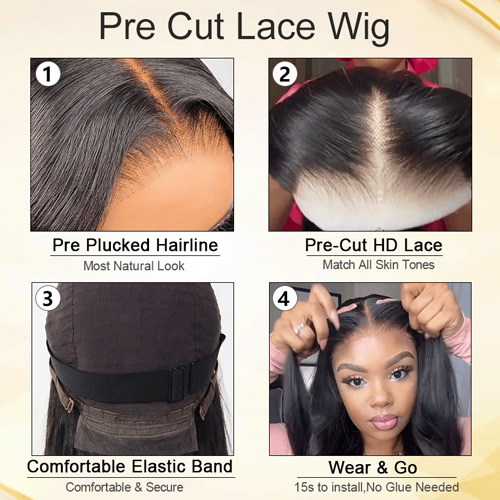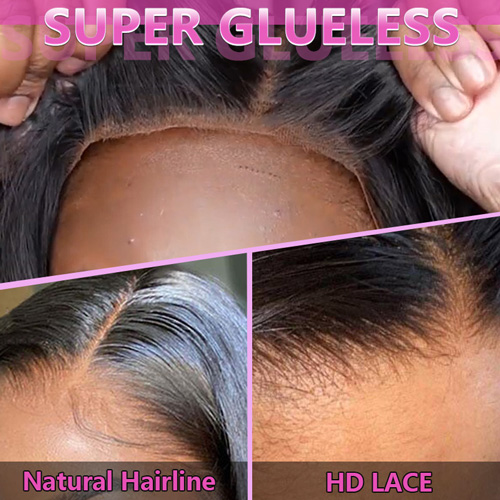 Understanding upgrade pre-cut lace wear & go wigs
Pre-cut lace wigs, also referred to as ready-to-wear lace wigs, are a type of wig that includes a pre-cut lace frontal or lace closure. This lace frontal or closure is designed to imitate the natural hairline, resulting in a seamless and realistic appearance. The pre-cut lace wigs are crafted with great attention to detail, as each individual hair strand is meticulously hand-tied onto the lace to achieve a natural look.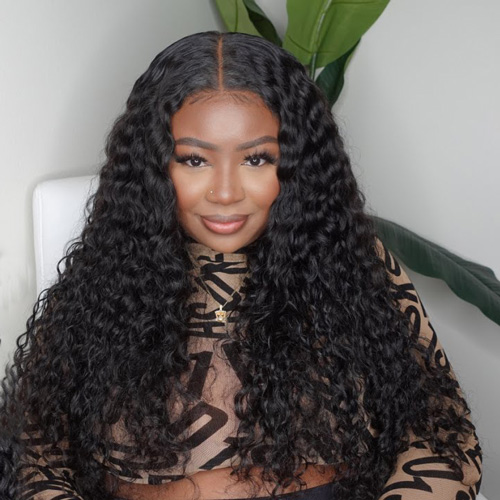 Advantages of pre-cut lace wear go wigs
1. Convenience
Pre-cut lace wigs are a convenient alternative to traditional wigs. Unlike traditional wigs, which often require customization and styling, pre-cut lace wigs are ready to wear as soon as you take them out of the box. This eliminates the need for professional customization, saving you both time and effort.
2. Realistic look
With a pre-cut lace frontal or closure, the wig achieves a natural-looking hairline, making it nearly impossible to detect that you are wearing a wig. The hair strands are meticulously hand-tied, giving the appearance that the hair is growing directly from your scalp. This adds to the overall realistic look of the wig.
3. Versatility
Pre-cut lace wigs offer endless styling possibilities. You can wear them in various hairstyles, ranging from sleek straight looks to voluminous curls. The wigs can be parted anywhere along the lace, allowing you to experiment with different parting styles. Pre-cut lace wigs offer the flexibility to choose your desired parting style, whether it's a middle part, a side part, or even a deep side part. You can easily switch up your look as often as you like, allowing you to experiment and find the style that suits you best.
4. Breathability and comfort
The lace material used in pre-cut lace wigs provides improved airflow to the scalp. This promotes breathability and helps prevent discomfort, allowing for a more comfortable wearing experience. The lightweight and breathable nature of the wig makes it suitable for all-day wear, ensuring you stay comfortable while maintaining a stylish appearance.
5. Protective style
You don't need to use glue to make installation anymore. This will protect your hairline and skin healthier. If you are allergic to glue, you will love this wig and get the best help away from the non-glue installation.
How to wear pre-cut lace wear & go wigs?
*NEW* DEEP WAVE GLUELESS PRE-CUT LACE WIG INSTALL | RECOOL HAIR – YouTube
Why Recool pre-cut lace wear & go wigs special?
1. The ventilated cap
The Ventilated Cap is designed to allow air to circulate through the cap and around the scalp, preventing sweat buildup and promoting scalp health. This helps to keep the wig fresh and can extend its lifespan with proper care.
2. The 3D silicone fit
The 3D silicone fit provides a secure hold by adhering to the scalp with a non-slip grip. It conforms to the natural shape of the head, preventing the wig from shifting or sliding during wear.
3. The pre-cut lace
The pre-cut lace on the wig is customized to look realistic by mimicking the natural hairline and scalp. Each hair strand is carefully hand-tied to the lace, creating a seamless blend between the wig and the wearer's skin.
4. The adjustable band
The adjustable band on the wig allows for a customized fit. It can be tightened or loosened to ensure a comfortable and secure fit on the wearer's head.
Who needs Recool Wear & Go Wigs?
1. Novice wig wears
Easy for beginners
Hair protection
Secure and non-slip fit
Quick 30-second installation
No tools required
2. Daily wig wears
No need for glue or gel
Adjustable band with sling comb for a secure fit
Innovative Recool 3D silicone technology
Natural-looking pre-cut lace with bleached knots
Ventilated cap for breathability
3. Special Occasion Wig Wears
Durable for over 200 wears
Suitable for all skin types
Quick and easy 3-step 30-second installation
Suitable for those with alopecia and sensitive skin
No shedding or tangling
Final thoughts
Pre-cut lace wear go wigs are a game-changer in the hair design industry, offering convenience, versatility, and a natural appearance. Whether you want a temporary hairstyle change or to enhance your natural hair texture, these wigs are the perfect solution.
They are easy to wear, available in various styles and textures, and eliminate the need for time-consuming mirror styling. Recool Hair offers high-quality human virgin hair wigs in 10A grade. Place your order now and experience the beauty of Pre-cut lace wear go wigs.