Have you been looking for the ultimate natural hair? Then you must try this 4C edge hair wig. This new wig product has a unique baby hair. For black women, this is the best design, which will give you a more natural hairline and natural hair appearance. Do you know what 4C hair is? Do you know what 4C edge hair wig is?
If you want to know more about this new wig type, you can continue reading this blog, which will benefit you a lot. Let's get started.
What is 4C hair?
From Wikipedia, according to Andre Walker's hair styling system, there are four categories of hair curl: 1 straight hair, 2 wavy hair, 3 curly hair, 4 kinky or coiled hair. Then, each hair type is further subdivided into three subcategories, which are represented by a series of letters. A to C means the hair is getting curlier and curlier.
| | | |
| --- | --- | --- |
| Type | Hair texture | Hair description |
| 1a | Straight (fine) | Very soft, shiny, hard to hold a curl, hair tends to be oily, hard to damage. |
| 1b | Straight (medium) | Has much body. (i.e. more volume, more full). |
| 1c | Straight (coarse) | Hard to curl (i.e. bone straight). |
| 2a | Wavy (loose waves) | Can accomplish various styles. Loose "S" pattern. Hair sticks close to the head. |
| 2b | Wavy (defined waves) | A bit resistant to styling. Hair has more of a defined "S" pattern. Hair tends to be frizzy. |
| 2c | Wavy (wide waves) | Hair has wider waves. Resistant to styling. Hair tends to be frizzy. |
| 3a | Curly (loose curls) | Thick and full with much body. Definite curl pattern. Hair tends to be frizzy. Can have a combination texture. |
| 3b | Curly (tight curls) | Medium amount of space of the curls. Can have a combined texture. |
| 3c | Curly (corkscrews) | Tight curls in corkscrews. The curls are very tightly curled. |
| 4a | Kinky-coily (defined coil) | Tightly coiled. Has a very defined "o"-shaped pattern. |
| 4b | Kinky-coily (z coil) | Tightly coiled. Little less defined kink pattern. Has more of a "Z"-shaped pattern. |
| 4c | Kinky-coily (tight coil) | Tightly coiled. Almost no visible defined kink pattern, unless seen from up close. Has more of a very tight "o"-shaped pattern. |
What does the 4C hair look like?
4C hair is one of the four types of hair, which is the most curved and tightly curled of all hair types, with tight and thin loops and natural fluffy texture. However,4C hair has no definite curl pattern when it is dried, and sometimes it is like 4A and 4B.
4C hair is more fragile because of its high degree of curl, and it is easy to dry and tangle, so it is not easy to maintain.
You can check the chart below.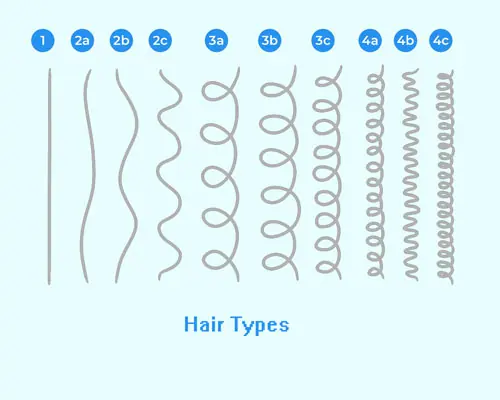 What is edge hair?
Edge hair, which typically refers to the front and side hairlines, is hair along the hairline. Because these hairs are situated at the outermost portion of your hairline, they are known as "edge" hairs. Also known as baby hair or dive edge. Your edge hair is typically more sensitive and brittle than the rest of your hair.
What is 4C edge hair wig?
The wigs with 4C edges hair emerged to protect your hairline and let you feel as natural as possible. Baby hair with 4C hair texture on the hairline of wig. For black women, curly baby hair can create a more natural appearance for you. You can use human hair wig with 4C hair edge and HD lace to create the most natural hairline and appearance. Your hair looks like that it grows from your scalp. For women looking for the most natural hair look, the wig with 4C hair edge hair will be a nice choice.
Why are 4C edges human hair wigs popular now?
1. Perfect for black women.
4C edges hair wigs can be perfectly matched with black women, making your hair very realistic, just like your scalp. The curl of 4C edges hair is like the curl pattern of many black women's natural hair, which is very natural.
2. Fashion and beauty
4C edges hair can add latitude and beauty to your hair appearance, and the edge of your hairline is worth shaping, which is part of a beautiful hair appearance. You can get a fashionable and beautiful appearance.
3. Durability
Human hair wigs with 4C edges hair are very durable for the high quality. All the hairs of the wig are human virgin hair from one donor.
4. Prepared baby hair style
You can just out on the wigs for the prepared 4C baby hair style. Of course, you can do other styles by yourselves for the high-quality hair material.
5. Diversity
Human hair wigs with 4C edge hair have various hair textures. You can try the kinky straight, straight, body wave, and curly wave hair texture etc.
How to style your 4C edge hair?
Tools:4C edges human hair wig; Toothbrush or edge brush; Glue; Small scissors; Scarves; Blow dryer etc.
1. Install your wig
Please install the wig in the right way before setting the 4c edges hair wig. After your wig is installed, make the edge. When you install the wig, be sure to use high-quality glue, or choose glue-free installation to ensure that the hair is installed stably.
2. Pull out and trim baby hair
You can pull out your 4C edge hair, and then trim your required length with scissors. 4C edges hair wigs are thick and enough, but if you need exquisite styling, you don't need a lot of fringe hair.
3. Moisten the edge
You need to apply high-quality gel or other fixing products to your edges. When you use the gel, don't save too much, or your edge control will be weak and smooth.
4. Shape the desired shape
You can create your favorite style for your 4C edge hair. You can shape your shape while brushing with a brush. You can gather your baby hair and then change the direction of your hair to get any baby hair styles you want.
5. Drying and fixing molding
When you are shaping a good shape, you need to wrap your edge with a silk scarf and tie it up. This is to dry and fix your shape. Then you can wait for the gel to dry and take off your scarf. Of course, you can also choose to use a low-grade hair dryer to speed up drying.
6. Look in the mirror and enjoy
Now that your 4C edge hair style has been shaped, you can enjoy your beauty in front of the mirror happily. I like this, and my good sisters will go out shopping after the building is completed.
Where to buy the human hair wigs with 4C edges hair?
Recool Hair is one of the best sellers for 4C edges human hair wigs. The human hair wigs are 10A quality. You can use the coupon codes to get the affordable prices. And the wigs are new types of wigs. You can try the new human hair wigs with 4C edges hair earlier, and then you can be the most attractive and eye-catching among your friends.
Hot human hair wigs with 4C edges hair in Recool Hair