Almost everyone who frequently dyes their hair loves and hates bleach. People may be worried that it will damage our fragile hair, but we cannot deny that bleach is our best choice. So, people are starting to look forward to milder bleaching methods, and bleaching baths have emerged. Do you know about bleach baths? Today's blog will take you through all the content you need to know about bleaching baths.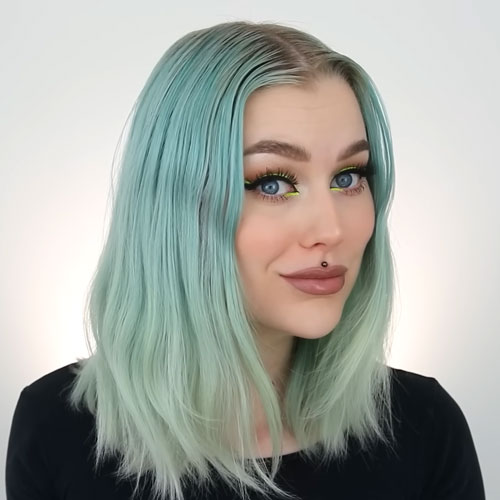 What is a bleach bath for hair?
A hair bleach bath is a hair bleach technique widely used by salon professionals. Hair bleach baths combine hair bleach with a mild shampoo or conditioner to produce a more mild, diluted bleach solution that is more irritating than normal bleach. This is a popular way to lighten your hair, which improves the traditional full-strength bleaching and does less damage to your hair. Diluted bleach mixtures are less irritating to the hair, and you can also add shampoo or conditioner to help protect the hair from excessive damage.
Bleach bath can produce subtle desalinization of hair or remove unwanted hues from previously dyed hair. They may also be used as a pre-brightening step before applying brighter or more vibrant hair colors. However, it should be noted that bleach baths can still cause hair damage, but to a lesser extent.
Why must you choose a bleach bath?
Bleach is an aggressive substance that will hurt your hair, make your hair is thin and fragile. Therefore, a bleaching bath is a perfect choice. This process can greatly reduce damage. If you need to bleach your hair, it's best to choose bleach bath hair.
How to choose a bleach bath or traditional bleach?
| | | |
| --- | --- | --- |
| Difference | Bleach bath | Traditional bleach |
| Bleach concentration | Much lower | Full degree |
| Processing time | Shorter for one time | Longer for time |
| Lasting time after bleaching | Shorter | Longer |
| Bleach bypass for one time | Lighter | Stronger |
| Harm to hair | Lighter | Heavier |
In general, the bleaching bath is a better and milder choice for bleaching hair than regular bleach process. If you can't achieve a significant bleaching effect, you can do bleaching process several times more. Of course, it will waste some time, but it can better protect your hair. bleach bath is a better choice in general.
Benefits of a bleach bath
1. Reduce damage
Bleaching baths are milder than traditional bleaching and make hair brighter. The diluted bleach mixture is less irritating to the hair and minimizes damage.
2. Low cost
A bleach bath is a relatively low-cost option for light hair, especially when compared to salon care where you can save a lot of money for the rest of your life and is budget friendly.
3. Wig friendly
You can bleach the bath gently using the wig to help your wig last longer than using full-strength bleach. A bleaching bath can make the knot of your wig whiter and make your appearance more natural after wearing.
4. Delete unwanted tones
Bleach baths can help remove unwanted hues or brass from previously dyed hair to make the hair more uniform.
5. Make your hair brighter
The bleaching bath may be used as a pre-brightening step prior to the use of brighter or more vibrant colors. This can help the color correct to show more vividly and last longer.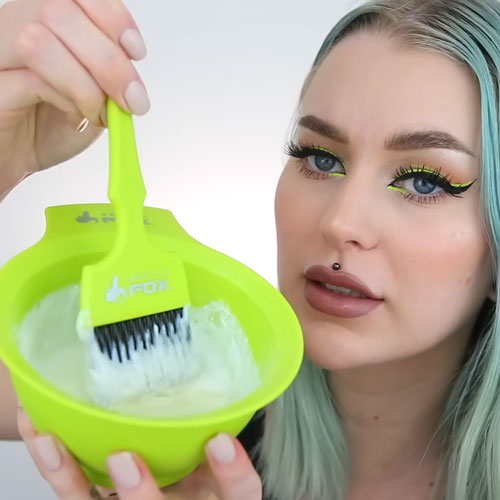 When should you use the bleach bath?
A bleach bath can help you in these situations:
Repair over-conditioned hair
Lighten your hair to create a contrast in brightness.
Light, weak hair, brighten your hair.
Remove permanent hair dyes and their residues.
A black knot that played down the wig.
Make your wig more natural and beautiful.
While bleaching baths may not be as effective as traditional bleaching procedures, they do less harm to hair. In fact, you can reuse the bleaching bath to achieve the same results as traditional bleaching.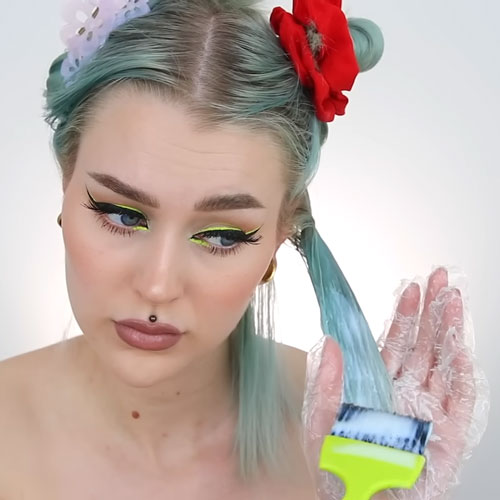 How to make a bleach bath for your hair?
1. Perform an allergy test
Mix a small amount of bleaching powder and developer and apply the mixture to areas such as the arm with a cotton swab to check the skin's reaction to the chemicals.
If no pruritus, lumps, or red plaques appear, it is safe to apply it to the head.
2. Wetting your hair
You can remove the tangles from your hair with a wide-toothed comb and comb it well with a clear, sulfate-free shampoo to remove any residue from your hair. Bleach bath for damp hair. This allows for faster and more uniform application of the formulation to the hair. It is not acceptable to take a bleach bath on dry hair; Be sure to applied to wet hair. After the washing is done, you can let your hair dry a little and then move on.
3. Prepare the mixture
First, mix a portion of bleach with two portions of develop. A typical bleaching agent can be converted to a bleach bath hair formulation by adding a clarifying shampoo to the mixture. The ideal ratio is to add the same amount of bleach and shampoo, and you can also add more amount of shampoo water to dilute the bleach and make it softer. You can also add a few drops of hair care to ensure optimal protection.
4. Apply the bleach bath mixture
You can start by dividing your hair into several sections and apply the mixture with a toning brush from the bottom of the hair all the way to the roots. Then use your wide-toothed comb to make sure each strand is evenly covered. Then, put them together, and cover them with a shower cap or plastic wrap.
5. Let it work
You can watch your hair carefully and check it every 5 minutes. Finally, when the desired color is achieved or exceeds 45 minutes, rinse your hair.
6. Bleach washing
You can rinse off your bleach solution with warm water to make sure it's all washed away. If you don't want your hair dyed immediately after bleaching, you can also use a deep conditioner to treat your hair and rejuvenate it.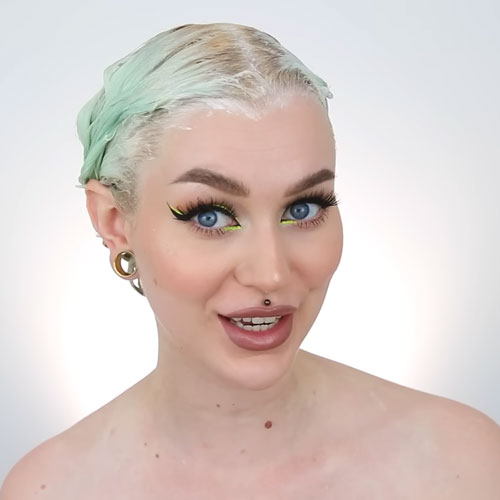 Tips to maintain your bleached hair well
Every time you wash your hair, you must adjust it deeply once every two weeks to recover the lost moisture.
Use a sulfate-free shampoo and conditioner when you wash your hair.
Apply a thermal protectant spray or essence to your hair to protect it from heat damage before using any heat-setting tools.
Avoid hair straighteners, blowers, and curlers for a few days after bleaching, use towel dry, because freshly bleached hair is more likely to get damaged.
Regular use of conditioner, essence, and hair film can prevent hair drying.
Final thoughts
Hope this blog can make you know the bleach bath better. Now Recool Hair is doing promotions that many 10A quality hair extensions including human hair wigs, hair bundles, and weaves are hot sale with affordable prices.
Related Articles
Layered Cut Vs Feather Cut: Which One Is Better For You
What's Better For Your Hair? Flat Iron Vs Hot Comb