Brazilian deep wave wigs can be redesigned, and then the appearance of deep wave wigs with various styles can be formed. The variety of styles makes this wig more popular. Some customers want to design or buy deep wave wigs, but they don't know enough about the styles of deep wave hair. If you don't know well about this wig, you will gain more knowledge about Brazilian deep wave hairstyles and some popular style recommendations in this blog. Keep on reading.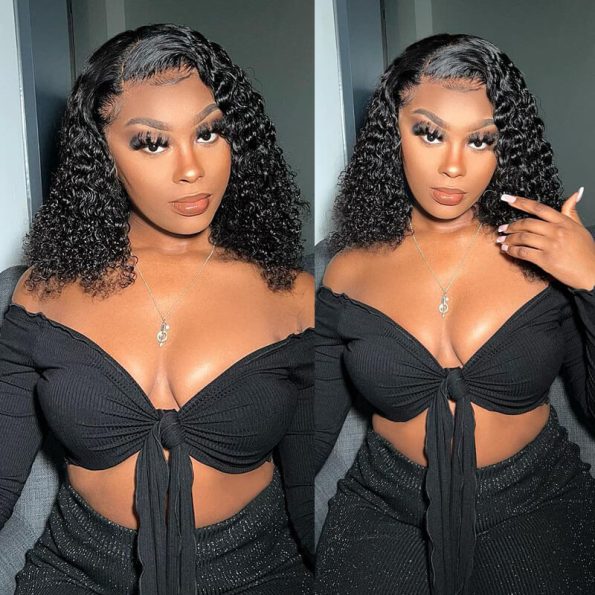 What is Brazilian deep wave hair?
Brazilian deep wave hair refers to the deep wave hairstyle formed by Brazilian hair. All curly hair faces one direction, and you can get a very smooth and delicate appearance. This hairstyle is very fluffy, giving you charming, healthy and natural hair. and the hair look is like a soft and long "s" shape. So, it is called the deep wave.
Features of deep wave hair
Deep wave hair features waves that are lustrous, attractive, and smooth.
Deep wave hair has a thick, tightly curled hair look that exudes mystery and allure.
The deep wave hair can fit all ages and all occasions for the wonderful outlook.
All of the curls in the deep wave hair are in one direction without tangling or falling off.
Features of Brazilian hair
Brazilian hair is donated from Brazilians, which is virgin hair which has natural texture and luster.
The hair is thick, silky and soft. You can see the dense and full hair look.
The hair is durable for long-time use. You can do more styles than other textures of hair.
The texture of hair can keep curly hair and waves well. And the maintenance is low and easy.
Why choose the Brazilian deep wave hair wig?
This wig is one of the most popular hair styles at present. Its texture is Brazilian. The wig is of high quality and very durable. You can use it for at least 2 years if you take good care of it. Brazilian deep wave hairstyle is very fashionable, with neat and smooth curls, showing more curls than body hair and smaller curls than curly hair. It has a very attractive deep wave shape, but the high quality of the wig allows you to design and shape your hair appearance many times.
Popular styles you can choose for Brazilian deep wave hairstyle
1. Half Up Half Down
The half up half down style is easy to create. You can use this hairstyle to show your facial features and show off your wave-like beauty. This style requires medium or long hair length to produce the most beautiful effect.
2. Double Buns
Here is a very energetic and lovely shape, suitable for young and lovely girls and very suitable for leisure occasions. A double bunds of deep wave hair can increase the volume of your head. You will like this eye-catching look.
3. Crown Braid
The crown braid woven by Deep wave hair is very beautiful and charming, just like a beautiful corolla. The curly hair texture of deep wave makes this crown fuller, perfectly decorating your head and face. That kind of beauty is very elegant and youthful.
4. High Bun
You can comb all your hair back, and then gather your deep wave hair to create a high bun shape on the top of your head. This is a very classic modeling method, and you can get a stylish and natural appearance.
5. Colored deep wave hair
You can dye your Brazilian deep wave hair to get different colors. These colored hairs can better show your charm and personality.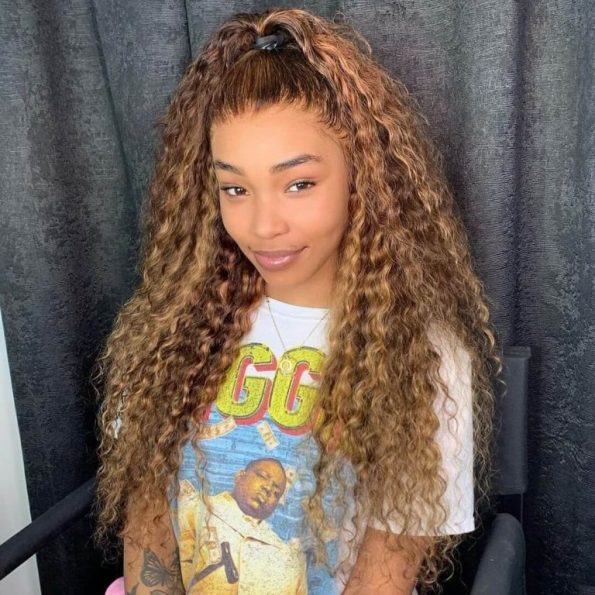 6. Short Hair
You can cut your deep wave hair to form a short hair. Short hair is very easy to maintain, and short hair can look very clean, confident and energetic. Short hair is fashionable, deep wave short hair can make your hair look Gorgeous.
7. Shoulder length deep wave hair
You can make your deep wave hair in shoulder length which is so charming. And the style is very gentle and soft. The length can give people a warm, calm and comfortable feeling.
8. Side part
You can change your Brazilian deep wave into a side parting hairstyle. The unique styling makes your hair form an unbalanced aesthetic feeling. This kind of aesthetic feeling is very natural and beautiful. This is a very simple and operable modeling method, which you can easily realize.
9. Use Headbands
You can give your deep wave hair a headband, which can decorate your head very well and keep your hair away from your eyes. You can use fashionable and various headbands with beautiful colors and patterns to form a great hair look.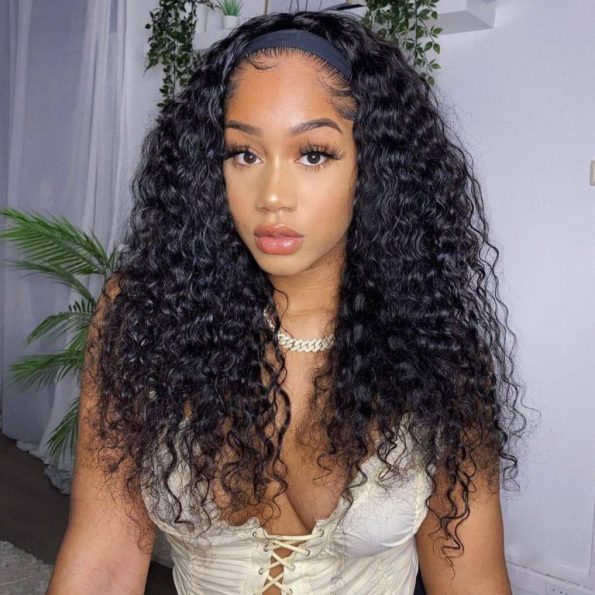 Final thoughts
There are various styles of wavy hair. You can try the ones listed above, and you will get a novel and beautiful experience. At the same time, our wig shop has many styles of Brazilians Deep Wave Hair Wigs and Weaves, which are selling well. They all have 10A hair quality and are all made of 100% virgin human hair. Welcome to buy.