Glulelss wig is attracting more and more attention from wig lovers, because the installation of this wig does not need glue, which is a great improvement over the traditional way of installing wigs with glue. Many customers are tired of the use of glue, and some are suffering from skin allergy and other injuries because of glue.
Nowadays, adhesive-free wigs have appeared, and caused a sensation and welcome. But people are not very comfortable with this wig, because they are not sure whether it will fall off easily without glue. Actually, I don't know enough about glueless wig. Glueless wigs will not fall off easily, and it has a unique and stable fixed setting. Today's blog will take you through this wig. Please read on and let's begin.
Content:
1. What is a glueless wig?
2. Types of gluless wigs?
3. Do glueless wigs fall off easily?
4. Why you must have a try on glueless wigs?
5. How to wear a glueless wig?
6. Popular styles of glueless wigs in our hair shop
7. Reminder
What is a glueless wig?
Just like the name says, the biggest feature of the gel free wig is that the gel free wig is healthier, safer, faster and saves time and cost. This kind of wig can be either lace free wig or lace free wig. The key of glueless wig is the special device of the hair cap. Most wigs on the market need glue to be firmly installed, but gel free wigs do not need these. You can use some special devices, such as the hairpin and adjusting band in the hair cap, to fix your hair well.
Types of gluless wigs?
Guleless wigs have differnt types, such as the headband wigs, U-part wigs, V-part wigs, glueless lace front wigs and glueless bob wigs and so on. All wigs that you can wear it without glue are glueless wigs.
Do glueless wigs fall off easily?
You should not worry about wearing a gel free wig that will fall off, because it has an adjusting band, hairpin and comb inside, you can safely and firmly install it on your head, and it will not fall off easily. You just need to adjust the wig to the correct position, then fix it with the adjusting belt, and then fix it with a clip or comb door, which will be very stable. And if you choose headband glueless wigs, the headbands can fix it as well Please do no more worries after reading this blog.
Why you must have a try on glueless wigs?
1. Avoid glue allergy
If you have glue allergy, you must try the gel free wig. You will like it. The biggest feature of this wig is to provide protection and services for people with glue allergy.
2. Avoid damaging scalp and hairline with glue
You should know that if you overuse glue or overuse inferior glue, your scalp and hairline will inevitably be injured, and your hairline will become thinner and taller. You can avoid this by using a gel free wig.
3. Protect your natural hair
You can use gel free wigs to protect your natural hair from the sun, dust and smoke. And the gel free wig, like other wigs, can also help you cover hair loss if you are troubled by it.
4. Rich and diverse types
The biggest difference between the non glue wig and other wigs is that the non glue wig can be installed. The other wigs can be the same. The non glue wig is installed in the hair cap. So many place front wigs can also be installed without glue easily if they have such devices. There are many types of gel free wigs. You can choose and replace your wigs freely.
5. Can save money
Some glueless wigs are cheaper than lace wigs, because they are lace free, so the cost is lower. You can easily buy glueless wigs at an inexpensive price.
6. Simple installation and disassembly
You can easily and simply install your glueless free wig. There is no glue in the installation. You can quickly install it, usually in 5 minutes. You don't have to go to a barber to help you. This saves you a lot of installation costs and time.
7. It is not necessary to remove the wig with glue remover
You don't need glue to install your wig, and naturally you don't need glue remover. Removing glue is also a very troublesome step, and a lot of glue removers will also cause damage to your scalp and hairline. Now you use a gel free wig, which can also avoid this trouble.
8. Simple maintenance
The maintenance of gel free wigs is also easy. You only need to clean and maintain the wigs correctly, without being bothered by the glue of wigs. You do not need to use remover to remove the wig, nor do you need to clean the residual glue on the lace of the wig. This can save you a lot of maintenance time and costs.
9. Breathable and comfortable
The gel free wig is breathable and comfortable. There is no glue, and there is no dull feeling of too sealing. The front of your hair will be more comfortable.
10. Suitable for novices
If you are a novice, you can try this wig because it is easy to install and maintain, and you can buy some lace free and glue free wigs with cheap wigs.
How to wear a glueless wig?
Prepare your clean hair, comb it soft and remove tangles.
Knit your natural hair, then put on a wig cap.
Put the wig on your head and adjust it to the correct position.
Fix it with the hairpin in the hair cap, then adjust the strap to reinforce your wig.
Complete the installation, and freely do some favorite styling, such as baby hair, to make your hair more natural.
Popular styles of glueless wigs in our hair shop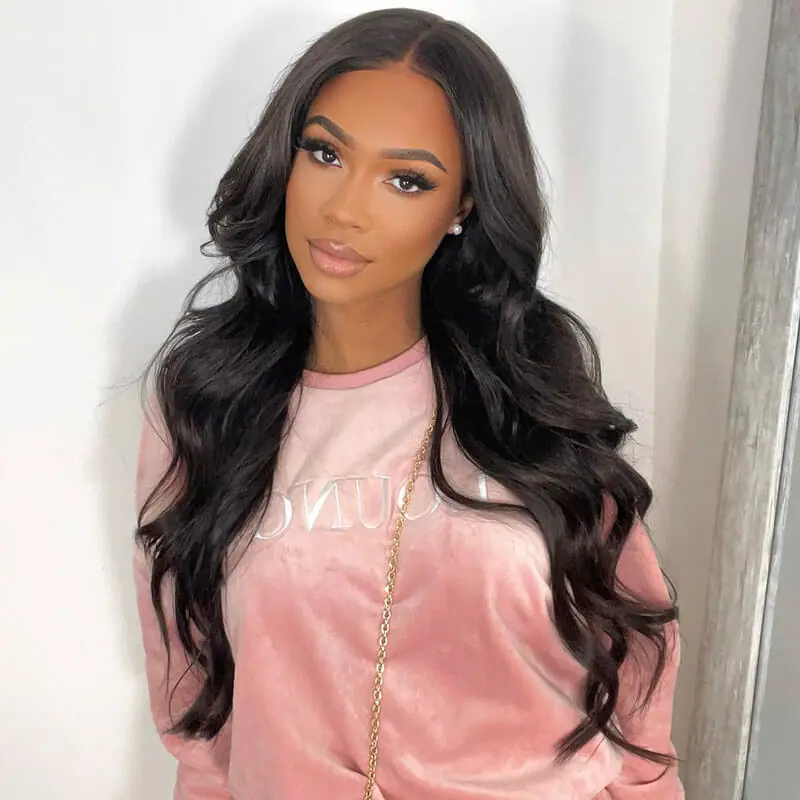 It is glueless wig with body wave or straight hair for your free choices. And there are three lace types: 5×5/13×4/13×6. You can choose the hair length from 16inch to 30inch. The hair density is 180% which is full enough. The hair is 100% human virgin hair. And this wigs is in a promotion for "buy one get free one".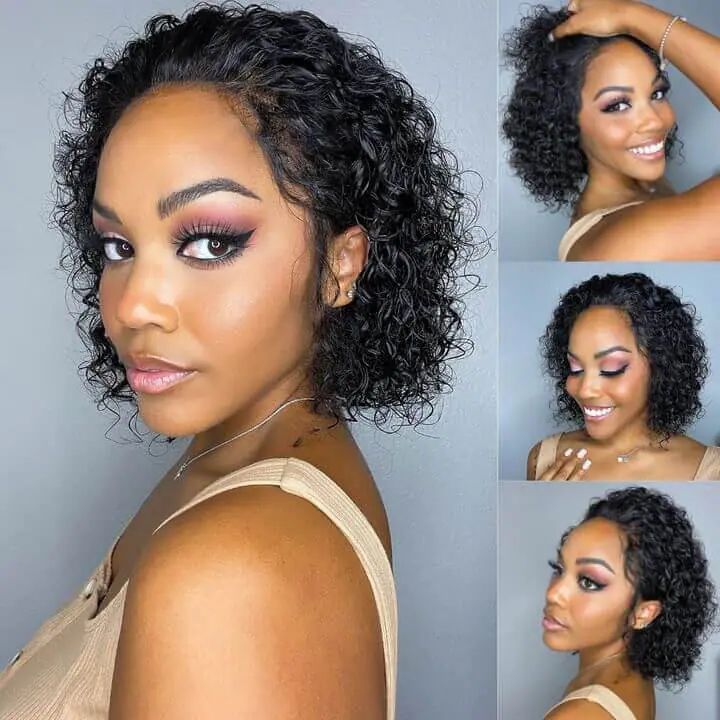 The glueless wigs is a special hairstyle which is slick back short currly. The style is so fashionable and sexy that you must have a try to get a lively and young hair look. The length is only 8inch with the hair 150% denisty. The lace area is 13×4. Come on! Don't miss it!
Reminder
Hope this blog can help you better in the glueless wigs. If you want to know more and try some gluless wigs, you can check our website. Any qustions, you can contact us freely.