Dark root hair is popular now. And these kinds of wigs are the most hot-selling products among the colored wigs. Are you interested in it? Do you know the dark root hair clear? If not, this blog will help you know better about the dark root hair and some popular styles of them. Please keep on reading to get the full guide.
What is the dark root hair?
Dark root hair is also called as shadow root hair, which is a special shading technique. By using a slightly darker shadow at the root, you can increase the color hierarchy and depth of your hair, making your hair more vivid and attractive. This is a fashionable and trendy dyeing method, which is not outdated now. You only need to use a small amount of dyeing to achieve it. You can also purchase relevant hair extensions to quickly realize this wig. Because there are not many dyes, the price is more affordable than all dyed hair.
Advantages of dark root hair
1. Depth of hair
Dark root hair can give you great color difference, forming a slight color contrast, making your hair look deep and have good dimensions.
2. Variety of styles
You can try or create a dark root with the hair of different colors. Some are brighter on your hair look, some are cooler.
3. Fewer staining areas
For dark root hair, you don't need to dye all your hair or wigs. You only need to dye a part of them, which saves you a lot of time and money.
4. Healthier
Compared with other dyed hair styles, dark root is healthier. You don't have to spend more time on dyeing and heat setting, which means you will do less harm to your hair.
5. Long duration
If you dark root your hair, the style is long-term lasting. It is durable and low maintenance. The dynamics is near your root so that it can be protected better from the harsh environment.
6. Strong applicability
No matter how long your hair is, you can easily and appropriately create the Dark root hair. This dyeing style is not abrupt, but very natural and beautiful.
7. Suitable for all ages
Yes, no matter what your age, the dark root hair is suitable for you. You can choose the color you want to dye. This slight color contrast makes you look young and energetic, and it's not surprising. You should know that under natural circumstances, people sometimes have this shape, such as the natural shadow shape of white hair, gray hair and black hair.
8. Create a natural look
If you are not satisfied with your wig or hair root, you can dye it with dark root hair, which will make your hair root look more natural. For example, if your hair root starts to turn white, you can choose dark root hair to help you restore black and nature.
Popular styles of dark root hair
1. Dark root blonde hair
Dark root blonde hair will make your blonde hair look cooler, which is a handsome and confident choice. Moreover, the contrast of these two hair colors can give you great hair maintenance and make your hair look plump and natural.
2. with black roots
Light gray blonde hair and black roots can make your appearance more textured, which is a charming color fusion, especially suitable for wavy hair. Moreover, this hair color is very natural and can be suitable for all seasons.
3. Pink hair with dark roots
The combination of dark hair roots and pink hair can make your hair more temperamental, highlight your temperament and make you cuter or sexier.
4. Silver hair and dark roots
This style is very refreshing, giving people a feeling of inner peace and dark thinking, and it is suitable for women with quiet temperament and strong rationality.
5. Dark brown hair roots and blonde hair
The combination of blonde hair and dark brown hair roots is also perfect. The color is softer and more natural, which makes your appearance fuller and warmer while increasing the dimension.
6. Black root and ginger
Black root ginger hair is very eye-catching and fashionable. This can make your father's whole appearance brighter and give people a warm, changeable and enthusiastic feeling.
7. Burgundy Hagen
This color combination gives people a strong and confident feeling, as well as your restrained enthusiasm and warmth, with a feeling of pride but tenderness.
Some great dark root hair wigs in our hair shop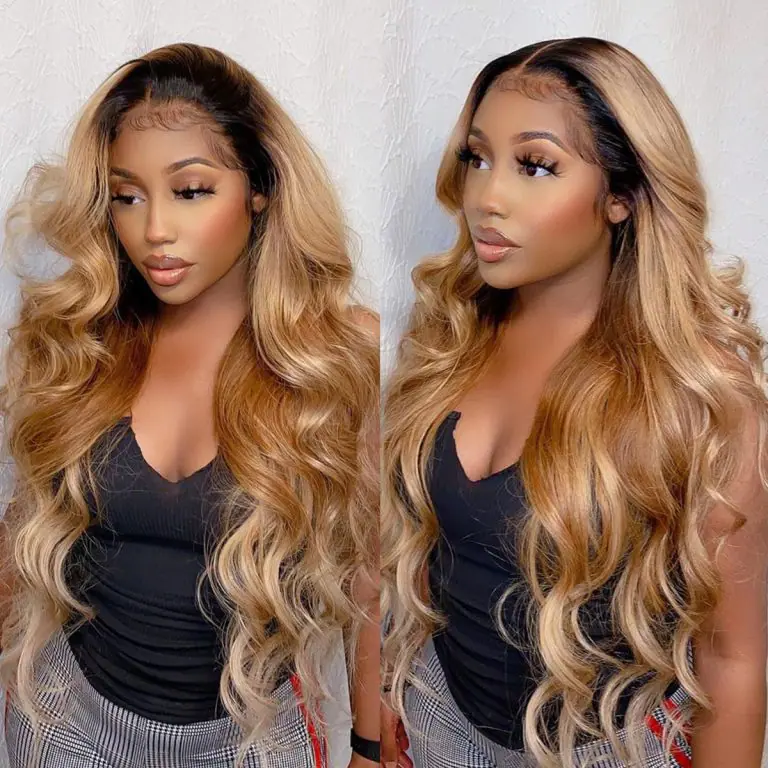 It is the ombre honey blonde hair with 1b black roots. The hair is gorgeous with body hair style. That is so pretty that you can get a warm and full hair look. The hair length of the wig is from 18inch to 28inch with 180% hair density. Just come and buy it.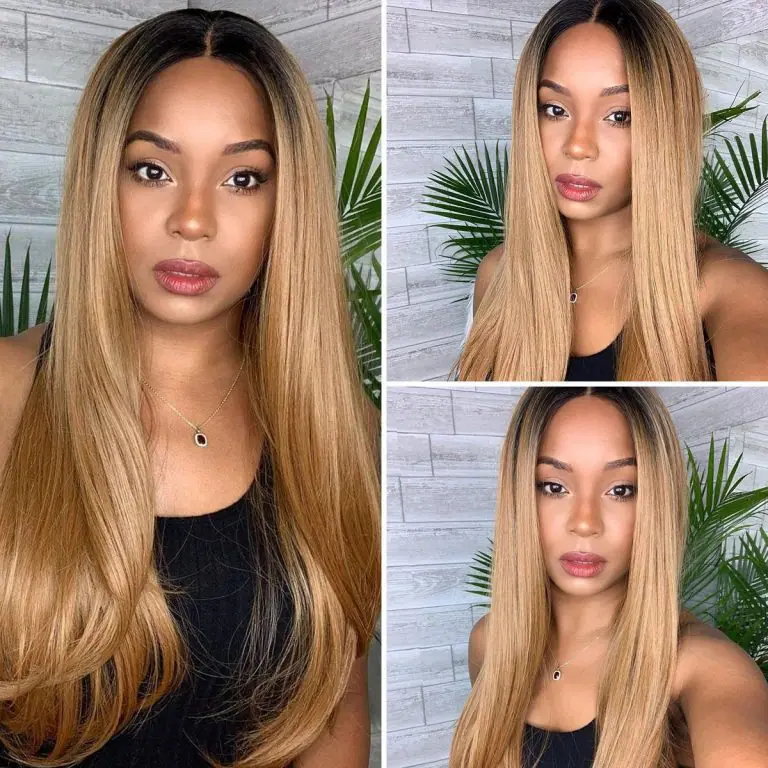 The wig has a color with 1b/27 ombre color, while the hairstyle is straight with the hair smooth and soft. You will look more luxurious by this wig. The length for choices is 18inch~28inch. And the density is 180% which will make your look plump.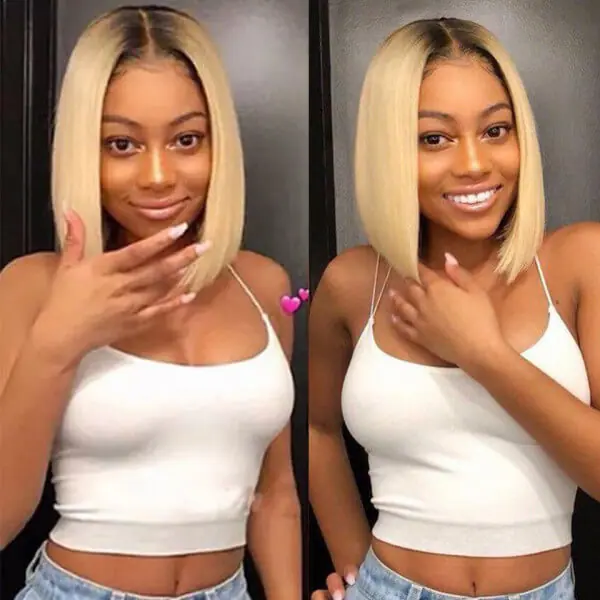 This wig has the 613 blonde color with the dark brown or 1B black roots. You can choose the one you like freely between them. They are all 10inch-14inch with 180% human hair density and the lace front is 13×4 area, which you can do more hair styles.
FAQs about the dark root hair
How long is lifespan of dark root hair wig?
One of the advantages of dark root wig is that it doesn't need frequent repeated dyeing and can last for a long time. And if you use dark root hair wigs made of 100% human virgin hair, then you can use it longer. If you take good care of it, your dark root can last for at least half a year. When it fades, you can easily dye it yourself, because your hair is of good quality.
Is dark root hair wig expensive?
Dark root wigs are usually more expensive than those without root dyeing, but they are not expensive because there are not many color areas, and the cost is not high. Moreover, compared with other all-dyed wigs, its price is suddenly much cheaper, and this style will be more special, which is a unique fashion style.
Where Can I buy the best dark root hair?
There are so many kinds of wigs in our hair shop, including the dark root hair wigs. You can get the best shopping experiences here. Our wig shop has its own factory and has been making wigs for more than ten years. Our brand reputation has always been good. You can get a reasonable price and high-quality wig quality. Welcome to visit our shop and make orders.