Headband wigs are the type of wigs that are selling well in autumn and have received many customers' pursuit. It has many styles to design. If you don't know how to design your headband wigs? Today's blog will introduce you to this wig, and share some styles of headband wigs that you can design. Hope you can find the style you like and want to design.
What is headband wig?
A headband wig is a kind of wig that can be installed without glue. Headband wig is lace-free and glue-free, and you can freely choose to expose or show your hairline, which is very convenient and natural. And you can use a variety of different headband to design your own wig.
Features of headband wig
The back of the wig has an adjustable shoulder strap and 3 combs, which you can easily install.
High-quality headband wigs are almost 100% human hair virgin wigs.
The hairline and edge of the wig are very natural.
Headband wigs can be used for at least one and a half years as long as they are well maintained.
Benefits of headband wigs
1. Save money
Compared with lace wigs of the same specification, headband wigs are very cheap because they have no lace and are simpler to manufacture. Moreover, the headband wig is easy to install and maintain, and you can save a lot of installation and maintenance costs. draughty
2. Lightweight, breathable and comfortable
Headband wigs are light, breathable and comfortable. human hair is lighter, and the Headband wigs breathable, which is suitable for all seasons, especially in hot summer.
3. Save time
For lace wigs, the installation every morning is trivial, complicated and even time-consuming, while the headband wig has simple installation and removal, so you will save a lot of time and energy. If you choose headband wigs.
4. Various styles
You can choose different headbands according to different occasions and clothes. There are many types of wigs, which can give you a variety of styling options. 
5. Protect your hair
A headband wig can protect your natural hair from the sun, dust, wind and pollutants in the first place. Secondly, you don't need glue to wear a wig. Excessive use of glue or inferior glue will hurt your hairline, making it thinner and irritated.
6. Suitable for beginners
Headband wigs are reasonable in price, simple to install and various in variety, which is one of the most suitable wigs for novices.
Great styles of headband wigs you can make
1. Different headbands
You can constantly update the appearance of your hair by changing the headband, which is the fastest way to change the styling of a wig. You can try many different styles with the help of different headband.
2. Low ponytail with wig
Low ponytail wig is very suitable for women who like to exercise and keep fit. It can protect your eyes and avoid hair and sweat. You can get better exercise results.
3. High bun with wig
You can make a wig with high bun hair, which is very elegant and eye-catching, and makes you look like an attractive and confident woman. A high bun wig also helps to prevent hair from sticking to your face, and you can get a clean and delicate look.
4. Curl or straighten your headband wig
You can freely use the heat setting tool to straighten or curl your headband wigs and design your favorite style.
5. Dye headband wigs
You can use semi-permanent dyeing to dye your headband wigs, while choosing high-quality dyeing products to ensure the health and effect of dyeing.
6. Part your headband wigs freely
You can freely type your headband wigs, and you can choose the middle or side type to give you a more fashionable appearance.
7. Double Buns
You can first divide your hair into two parts, tie them into two ponytails, then twist each ponytail into a bun, and finally fix it with a headband. This hairstyle is very cute, which makes you look more energetic and younger.
8. Side Braid
If your wig is curly hair, you can design a side braid, which is a sweet and simple style.
Popular headband wigs in our hair shop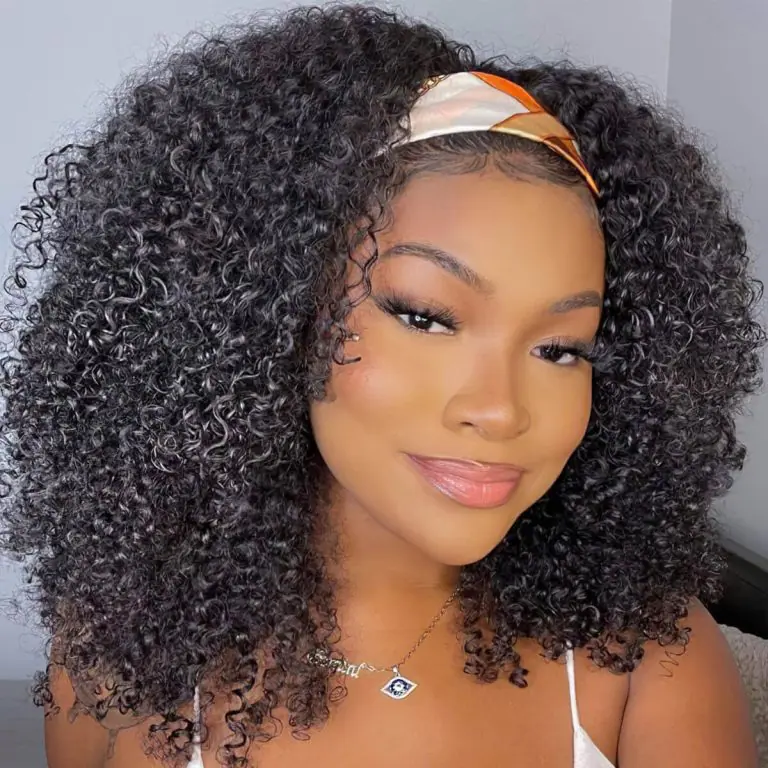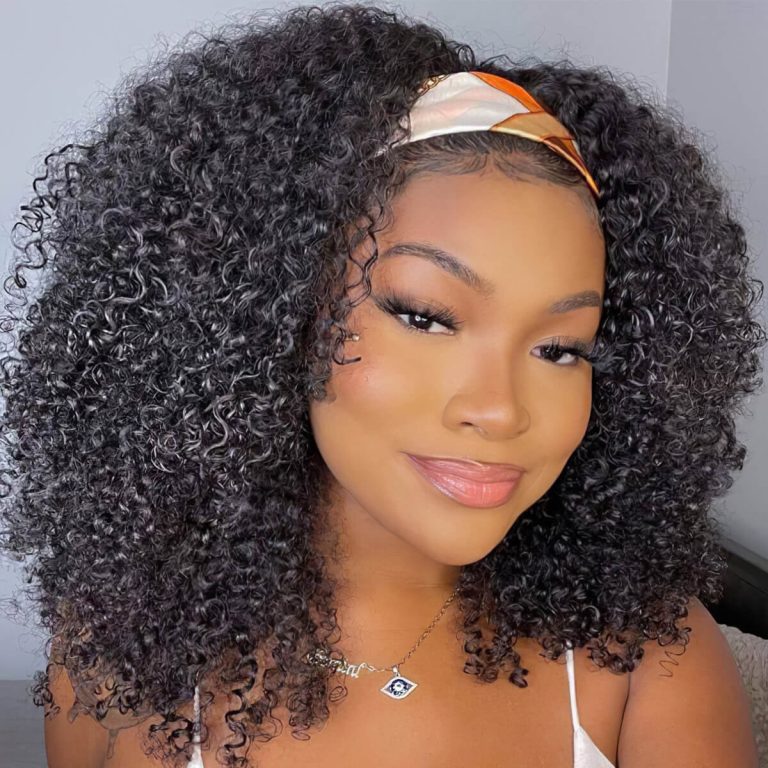 The hair length is 14inch or 16inch. And the hair density is 150%. The hairstyle is kinky curly which are so full on your head. The headband wig is made by 100% human hair wigs.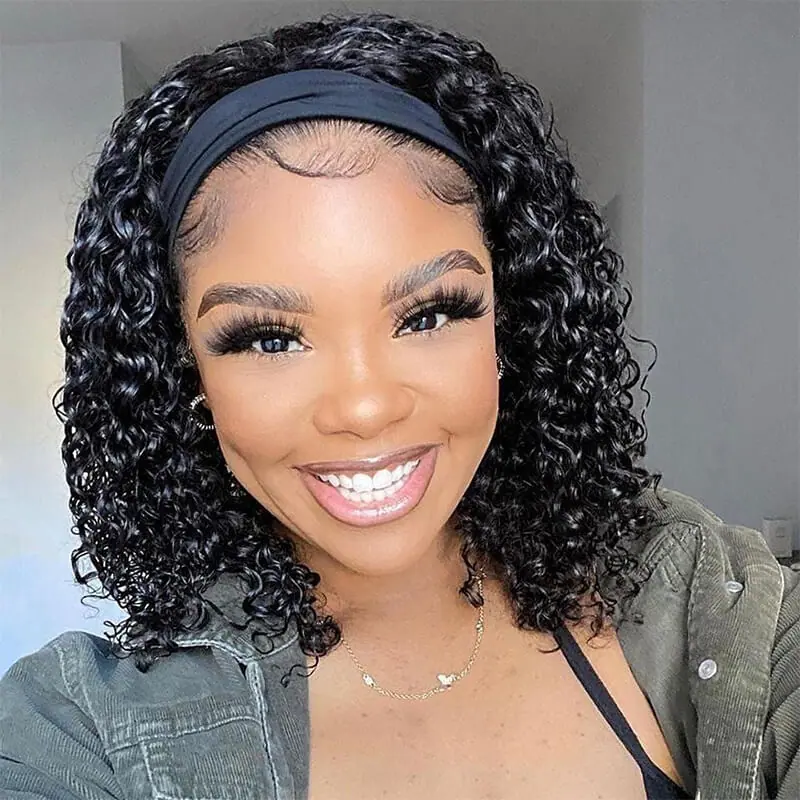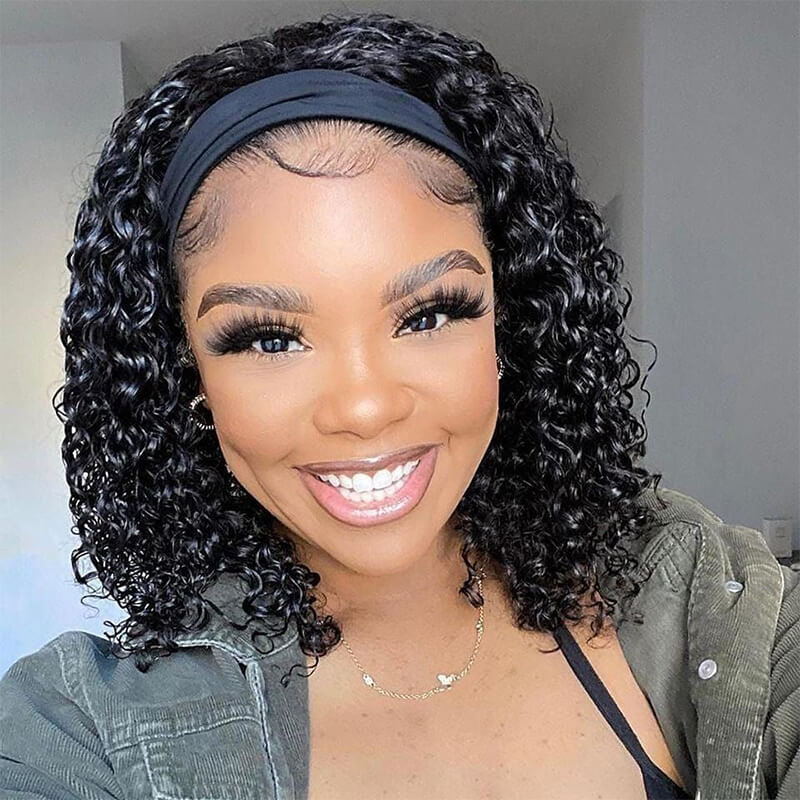 The hair style is deep wave. You can get a smooth and gorgeous hair look. The length for choices is 14inch and 16inch. You can get the headbands as free gifts.
The hair color is 99J burgundy which can give you a stable and warm feeling in the autumn. The hair length is from 14~26inch. They are all 100% human hair.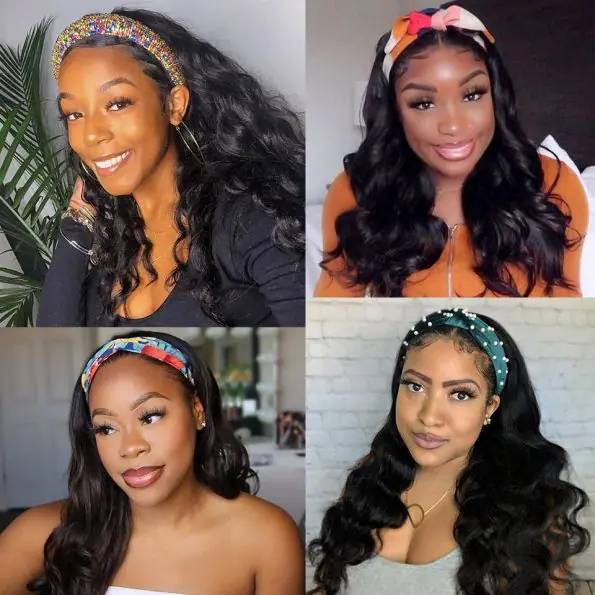 The headband wigs have a body wave hairstyle. The pattern is like a "s" shape. The wave is attractive and wonderful. The hair is made by the Brazilian virgin hair which is durable and high-quality.
Final thoughts
There are many types of headband wigs in our hair shop. All headband wigs are 100% human virgin hair. The hair is dense and the wigs are 10A quality. You can get them in affordable prices in our promotion.