It is not easy to choose a wig that suits you, especially for women with small heads. Because most wigs in the market are of average size. So, for small-headed women, how to choose a wig that suits their own head shape? You need to know the size of your head, choose a wig with an adjustment strap, and some tips on buying and adjusting wigs, etc. Today's blog will take you through these tips to help women with small heads get the best wig experience. In the article, you will also get some good wig recommendations.
Why choose a wig that suits your head size?
When you buy a wig that doesn't fit your head, it will completely disappoint you, because it will become difficult for you to wear. After you put it on, it will also be very uncomfortable, and you won't get a comfortable wearing feeling. Moreover, the appearance of your hair will be unnatural and unpretty because it doesn't fit your head.
Therefore, it is very important to choose a wig that is suitable for your own head type, especially for some small-headed women. Because some women still don't know or determine whether they are small-headed women or not, the following article will show you how to measure their head sizes and determine which one they are, big, average or small sizes.
How measure your head size correctly?
Place the tape measure 1 inch (2.5 cm) above the top of your ear. This is the starting point.
Place the tape measure about 3 inches (7.5 cm) above your eyebrows. Close to the hairline and make sure it lies flat on your forehead.
Wrap the tape measure around your back so that it passes through the middle of the occipital bone, which is a small lump felt at the back of your head.
Combine the tape measure with your starting point, hold it down with one hand, mark it, carefully remove the tape measure, and record the measured value.
Repeat the measurement and record, remove the average value, and make sure your measurement is accurate.
Three main types of head sizes
Small head the circumference of the head is about 21 inches.
Average head the circumference of the head is about 22 inches.
Large head the circumference of the head is about 23 inches.
How choose a wig for small head size?
1. Determine the size of your head
You need to first determine whether your head shape is small or average. You can find out according to the above measurement methods and classification.
2. Select the appropriate wig cap Size
You should choose a wig hat that is suitable for your own size. For those of us with small heads, you should choose a wig hat with a circumference of about 21.5.
3. Choose a wig with an adjustment strap
You can choose a wig with an adjustment strap. Because of the adjustment strap, you can freely adjust your hair cap to fit your head shape.
4. Choose a wig shop that can customize the size of your hair
Some wig shops have their own manufacturing factories, where you can get customized services. You can provide the following data on the head shape, and then get a wig suitable for your small head.
5. Choose high-quality hair cap materials
The material of the hair cap is also the key. A good wig structure is the key for you to adjust and design your wig. The hair cap of your wig should be soft, tough and durable.
6. Choose your own wig density
Wigs with 50% and 180% hair density are most suitable for customers with small heads, which are more natural and comfortable to wear. Because the denser the wig, the heavier it will be, which will exert greater pressure on the head.
7. Choose your own wig length
For customers with small head, the hair length should not be too long, which will make your overall appearance unnatural. You can wear a wig with medium length or short hair. It can also better match your head shape and face shape and make you look more beautiful.
8. Choose 100% handmade lace-up cap
100% hand-tied wigs have better quality of ties, and you can adjust your wigs with ties more freely and durably.
Popular wigs with adjustable band for small head in our hair shop
Lace front wig
Lace front wigs is the longest-seen basic wig style. You will have many choices for wigs. You can choose different hair styles, hair colors, hair lengths and densities, etc. You must find your favorite lace front wig for small head.
U/V-part wig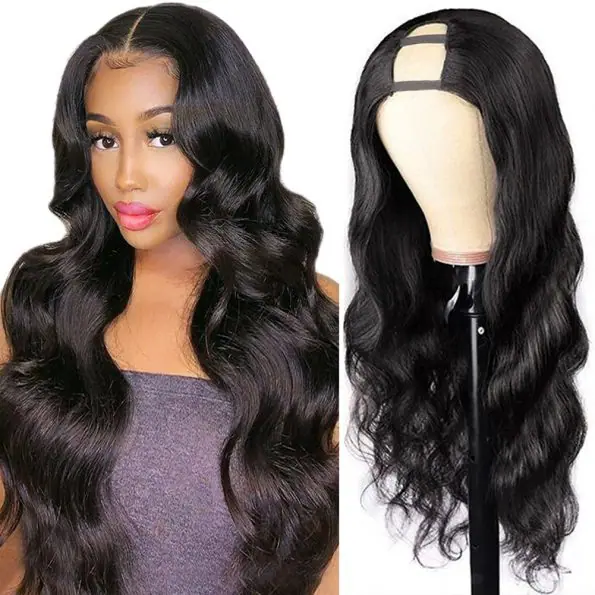 U/V-part wigs has a U/V-shaped opening in the front of its hair cap, and you can mix your natural hair with a wig to create a natural look. This kind of wig is very simple to install, can be put on and taken off quickly without glue, is very breathable, and provides space for your natural hair to breathe.
Bob wig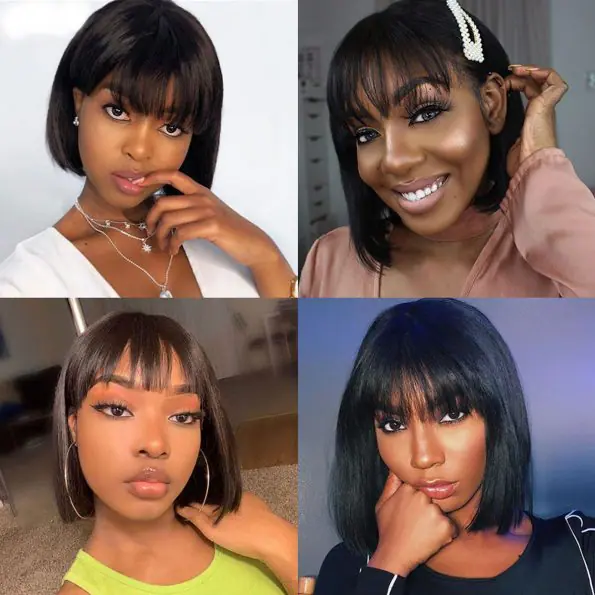 Bob wig is very suitable for your small head, and it is very clean and neat. It is perfectly matched with your head, which is very natural. There are many types of Bob wigs, especially bob wigs with bangs, which are very popular at present and deserve your common sense. Bob wigs is cheaper than long hair and friendly to your budget.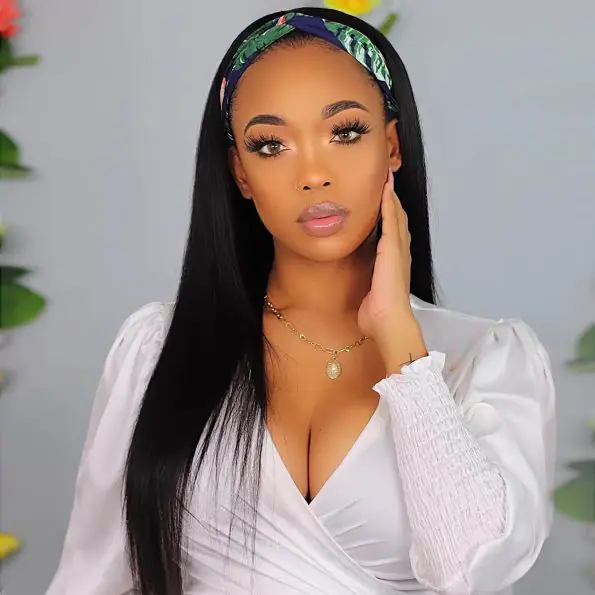 Headband wig can help you decorate your hair, and you can choose many types of headbands to add beauty to the appearance of your hair. And you can hide or expose your hairline. Headband wig is also installed without glue. It is quick to install and easy to maintain, saving you time and money.
360 lace wigs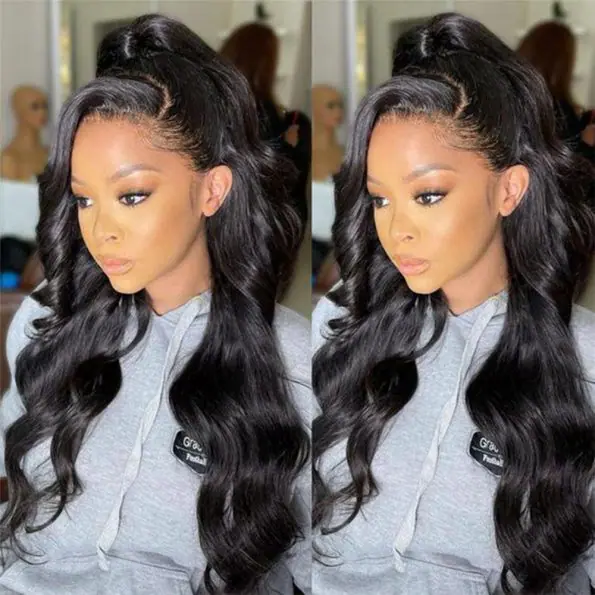 360 lace wigs can give the most hair styling design, because the lace area is large, so you can operate more space, permeability is very good at the same time, wearing very light, the price will be slightly more expensive, but it is reasonable. You can try more stylish styling if you have 360 lace wigs.
How to make a wig fit a small head?
With adjustment bands
If your wig has an adjustable strap, you can use the adjustable strap to adjust and fix the wig on your little head. If you feel that it is not stable enough, you can use a hairpin to help you fix it, or sew your adjusting belt to avoid the loosening of the adjusting belt.
No adjustment bands
If your wig doesn't have an adjustment strap or the adjustment strap doesn't work well, you can cut or supplement the built-in headband in your hair cap to help you change the shape of your wig's hair cap to suit yourself through sewing.
Final thoughts
There are 100% human hair wigs which can be customized into different cap sizes for all head sizes in our shop. If you are looking best wigs suitable for the small heads, you can buy the wigs in our shop. We have our own factory for 15 years of experience in wig manufacturing. Just come for your best wigs dear.