It is close to winter now and it's time for you to change your hairstyle, isn't it?? So, have you considered choosing a wig with skunk striped hair? At present, this style is highly sought after, because it is very creative, and many celebrities and fashion people are choosing this style. The happiest thing is that you can simply create this style at home without bothering the stylist. You will gain confidence and fashion sense. This is a great autumn wig. This blog will take you to know about it, how to build it and popular style recommendations.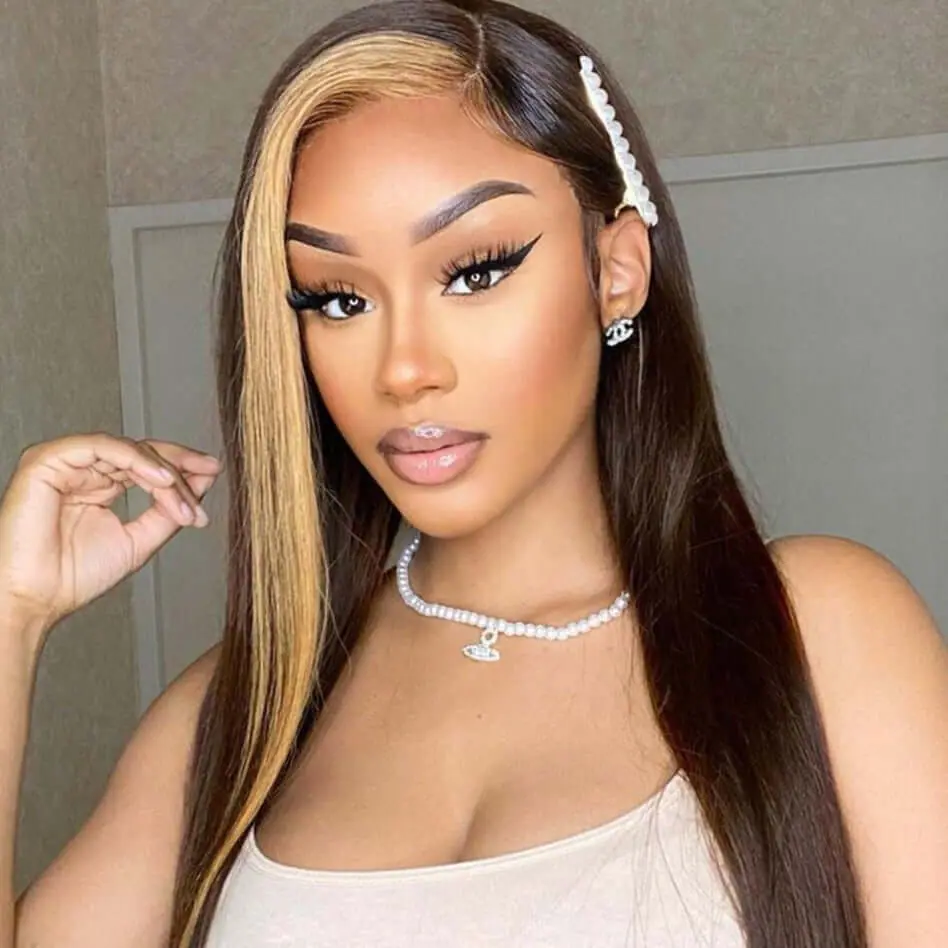 Content:
1. What is a skunk stripe hair?
2. Why you must try a skunk stripe hairstyle?
3. How to style a skunk stripe hair?
4. Recommendation of a hot-selling skunk stripe wig in our hair shop
5. Final thoughts
What is a skunk stripe hair?
Skunk striped hair is a two-tone hairstyle or half-tone hair color, usually showing a warm mixture of white and black, but there are other color options. This is a color trend in which two separate tones are blended into the hair, separated and contrasted.
The contrast between the two colors makes your appearance very bright. This style is a trend. It dyes a section of hair in a contrasting color. Color contrast can make you stand out and add more popular colors to your wig. This style is bold, fashionable and beautiful.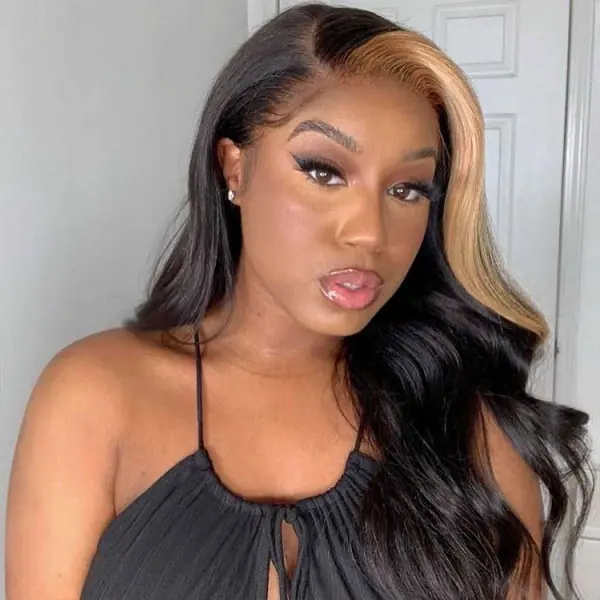 Why you must try a skunk stripe hairstyle?
Innovative color trend. Skunk striped hairstyle is a very innovative hairstyle. You can try different colors.
Simple design. The design of skunk striped hairstyle is not difficult. You can learn and design it well at home by yourself. You only need to follow the following steps in this article, and you can finish this design quickly.
Skunk stripe color modeling does not need to dye all hair, so the cost of dyeing is not high. And you don't have to go to a barber for help, which can also save you a lot of design costs.
The hairstyle can suit all seasons because you can style different colors.
This hair style is very fashionable and eye-catching. The bright contrast color will let you get the attention and admiration of others.
How to style a skunk stripe hair?
Here are the tips to do the style:
1. Prepare
You need to make sure all your tools are ready. Adequate preparation will not stop your modeling, and will not lead to dyeing failure due to lack of tools.
2. Brush hair and separate dyed areas
You need to clean your hair, and then when it dries, use natural essential oil to help you remove all the tangles on your hair. Then you can slowly divide the area you need to dye with a comb. The dyed area depends on your own preference.
3. Debug color
You can use temporary or semi-permanent dyes, which will do the least harm to your hair. You need to mix your colors next to make sure the debugged colors are even.
4. Apply color
After you call out the dyeing you want, you can apply it to your cut area, and make sure it is evenly applied to get perfect results. When painting, you can wear your gloves to protect the skin of your hands or you can use a long tail dyeing brush to help you. You can also wear old clothes and protect your clean clothes.
5. Let your hair rest
After applying, you need to let your hair rest. Please refer to the product instructions for the rest time. Too short or too long is not good, which is not conducive to the best dyeing effect.
6. Wash off the dye
After standing, you can thoroughly wash off your excess dye with warm water, and don't use hot water, otherwise it will hurt your hair.
7. Apply conditioner
You should take care of your dyed hair with a conditioner in time. Conditioner can keep your hair hydrated and supplement nutrition. You can choose a mild conditioner that is sulfate-free and safe for colored hair, then let it stand for a few minutes before rinsing it off.
8. Dry your hair
After the conditioner is rinsed clean, you need to dry most of the moisture in your hair with a towel made of fibers facing west, and then let your hair air dry naturally. You can also blow-dry your hair with a hair dryer. However, you should use the lowest gear or heat protection agent, otherwise your hair will be greatly damaged by the high temperature.
9. Spray that makes hair dye shiny
You can choose high-quality essential oil spray to make your dyeing brighter and more beautiful.
10. Look in the mirror
Your skunk striped hair has been done. You can enjoy yourself in the mirror or take photos. You can also design some nice hairstyles to make your colors and shapes match better and create better visual effects.
Recommendation of a hot-selling skunk stripe wig in our hair shop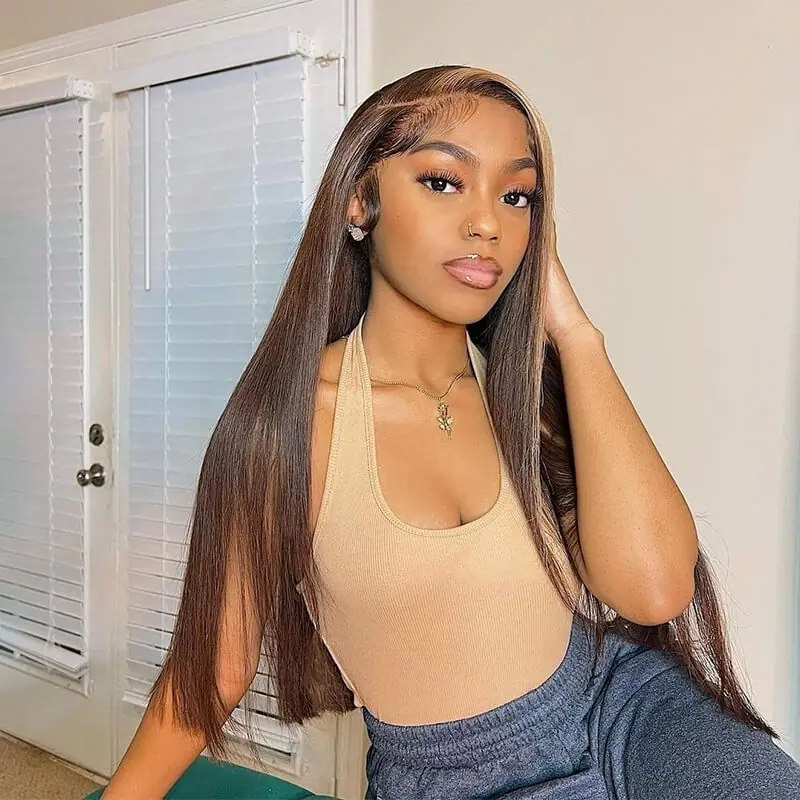 This type of skunk stripe wig is the color Honey blonde and brown. The two colors give you a special hair look. That is so charming that you must have a try. The hair quality is high with soft touch and it can be restyled.
The wig is made 100% human virgin hair with HD lace. And the hair density is 180% which can give you a full look. This skunk stripe lace front wig is so wonderful.
You can get the most natural hairline and hair look under the skunk stripe wig. And You can use big coupon codes to buy it now. Come on and try.
Final thoughts
Our hair shop has many colors of wigs, such as highlight wigs, red wigs, ginger wigs and burgundy wigs and so on. They are all made in 10A quality and 100% virgin human hair. They are all in a nice discount. Please just come to visit our hair shop and do your love.