Hair is an important part of determining a woman's appearance and temperament. Nowadays, many women are choosing to buy wigs to get fashionable and plump appearance. There are many kinds of wigs. You can get wigs with different shapes, and you can also get many types of wigs, such as wigs with bangs. Do you know wigs with bangs? This is one of the most popular wig styles in 2022. Many customers are trying this wig, and it sells like hot cakes.
Are you interested in wigs with bangs? This is a fashionable style, which can better decorate your face, highlight your facial features or cover up your facial defects. Do you want to know more about this wig? You can continue reading to gain a deep understanding of this wig and whether it is worth trying and buying.
What are wigs with bangs?
This wig has a unique hair styling style, that is, bang hair style. The style is designed in front of the forehead, and there are a variety of bang styles to choose from, such as side sweep style, straight hair style, curly style and so on. You can choose wigs with bangs to quickly get a brand-new hair look, which is the fastest way to change your hair look.
Why wigs with bangs look better?
1. Dimension and volume of hair
If you want to increase the maintenance and volume of your hair appearance, wig with bangs is one of the best choices. Your forehead hair will make your overall hair look fuller and more layered.
2. Change temperament
There are various shapes of bangs, and you can choose to match your bangs with different temperaments, such as cute bangs, sunny bangs, bold bangs and steady bangs.
3. Trim your face
The shape of bangs can make your face more harmonious, increase your aesthetic feeling, and also cover some flaws on your forehead. Some customers can use bangs to cover too high hairline, or some scars, etc.
4. Hide hairline
This is one of the biggest features of bangs wig. You can avoid complicated hairline design, and bangs can cover your hairline and make your appearance look natural and real.
5. Lace free
Wigs with bangs are all lace-free, and they are usually installed without glue. You can install them by using the adjustment tape and the hairpin inside the hair.
6. Price
As there is no lace, the price of wigs with bangs is usually cheaper, and you can save your budget.
7. Protectiveness
You can install wigs with bangs without glue, which prevents the wrong behavior of poor-quality glue and excessive use of glue from hurting your hairline and scalp. 
8. Low maintenance
Wigs with bangs is a low-maintenance wig, and you can save a fee without spending time to clear the glue on the lace.
9. Beginner friendly
Obviously, wigs with bangs are very suitable for novices, simple to wear and glue-free to install. And the wig maintenance is simple. You don't have to cut lace, apply glue, or ask a barber to help remove glue.
Why choose human hair wigs with bangs?
You need to pay attention to the material of your hair when buying wigs with bangs. You should choose human hair wigs with bangs. Many advantages of wigs with bangs mentioned above are based on the fact that your hair material is human hair, not synthetic hair.
Human hair has natural and real hair color and appearance, no strange smell, collected and made by the same donor, and its hair is very supple and of high quality. You can use human hair wigs for at least one year, even if you wear it every day.
Human hair is the basic condition and necessary guarantee to make your wigs with bangs look better. You should choose human hair wigs with bangs to buy.
Popular styles of wigs with bangs in our hair shop
Recool Hair has varied styles of wigs with bangs and other styles lace wigs for hot sales. They are 100% Virgin human hair without any chemical treatment. You can get high-quality bonus points at Recool Hair, as well as thoughtful customer service. Recool Hair's customer service is timely and enthusiastic. If you have any questions about wigs, you can consult them.
This is a short bob wig with a curly bang. It is very fast fashion style that you can get the full hair look. The volume and dimension of hair are very commendable, and the style is unique. The hair color is natural black with hair length 180% for 10inch hair length. This wig is in super sale that you can buy it in the lowest price $49.9.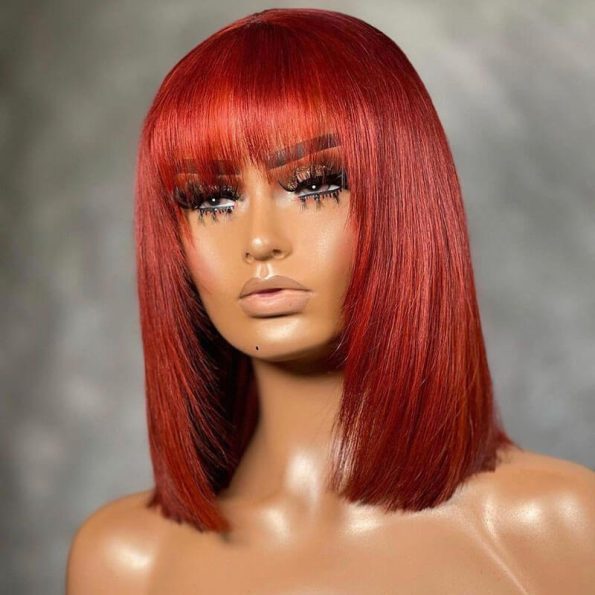 This is a bob wig with curtain bang. The hair color is red that you will feel confident and warm by this hair color. The wig has no lace, and you can wear it without glue quickly. The hair density is 180%. The hair length is 10inch. The price is the cheapest as well $59.9.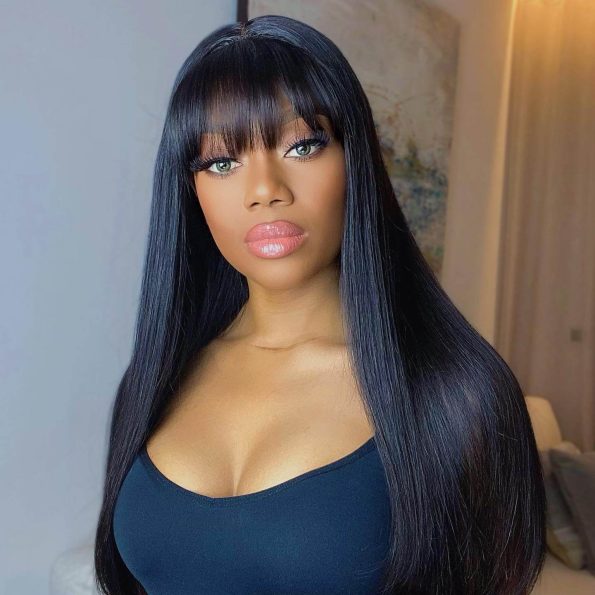 It is a straight hair with curtain bang. You can get the wigs with hair length from 18inch to 26inch and hair density 180%. The wig is made of 100% virgin hair with natural black color. You can get the very natural and wonderful hair look.
Some reviews about wigs with bangs in our hair shop
I ordered a 13×4 24inch, it's true to length. The hair is so soft and easy to maintain. I will definitely buy this wig again. One of my favorite wigs now. I recommend them!!!
this hair worth every penny. I mean seriously, the quality was so good, and the hair was nice and thick. NO shedding, very much true to length and super fast shipping, which i love!
The wig looks the same as the description. It's super soft, hardly any shedding at all, and it's not heavy on my head. Love love love my wig.
Recool wigs never disappoints me. I love this wig and the color.
I was skeptical at 1st, but once I tried it on, I was like ok & then when I flat ironed it, I fell in love! I got so many compliments. I have several wigs from Recool & this is my 1st short wig & I definitely like the short look!!!!!