Hollywood wave hairstyles have suddenly become popular again recently. This wig, which was extremely popular in the past, still exudes charm today. Many girls or women are attracted to this hairstyle again, and you can get a very attractive hair look. Unique waves and thick hair are the biggest features of this hairstyle. If you are interested in Hollywood wave or want to create a Hollywood wave hairstyle, this blog will help you.
What is a Hollywood wave?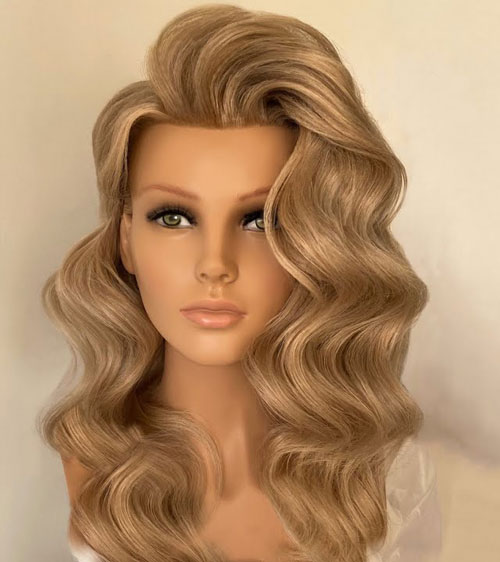 Hollywood wave refers to a retro wave. This hairstyle was very popular in the past and was the most fashionable hairstyle at that time. You can see this hairstyle in many classic Hollywood movies. This kind of wave is very special, and the hair wave is elegantly displayed around your head, just like a water wave.
This hairstyle is gorgeous, plump and thick, your hair will be thick in appearance, and the waves will be natural and beautiful. Although this wig is called a "retro" wave, this wig is still very popular now.
Advantages of a Hollywood wave?
1. Retro elements
Hollywood wave has unique retro elements. If you are a woman who is obsessed with past fashions and like old movies or old fashions very much, then Hollywood wave hairstyles must be your hairstyle that can't be ignored. And fashion is a cycle, Hollywood hair wave is also very popular now.
2. Unique waves
The wave of this hairstyle is unique, with loose wave and tight wave, which is very attractive. You can choose this hairstyle to gain unique appeal.
3. Suitable for various occasions
You can use this hairstyle to participate in all kinds of formal or informal activities. It's an elegant hairstyle, a fashionable hairstyle, and a kind hairstyle.
4. Increase the density of hair appearance
The waves of this hairstyle can increase the density of your hair appearance, make your hair appear thicker, and maintain your hair fuller.
5. Variety of colors
Hollywood wave hairstyles has many colors, mainly composed of variations of various gold colors. You can freely match your favorite colors to create the most beautiful Hollywood wave hairstyle.
6. Simple modeling
This style is not difficult to build, and you can quickly master the building skills through learning, so that you can build it at home. The following blog will share some steps to create this hairstyle. I hope I can help you.
How to style a Hollywood wave hairstyle?
1. Get the tools you need ready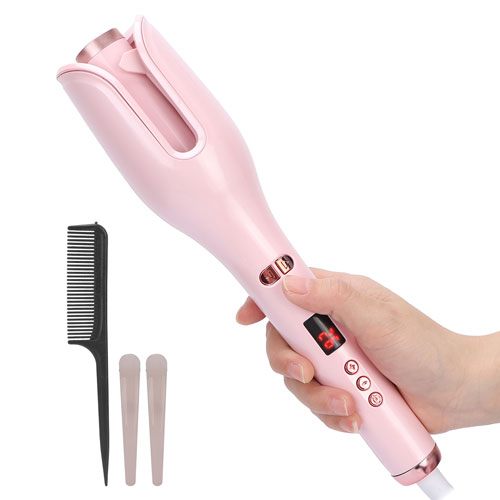 You need to prepare the tools needed for styling, such as curling irons, clips, combs, etc. You also need some thermal protection products, as well as styling products, etc.
2. De-entanglement and thermal protection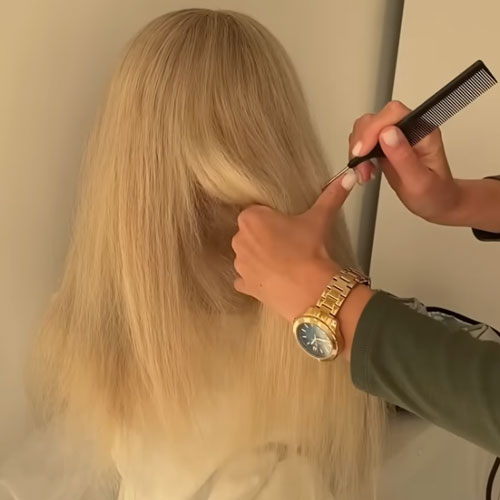 You should untangle your hair first. You can comb it with a wide-toothed comb. After thoroughly removing the hair tangles, you can apply some heat protection liquid on the wig.
3. Separate your hair
You should separate your hair and divide it into several parts, which is conducive to the later wave curvature.
4. Choose a curling iron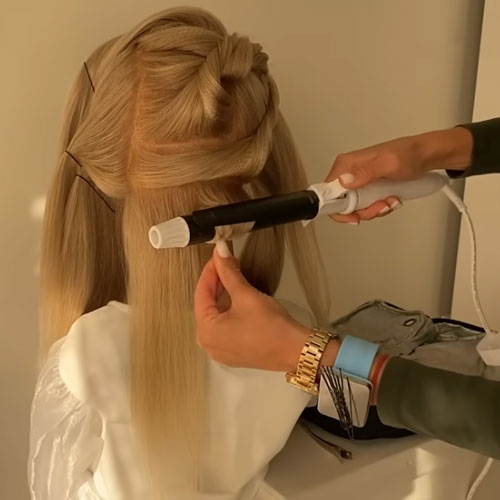 Different curling irons will affect the looseness and tightness of curly hair. If you need a looser Hollywood wave hairstyle, you can choose a larger curling iron.
5. Curl your hair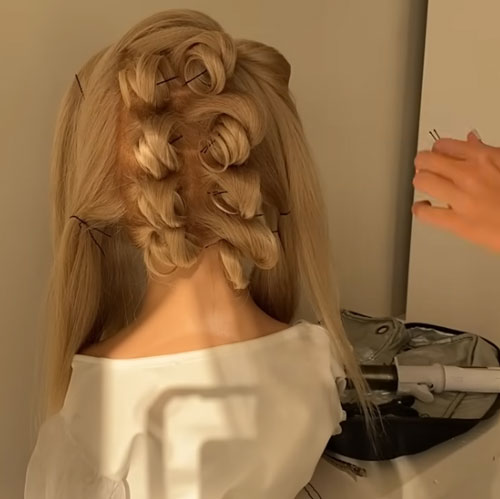 You can curl your hair on a curling iron. The time your hair stays in the curling iron is related to the density of your curls. When your hair becomes very hot, you stop heating your hair. Then before the hair cools, untie it. Be careful not to use excessive force to hurt your hair. You can style the bent part with a hairpin.
6. Repeat curling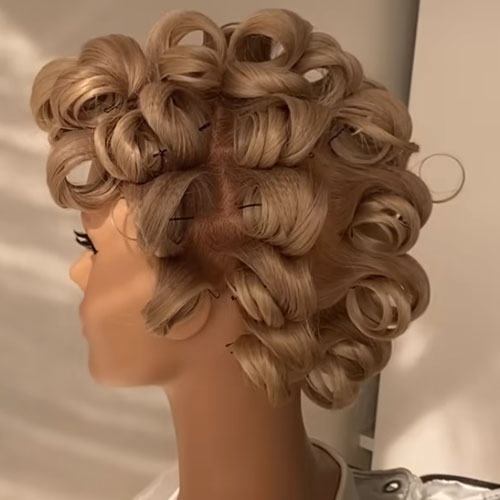 You should curl all the parts. After all the curls have cooled down, you can take off the clip for styling hair, and be sure not to hurt the newly curled hair. At that time, the hair is still a little fragile.
7. Let curly hair blend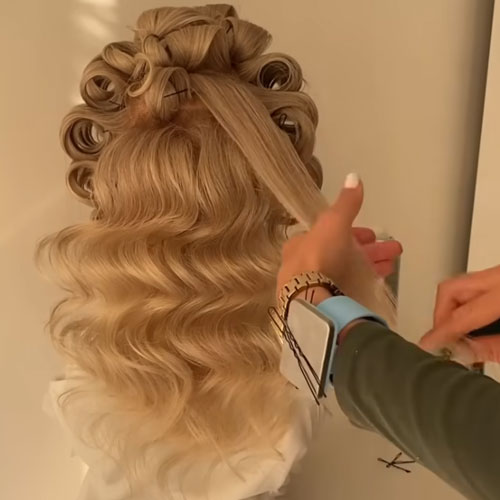 Now your curly hair hasn't been naturally mixed. You can comb them with a comb, and then let Hollywood wave hair naturally touch and mix.
8. Apply some setting glue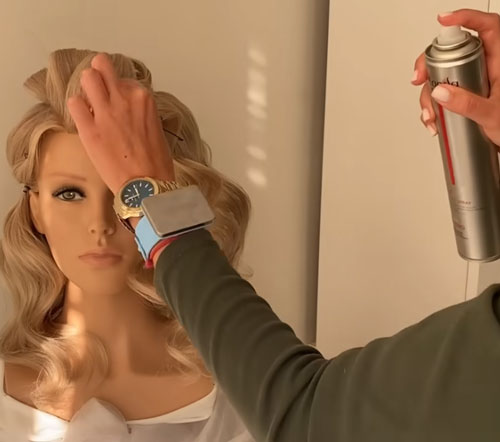 You can apply some styling gel to your hair to fix your hairstyle.
9. Apply some essential oil or conditioner
You should take care of your curly hair, restore its moisture and repair the nutrients lost by styling.
10. Trim your hair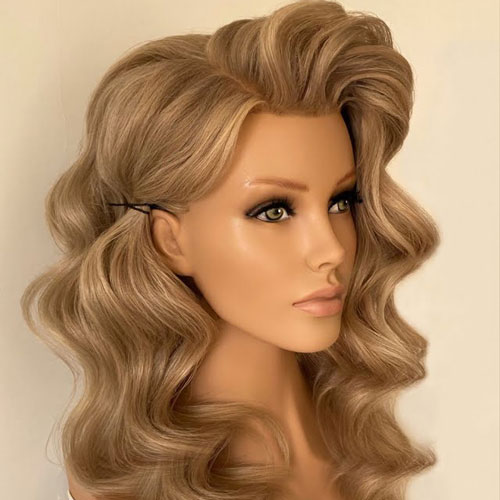 You can create some additional hairstyles to decorate your Hollywood wave hair, such as a hair band, a baby hair or a bang, etc.
Why not choose a human hair wig to do the style?
You can choose wigs to create Hollywood wave hairstyle. Wigs will protect your natural hair from heat setting tools. Moreover, wigs have thick hair, which is very suitable for creating this hairstyle. If your natural hair is short or not dense enough, you can choose a human hair wig to create your favorite Hollywood hairstyle.
You can also directly choose to buy a wig with Hollywood wave hairstyle instead of styling it yourself. This is a very convenient method. If you want to buy wigs, you'd better choose human hair wigs, because human hair wigs have a natural appearance and are very durable. You can use heat setting tools to create more shapes than synthetic hair wigs.
Final thoughts
Hope this blog can make you learn how to make a Hollywood wave hairstyle well. And if you want to get the human hair wigs, you can choose Recool Hair which has many human hair wigs with various styles and colors in stock for hot sales. You will love them for the high qualities and affordable prices.