Many women are trying to change their appearance and hairstyle by wearing wigs. Wigs can quickly achieve your desired hair appearance. It's winter now, and one of the most popular color wig styles is Reddish Brown Wigs. This hair is very fashionable and attractive. Today's blog will give you a detailed introduction to this wig and some reddish-brown wigs recommendations.
What is reddish brown wig?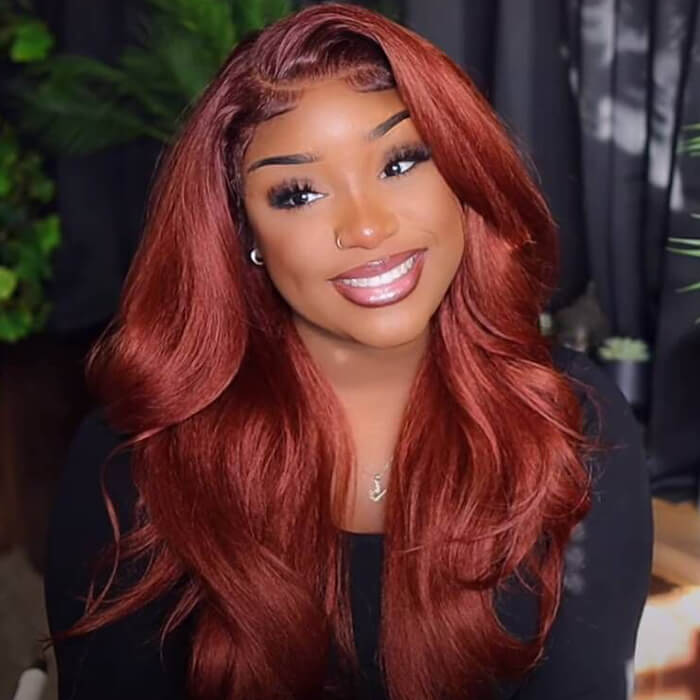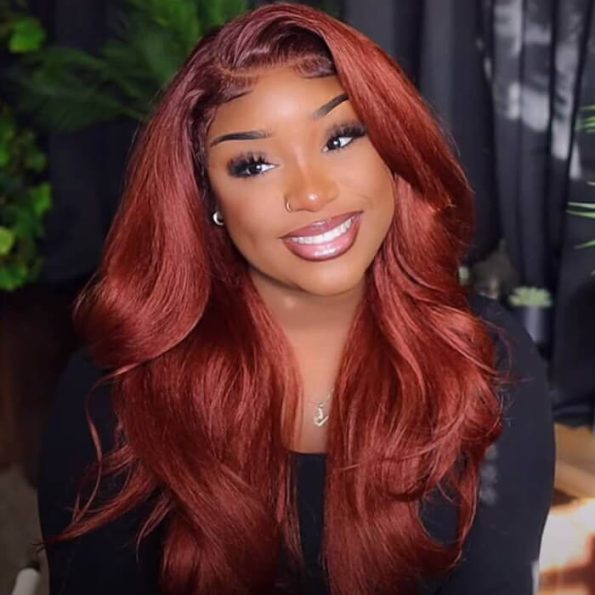 Reddish brown is the #33 color, which consists of red, blue, yellow or a combination of red and black in a certain proportion. Different proportions of colors show different shades of reddish brown, such as auburn, Burgundy and copper, all of which are a kind of Reddish Brown. This color is warm, comfortable and soft.
And reddish-brown wigs refer to wigs whose hair has been dyed into Reddish Brown.
Why choose reddish brown wigs?
1. Various temperament
Reddish brown wig can give you a variety of temperament, which can be lively, elegant and stable.
2. Multiple variants
Reddish brown wigs have many different colors according to the different shades, and they have various styles.
3. Universality
The reddish-brown wig is suitable for women of all ages, and this color is charming, making your appearance young and attractive.
4. Warm winter
If you are looking for a warm wig, reddish brown wigs must be a must-have one. It can give you a warm appearance and a pleasant mood in winter.
5. Protect your hair
You can wear reddish brown wigs to get the color appearance, instead of dyeing your natural hair, or the dye will damage your natural hair.
This wig can also protect and promote your hair, because your natural hair will reduce the damage from air pollutants and ultraviolet rays.
6. Many kinds of wigs
Red brown wigs can be selected from a variety of wigs, such as gel free wigs, wigs with different hairstyles, hairband wigs and U-part wigs.
Why choose high quality human hair reddish brown wigs?
When you purchase and select reddish brown wigs, do not select synthetic hair wigs. Its quality is very poor. Although the price is very cheap, you won't get a natural hair appearance. In addition, synthetic hair wigs are prone to various hair problems, such as unpleasant chemical smell, unnatural hair luster, easy tangle, fall off and split. Your maintenance cost is higher than that of human hair wigs with better quality. So, if you want to check the long-term use and get a natural hair appearance, you must choose human hair wigs. human hair wigs can also let you dye your hair again or reshape it.
How to care for reddish brown human hair wigs?
Do you know that? If you can properly maintain your reddish-brown human hair wigs, it can last for at least 2 years, and good maintenance will keep your wig shiny, hydrated and naturally beautiful. Here are some maintenance tips, hoping to help you maintain your reddish-brown wigs.
1. Wide-toothed comb
You should comb your hair with a wide-toothed comb, especially if your wig stylist has wavy hair or curly hair. A wide-toothed comb will reduce the pulling and damage to your hair.
2. Store wigs
If you store your wigs for a long time, you should use a wig box or a wig bag to store your wigs. Pay attention to the dry and cool storage place.
If you store wigs for a short time, you can use a wig holder, which can keep your hair in its natural state, which is convenient for direct use next time and maintenance.
3. Dry the wig correctly
After you wash your wig, you should first absorb most of the water from your wig with a microfiber towel, and then air-dry your hair naturally. If you need to use a hair dryer, you should use the lowest gear or install a diffuser on the hair dryer, which can reduce the heat damage to the wig.
4. Use harmless hair care products
When you clean and maintain your wig, you should use harmless shampoo and conditioner, such as sulfate and alcohol-free hair care products.
5. Avoid product accumulation
You shouldn't over-clean your wig, which will lead to the accumulation of products for cleaning your wig, and then further harm your wig.
6. Wash with soft water
When you clean your wig, be sure to use warm soft water to clean it. Avoid using hard water and hot water, otherwise the chemical components of hard water will accumulate in the wig, and hot water is also one of the causes of false heat damage.
7. Silk nightcap
You shouldn't wear a wig to sleep directly. You should wrap your hair in a silk nightcap and then go to bed. This can reduce the friction on your hair and protect your wig.
8. Reduce the use of heat setting tools
Heat setting tools are the main cause of heat damage to wigs. You should reduce the use of heat setting tools. At the same time, when you use heat setting tools, you can use heat protection liquid to protect your wigs and reduce the damage.
Popular reddish-brown wigs in our hair shop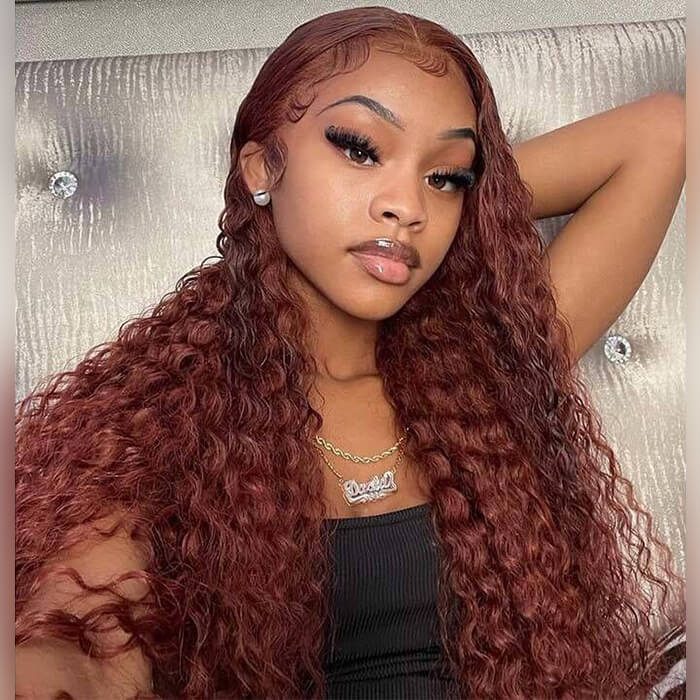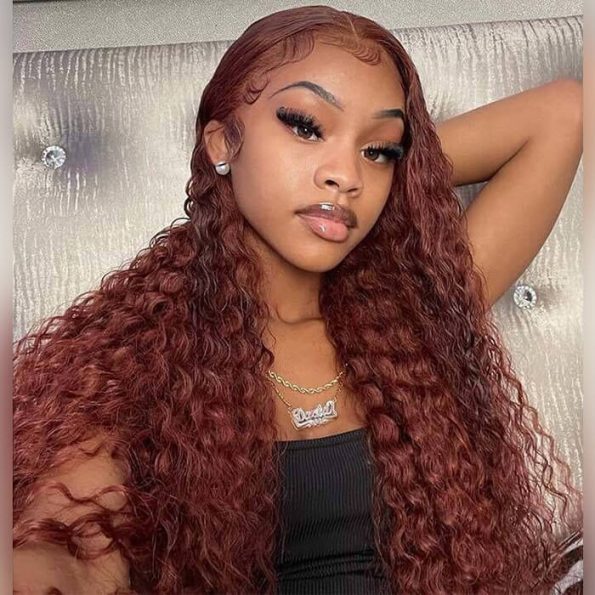 Water wave with reddish brown hair is so brilliant that you will get the elegant and full hair look. The lace is HD lace, by which you can own the most natural hairline. The hair length is 16-28inch. And the 180% hair density can give you the great and full hair volume.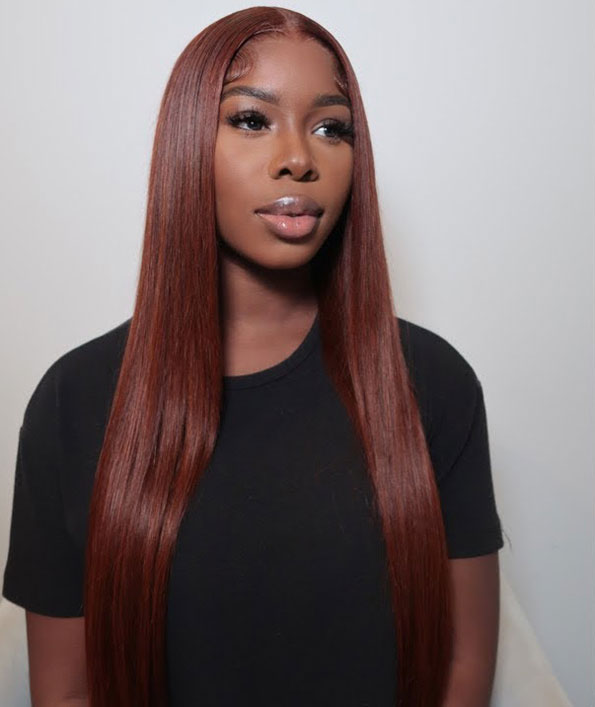 It is reddish brown color wig with straight hair. The hair is silky and smooth. You must have a try. The lace areas are 5×5/13×4. You can get the wigs for 16~30inch with 180% density.
Final reminder
You can get various kinds of wigs which are 100% virgin human hair in Recool Hair. They are in big discounts. Welcome to buy wigs here for various styles and colors.