For the year 2023, there is a special fashionable and simple hairstyle that you must learn, that is, rubber band hairstyles. You can use rubber bands to realize this hairstyle. This is an easy-to-learn hairstyle, and you can do it well at home after learning it. There are many choices of rubber band hairstyles. If you are worried about how to design unique rubber band hairstyles, you will get the best help in this blog. We will analyze eight kinds of cute and easy runner band hair styles to you and share much information about the rubber band hair styles for your wearing and caring. Please keep on reading.
Pros and cons of rubber band
Pros of rubber band
Simple design, quick installation and removal, saving time. You don't have to go to the hairdresser's, you can create this hairstyle at home, and you can save a lot of installation and disassembly costs.
Various styles, elastic band have many styles, different colors and patterns, and so on. You can make many different rubber bands hairstyles.
Cons of rubber band
If not used properly, they will wear and hurt your hair. You should make sure that the rubber band is not too tight, which will not only increase your disassembly troubles, but also hurt your hair.
You need to use a high-quality rubber band dedicated to hair, which will reduce the wear and damage to your hair, be more elastic and smoother.
How to avoid the hurt of rubber band
1. Choose the suitable band
You should choose rubber bands that are designed for hair styling. These rubber bands are more durable and safer. You can choose the rubber band that suits you best according to the length and thickness of your hair.
2. Safety measures before use
You can immerse rubber bands in oil before installing them, which can play a certain role in lubrication, and your disassembly will be more convenient without affecting your fixation.
You can also apply some hair care spray to your hair before installing rubber bands to prevent it from being worn or broken.
3. Not too tight
When you use rubber bands for hair styling, be sure not to bind your hair too tightly. Otherwise it will be very difficult when you need to remove rubber bands, and it will easily cause inevitable harm to your hair styling.
The following are the rubber band hairstyles you can choose:
1. Loose top bun with rubber band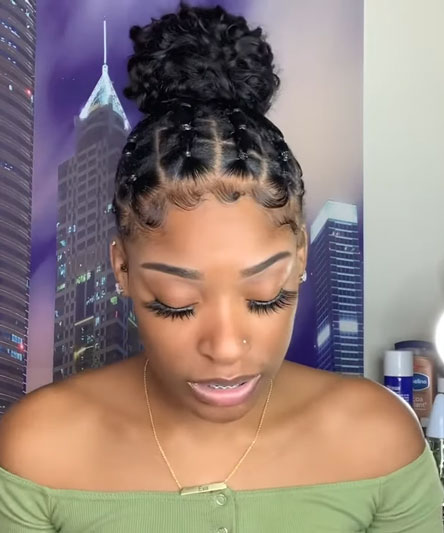 This is a loose top knot bun hairstyle with rubber bands. You can knit and fix the top of your high bun hair with rubber bands of various colors. So that your hair looks more colorful and fashionable, which is very eye-catching and beautiful.
2. Half up and half down hairstyle with rubber band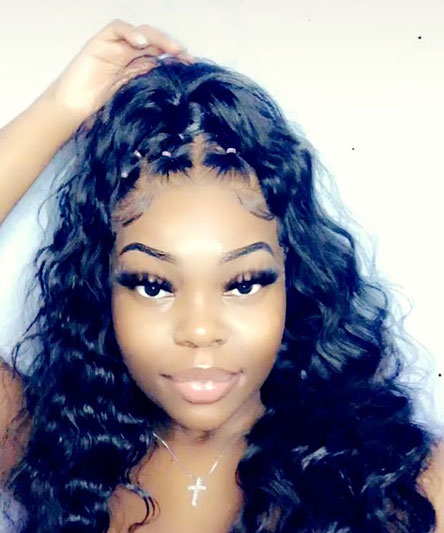 You can weave the upper part of your hair in the front of the top of your head, weave it into a grid shape, fix it and decorate it with a rubber band. When you braid it to the center of your head, fold your hair and fix it with a headband, so that your upper and lower hairstyles are done. Different from the traditional half-top and half-bottom hairstyle, which is more attractive and interesting.
3. criss cross rubber band hairstyles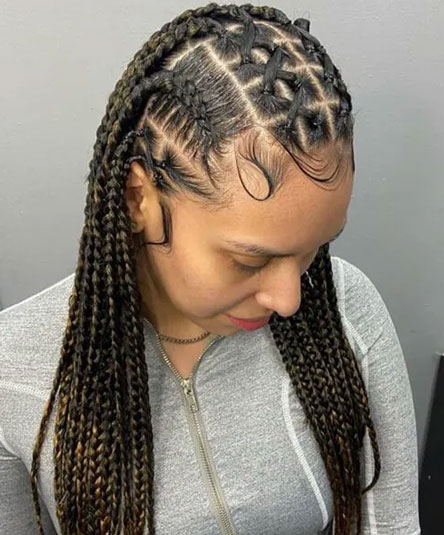 This is the most famous rubber band hairstyle, which forms two rows of cross patterns in the front of your hair. Very fashionable and eye-catching.
4. Rubber band straight ponytail hairstyle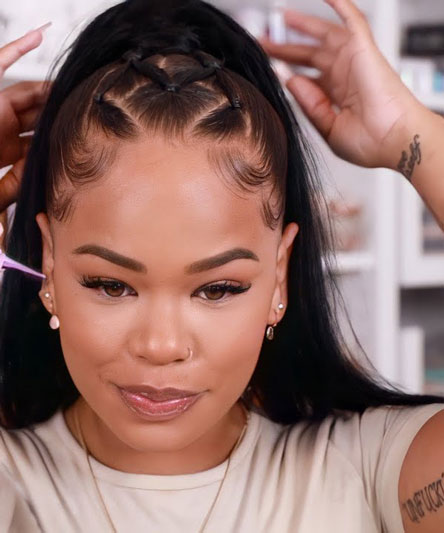 You can combine your rubber bands hairstyles with a straight ponytail. You knit at the front of your head, combine the rubber band when knitting, and then when knitting to the back of your head, gather all your hair together and fix it with a headband, so that your straight ponytail with rubber bands hairstyles will be finished. Isn't it a great surprise?
5. Short two pigtails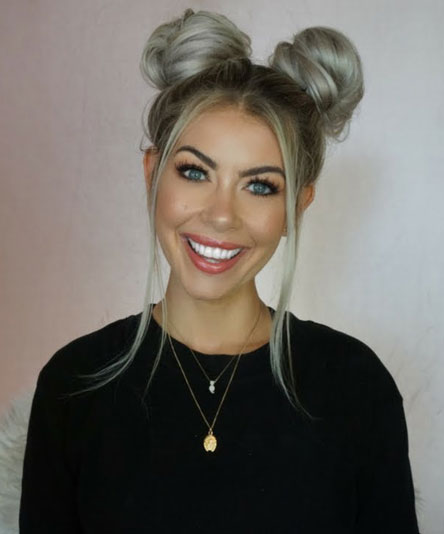 This hairstyle is very suitable for short hair. You can fold your short hair at the sides of your head and fix it at the root with rubber bands. This hairstyle is very simple and cute, and it is very suitable for cute girls or girls. You can wear this lovely and energetic hairstyle to participate in various activities.
6. Bubble ponytail rubber band hairstyle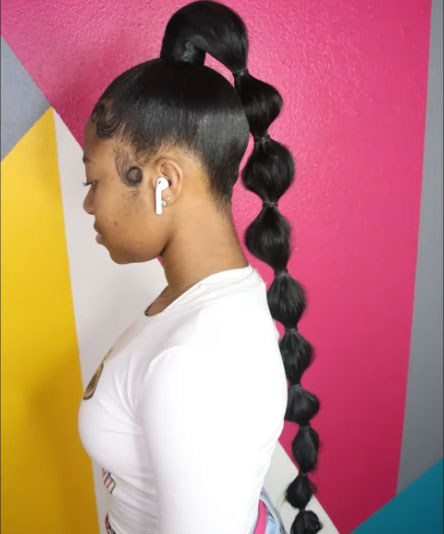 This is a rubber band style that is very suitable for straight hair with long hair length. You can make your hair into a straight ponytail first, and then make a special style for your ponytail. You can divide your ponytail into parts to make bubbles, fix each part with rubber bands, and then pull the hair of each part to make them fluffy to form a bubble ponytail hairstyle. The whole shape is very fashionable and charming.
7. Rubber band and two bun hairstyles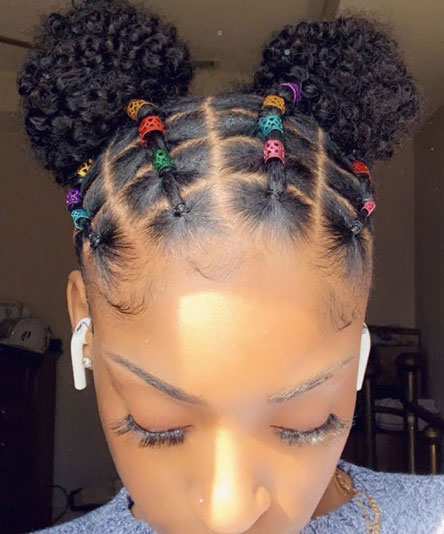 You can combine two buns hairstyle with rubber bands. You can divide your hair into two parts, and then cross-weave it at the top of your head to both sides to ensure that the knitting fits your head and fix and modify the rubber band sections at the knitting place. Then, when you get to the two sides or the back of your head, gather your hair and fix it with a headband. Then, wrap a serious headband around your hair and weave it into two hair buns. This is a lovely hairstyle, which is very popular among young women.
8. Twisted rubber band hairstyles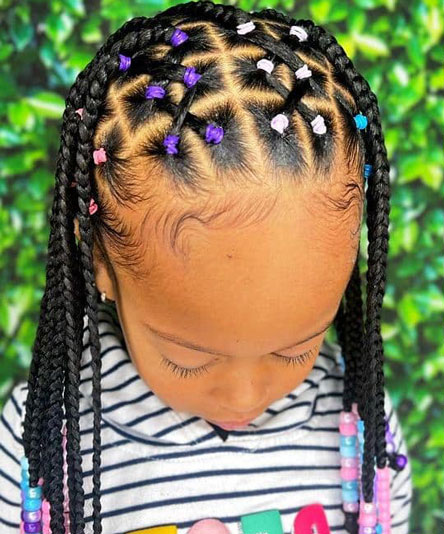 You can divide your hair into many small sections, then knit them all into kinked box braids, and use different colors of rubber bands on each braid for fixing and decoration? The whole appearance is very colorful and attractive. It's a colorful and bright hairstyle.
Why not buy a human hair wig to style rubber band hairstyle?
You can buy a human hair wig to create your rubber band hairstyle. This can avoid damaging your natural hair, and the wig making technology is very advanced. Human hair wigs can give you a natural hairline and a natural hair look. Human hair wigs are not expensive either. When you buy online, you usually have high promotional coupons to use. The price of a high-quality human hair wigs won't surprise you. Most women can afford it.
Final thoughts
Hope you can choose the suitable and favorable rubber band hairstyles. If you want to buy a human hair wig to style your hair, you can choose the wigs in Recool Hair, which has various kinds of human hair wigs in 10A grade. And there are many big coupon codes for your use.
Related Articles
The Best Valentine's Day Hairstyles Of 2023
8 Best Short Hairstyles And Haircuts To Try
13 Easy and Beautiful Fancy Hairstyles for Special Occasions