This year is 2022, wigs are becoming more and more popular, and more hot women are trying to wear wigs. water wave lace front wig is one of the most popular wigs. It is loved by so many people around the world. Recently, many customers are asking us about how to make water wave wig look real.
To the truth, the reality of wigs depends on the quality and selection of wigs, the installation of wigs, the washing and daily maintenance of wigs, and the daily protection of wigs and so on.
Today we write this article, hoping to help you make your water wave place front wig more real.
What is water wave lace front wig
The water wave lace front wig is a lace front wig with a water hair style made from human hair or synthetic hair. The waves of the water wave wig are messy and natural, which can make your hair look fuller and more stylish.
How to make your water wave wig look real
High-quality water wave wig to make wig real
1. Hair material 

The higher the quality of hair used in Water wave wig, the more realistic the wig will look.

You should choose 100% human virgin hair, which is the most natural and real hair material. If you choose synthetic hair, the hair of this wig will have an unnatural fiber luster. So, the water wave human hair lace front wig is your best choice for real look.

2. Wig lace

The lace of Water wave wig is also an important factor affecting the authenticity of wig. The higher the quality of the lace in the wig, the more real it is. HD lace can give your water wave wig the most natural and authentic hairline.

You should choose HD or transparent lace. Compared with normal Lace, they are more imperceptible and can make your water wig hairline more natural and look like your own hair.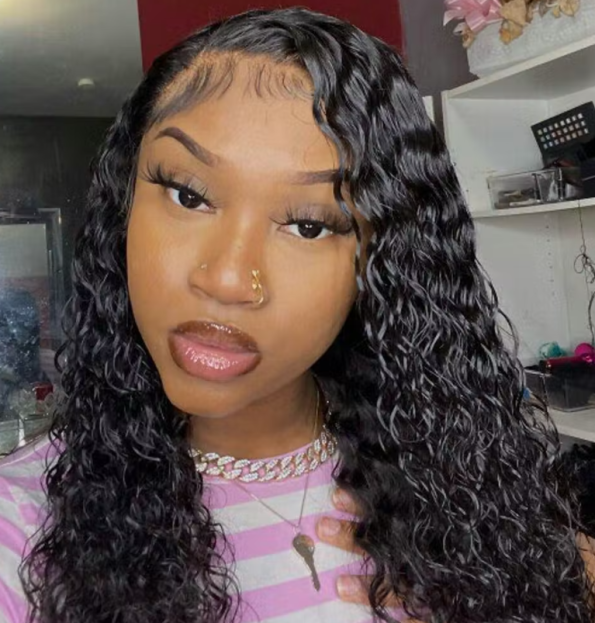 Tips for choosing a real water lace wig
1. The right color of your own water wig

You can choose water wave color wig that suits you according to your skin color, and make your wig more real.

2. The appropriate hair cap size for your own wig.

You should choose the most suitable wig cap according to your own head shape. A suitable wig cap will make your stimulation more realistic to wear.

3. The right good wig shop.

You should buy wigs from a reputable company that makes and sells wigs. For example, our wig shop has 20 years of experience in making wigs. The overall quality of wigs can be guaranteed, which can add authenticity to your water wave wig.
Tips to installation skills to ensure the real of water wave wig
1. Hair cap

You can wear a wig cap. When wearing a wig, the wig cap can make the top of your head flat, and then make your water wave wig wear with more real look better.

2. Concealer powder

When you install a wig, you can properly use concealer powder and apply it on the wig cap or your hairline to make your water wig more natural.

Tips to wash water wave lace front wig human hair to ensure reality

If your water wave wig is not properly cleaned and maintained, it will lose luster and be easily recognized as a wig, which is not real. Therefore, you need to learn how to properly clean your water wave wig.

1. Comb your water wave wig

Before cleaning the water wave lace front wig, you can use a wide comb or finger to remove the tangles from your water wave wig. In this way, the real work of wig can be ensured.

2. Prepare shampoo and hair care products

Then, to take better care of the wig and give it a more natural appearance, you need to use a gentle sulfate-free shampoo and conditioner. You need to mix mild shampoo with warm water or cold water. Remember not to use hot water.

3. Clean the wig in front of the water wave lace.

Then, you need to soak the fake hair in the sink that has been mixed with shampoo, and make sure to wet the whole wig and soak it for about 5 minutes. Then you need to gently rub your wig, and then rinse it with water.

4. Use high-quality conditioner

You need to use high-quality conditioner after thoroughly rinsing all shampoo. It can provide more nutrition, and it can also make your water wave hair softer and truer. You can gently apply the conditioner on the wig hair, taking care to avoid hair roots. After staying for about 3 minutes, you should completely clean the conditioner.

5. Air-dry water wave lace front wig

You need to air dry your water lace front wig naturally. This is the last step. You need to use the prepared dry towel to absorb the excess water. Then you should distribute the fake hair on the wig holder or model's head and let it dry naturally, which can make your wig more Real. If you blow-dry your wig directly with a hair dryer at a high temperature, you will lose the real of your water hair.

Tips for keeping your water wave wig real in daily life

Maintaining your water wave wig correctly in daily life is very important to keep your hair real. Here are some tips to help you:

1. Sleep

You can't sleep with a water wave wig, which will cause friction and then lead to problems such as entanglement and shedding of the wig. If you want to sleep with a wig, you need to wrap it in a silk nightcap, which can protect your wig and make it look real.

2. Swim

You can't swim in the sea or swimming pool with a wig. Chlorine or salt water will damage your water wave wig and then make it unreal. If you want to swim with a wig, you can apply some protective liquid or wear a swimming cap to protect your wig, and then clean it in time after landing.

3. Deposit

If you don't use the water wave wig for a short time, you should install it on a wig model head or a wig rack, which can keep your wig in a real state.

If you don't use the water wave wig for a long time, you need to store it in a wig box or wig bag, and then put it in a cool and dry place.

4. Environment

In the face of severe extreme weather, you should take protective measures, or don't wear a wig, such as wearing a hat to avoid the sun and a headscarf to avoid the storm.

Final thoughts

Our hair shop has a big promotion now. So many kinds of water wave lace front wigs and other wigs are waiting for your checking and purchasing. They are all 100% human virgin hair in 10A quality. Welcome for your orders.