The red wig is the most popular one among color wigs. Red color wigs are not only pure red color wigs. There are many varieties of red color wigs. More and more women fall in love with the red wig and its color variations. This is the trend of color wigs in 2022. Many celebrities and stars like this wig. In today's blog, you will learn what a red wig is, why you chose it, and what kind of red it is. Finally, this blog will share how to choose the red wig that best suits your skin color, and some popular red color wigs are recommended in our wig shop.
What are red color wigs?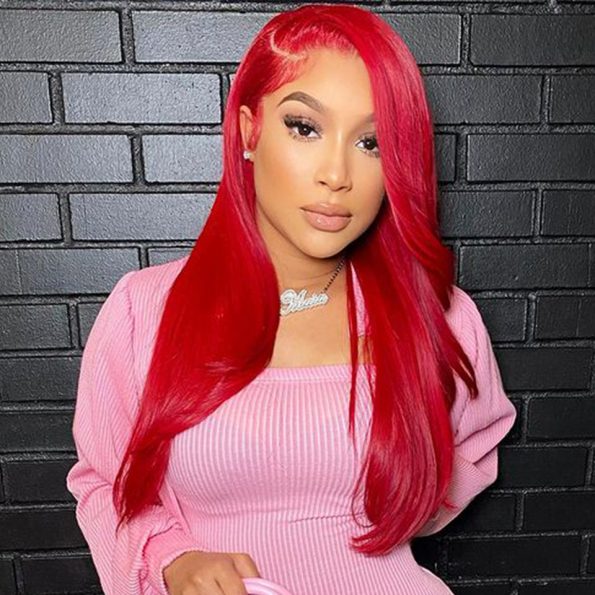 The hair in the wig is red color. The wig is artificial to help you cover your head to create the natural hair look. You can wear the red color wigs to quickly achieve the red hair color. And the wigs can avoid your dyeing your own natural hair. This will protect your hair well. You should know every dyeing will make hurts to your hair at some extent.
Why choose red color wigs?
Red hair
Red hair has a variety of different color variants, which can be dyed on wigs. Whether it's to match your skin color or the color of your eyes, you can find the right hair wig color.
Red hair has a unique style and temperament, and you can get warmth, enthusiasm, gentleness, self-confidence, and openness.
Red is a bold color, bright in color and very eye-catching. If you want to attend a party, a red wig is one of your best choices.
Red is one of the best color wigs in winter, because your personality will be better displayed. The contrast between red and winter will highlight your personality and make your whole person more charming, vivid and bright.
Wigs
Your natural hair will be protected from air pollutants or the sun's ultraviolet rays.
You can quickly achieve the appearance you like and want.
You can easily wear a wig, or you can take it off at any time to restore your original hair.
You will feel very comfortable because the wig material is breathable and comfortable.
You don't have to dye your hair to avoid damage to your natural hair.
Types of red color
There are many different shades of red. Here are some red ropes, which are a collection of some shades of red color:
Coppery
Oxblood red
Ginger color
Magenta
Scarlet
Purplish red
Strawberry blonde
Orange red
Salmon color
Auburn
Rose
Redwood
Hines red
Cherry
Carmine Rose
Burgundy
Red orange
Eggplant color
Purplish red
Ruby
Reddish Brown
There are other colors in red, which are very rich. You can freely choose the color you like, and the red color wigs made of different colors.
Why choose red human hair wigs?
If you want to buy a red wig, why do you choose red human hair wigs? Because human hair is the highest quality hair material, which can give you the most natural appearance, you can also get the best and longest hair service, because human hair is not easy to tangle and fall off. Human hair wigs can last for a long time if you take good care of it. And if you choose red human hair wigs, you can dye and design your hair again afterwards. The high durability of human hair guarantees this.
So, you should choose the red wig made of human hair instead of other materials, such as synthetic hair or animal hair wig.
How do you choose the red color wigs for skin tone?
There are many choices of red color wigs. If you don't know which non-red wig to choose, you can consider your skin color. Only when your skin color matches your hair color can you create the best hair appearance. Here are some suggestions for matching different skin colors with different red color wigs:
1. Light complexion
If you have light skin color, you are more suitable for warmer red wigs, such as strawberry gold, copper, ginger or orange red color wigs. A too dark red wig doesn't suit you, which will make your skin look lighter and unnatural, and make you feel unhealthy and sick
2. Medium skin color
If you have moderate skin color, and your skin color is neither dark nor light, you will have many choices. Almost all red-tone hair suits you, and you are free to choose according to your preferences. They can all match your skin color well, but you should not choose red color wigs that are too light or too dark, such as Lightpink red color, dark red.
3. Dark complexion
If you have dark skin color. You are more suitable for a relatively cold color red wig, which will match your skin color more naturally, and can highlight your skin color and make it more attractive. For example, reddish Brown, Burgundy, etc. are all very good choices. A light red wig will make you look unnatural and weird. Of course, too dark red is not suitable, such as a dark red wig, which will make your skin look abnormal.
Some popular styles of red color wigs in our wig shop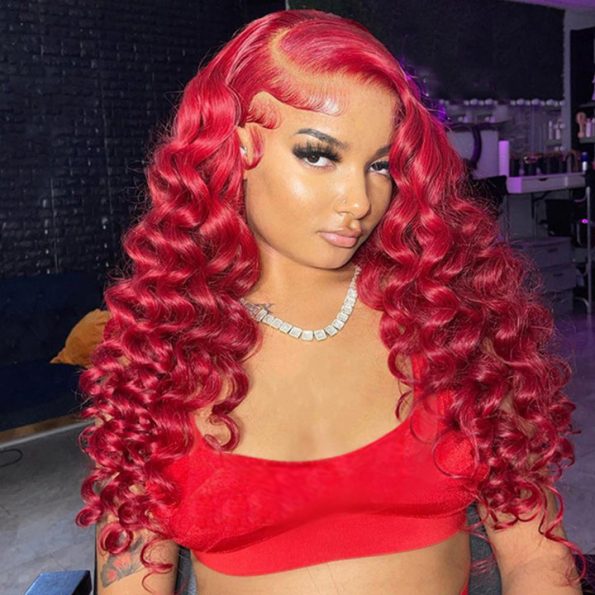 The lace type: HD lace; 5X5/13X4
The hair color: Red
The hair length: Inches 16~28
The hair density: Density 180%
This wig has the deep wave hairstyle with red. You can get the wigs in very natural hair look. And the lace is HD lace which can create the natural hairline for you.
The lace type: HD lace; 13X4
The hair color: Red
The hair length: Inches 20~26
The hair density: Density 180%
This wig has the body wave hairstyle with red color. The color is bright and warm. You will be attractive by the help of this bright and warm hair wig.
Final thoughts
Human hair wigs are all 10A quality in our wig shop. There are various red human hair wigs and other styles and colors of human hair wigs for hot discounts in our wig shop. Welcome for your trying and buying.