Do you want to change your hair color? Different hair colors can show your different styles and charm, making your appearance more personalized and charming. How do you change your hair color? There are usually two kinds. One is that you can dye your natural hair, which requires dye and your technical support. It is difficult for novices. If you don't pay attention, it may hurt your natural hair. You often need the guidance of professionals to go to the hair salon. The other is a more convenient, simpler and safer way to wear a color wig.
What is the most popular color wig in 2022 #27honey blonde wigs must be one of them. This wig is fashionable in color and very beautiful, bright and warm. Today's blog will introduce you to what #27 honey blog wigs are and why they are very popular. Finally, we will also share the corresponding experience of wig maintenance and some popular #27honey brand wigs of different styles
What is #27 honey blonde wig?
It means that hair color of wig is dyed by #27 color. #27 hair color is also called as honey blonde color. This color is very close to gold, just like honey. This can make you feel very warm in winter and make your appearance very bright and confident.
Why #27 honey blonde human hair wigs popular?
1. Eye-catching colors
#27′ s hair will be very attractive, and you will attract almost everyone's attention. Your hair is warm and confident, just like sunshine. If you are a sweet girl, you should try this stimulation even more, which will add extra points to your sweetness.
2. Suitable for all occasions
This color is not weird, just like a blonde. You can wear #27 honey blonde wigs to various daily activities or parties and attend various major festivals. It is a very suitable and great wig choice.
3. Better quality
Human hair ensures the quality of #27 hair color wigs, your wig won't fade easily, and your hair color can last for a long time. Compared with synthetic hair wigs, this wig will have fewer hair problems. And if you take good care of it, you can wear #27 honey blonde wigs for more than one year.
4. Various styles
#27 honey blonde wigs also have a variety of wig types, such as gel-free wigs, headband wigs and HD lace wigs, etc. You can also choose wigs with different hair styles, such as body wave, straight and water wave etc.
5. Protect natural hair
You don't have to dye your natural hair, just wear a wig to get the hair look of this hair color #27 honey blonde.
How to wash #27 honey blonde wigs?
1. Untangle
You need to untangle your wig. You need to comb your hair roughly with your fingers first, then apply some essential oils, and then comb it slowly with a wide-toothed comb to completely remove all tangles.
2. Soak the wig
You need to soak your #27 hair wigs. You'd better soak it in warm water instead of hot water for 3~5 minutes.
3. Shampoo cleaning
You should apply shampoo to the wig, and then gently rub the wig with your fingers to make the best use of the shampoo. Then you can use warm water or cold water. Remember to use soft water instead of hard water to clean and make sure all shampoo is removed.
4. Apply conditioner
After you clean your hair, you can apply some conditioner to your wig. Remember not to apply conditioner to the root of your hair, or it will cause your hair to dry and fall out. Then you can leave the wig for 3~5 minutes, and then you need to clean it with warm water or cold water. You should make sure that there is no hair conditioner residue in the end.
5. Towels and natural drying
You should use a microfiber towel to absorb the excess water of your wig first and let your wig air dry naturally. This is the healthiest way.
6. Hair dryer drying
If you are pressed for time, you can also use a hair dryer to dry it, but before you use the hair dryer, you can apply thermal protection liquid on your wig for protection. You can also install a diffuser on the hair dryer to protect your dad's wig hair.
How to maintain #27 honey blonde wigs in daily life
1. Appropriate cleaning frequency
You should make sure that your cleaning frequency is neither too much nor too little. Too much will cause product accumulation and damage the wig, while too little will cause pollutant accumulation and damage the wig. Usually washing twice, a week is enough.
2. Appropriate maintenance products
You should choose the right care products to care for your wig. You can choose shampoo and conditioner that can protect hair color. You can also choose those sulfate-free hair care products to avoid dry and tangled hair.
3. Proper storage of wigs
When you store wigs, you should pay attention to avoid humid and sultry environment. It is best to be cool and ventilated. If you need to store it for a long time, you can use a clean silk wig bag or wig box to store it.
5. Appropriate wearing frequency
Excessive wearing of wigs will also hurt your #27 honey blonde wigs. You should replace the wigs or have a rest in time.
Some popular #27 honey blonde hair wigs in our hair shop
Recool Hair has various kinds of human hair wigs in stock for sales. All wigs are 10A grade quality. And there are many types of coupon codes for your use to get the affordable prices. You must have a try.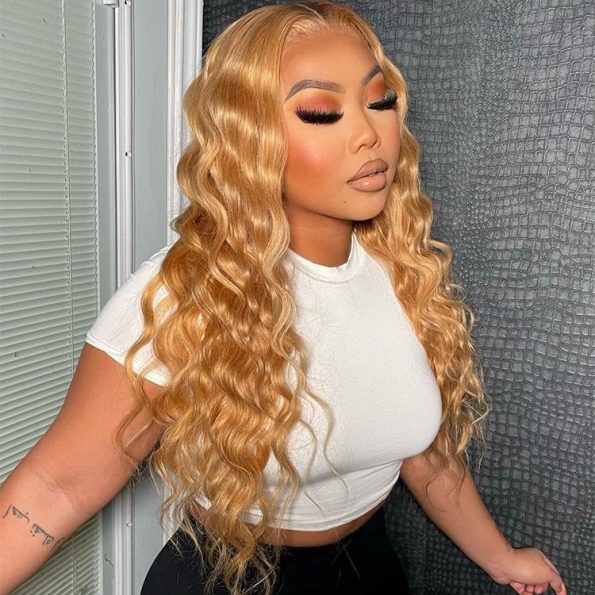 Lace type: HD lace
Lace area:5×5/13×4
Hair style: Loose deep wave hair
Hair color: #27 Honey blonde
Hair length:16inch~28inch
Hair density:180%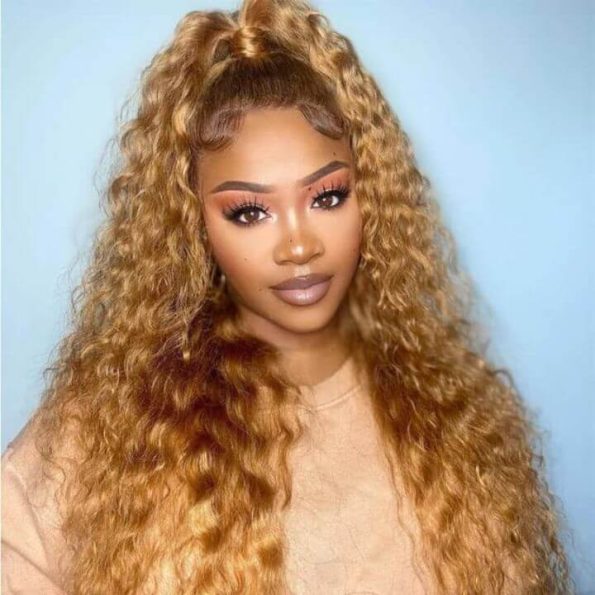 Lace type: HD lace
Lace area:5×5/13×4
Hair style: Water wave hair
Hair color: #27 Honey blonde
Hair length:16inch~28inch
Hair density:180%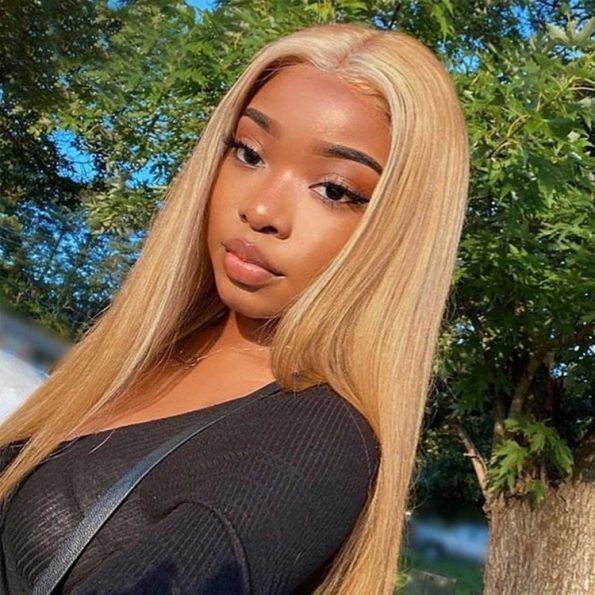 Lace type: HD lace
Lace area:5×5/13×4
Hair style: Straight hair
Hair color: #27 Honey blonde
Hair length:16inch~30inch
Hair density:180%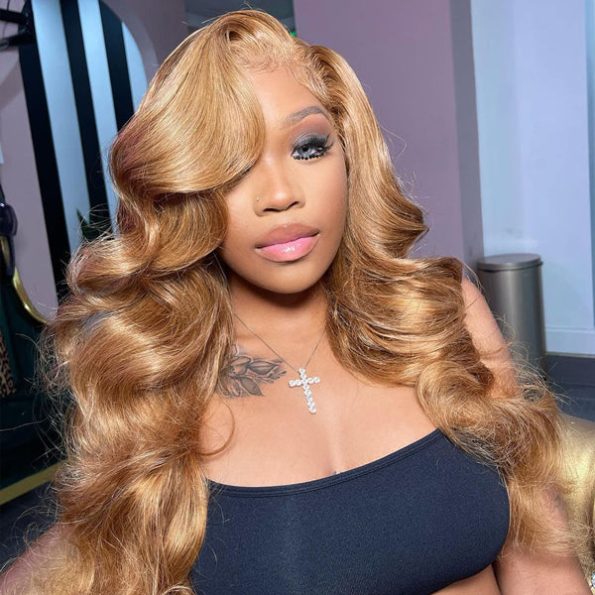 Lace type: HD lace
Lace area:5×5/13×4
Hair style: Body wave hair
Hair color: #27 Honey blonde
Hair length:16inch~30inch
Hair density:180%