Wigs are a popular way to change your hairstyle without damaging your natural hair. They can also help you cover up hair loss or thinning hair. But with so many types of wigs available on the market, how do you choose the best one for you? In this blog post, we will compare two popular wig styles: V part wig and headband wig. We will look at their advantages and disadvantages, and help you decide which one is better for your needs.
What is a V part wig?
A V part wig is a type of human hair wig that has a V-shaped opening at the front. The opening allows you to blend your own hair with the wig for a more natural look. You can also style your own hair in different ways to create various looks with the same wig.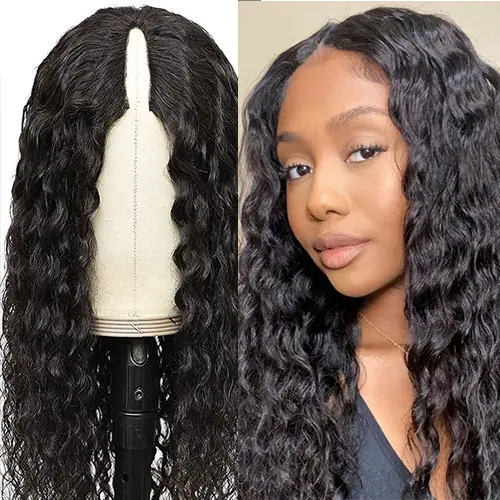 The benefits of a V-part wig.
I. Disguise hair issues and enhance length or volume.
Black women who are experiencing hair loss or who dream of having thick, full hair can benefit from the V part wig with no leave-out since it can help them cover up certain hair issues while also adding volume and length to their hair.
II. Conducive to novices.
You must braid all of your own hair before wearing a V-part wig. You may also decide whether to save the hair that will be needed for the top V-shaped opening. Then, use the hair that was set aside to cover the V-shaped opening before inserting the wig clips into the space left by the braided hair. Simple as that! Also, since no prior experience with wearing human hair wigs is required, it is highly welcoming for novices.
III. Reasonable cost.
The V part human hair wig is less expensive than a lace wig due to its machine-made design.
IV. Simple to put in and remove.
As this wig lacks lace, there is no need to trim the surplus lace or adhere it with glue. It only requires a straight installation and precise direction adjustment. Compared to a conventional wig, the procedure will go faster.
V. No lacing, no glue.
Those females who have delicate skin or a glue allergy should definitely consider it. The human hair V part wig is created entirely of human hair, without the use of glue or synthetic materials. As a result, there won't be any skin tugging or irritation of the scalp from chemicals or glue. You even don't need to spend a lot of time trimming and concealing the lace when using the premium human hair V part wig.
VI. Plenty of room for your head.
Your scalp and hair may relax with the V part wig. Also, you may frequently wash and care for your natural hair and scalp.
VII. Supportive of hair growth.
For those who wish to give their scalp a break while maintaining a lovely haircut, the V part wig with real human hair is a fantastic solution.
VIII. Winter hairstyles that are protective.
The V part wig is the ideal choice for you as a protective style for your real hair, especially as we approach the chilly winter period.
IX. Versatile hairdo.
According on your needs, the body wave V-part wig may be worn with or without any leave-out on your scalp. Also, you are able to create a centre or side part that suits your preferences. Also, you may use accessories like headbands, clips, and other items to experiment with various looks.
X. Less or no leave-outs.
Your own hair may be inserted into the wig's opening. The choice ultimately rests with you. You may decide whether to leave part of your own hair out to make the wig appear more natural if you want; alternatively, if you find it difficult to manage the hair that is with leave out or if the wig still looks real without leave out, you can decide to wear it directly.
XI. Offer you the most natural appearance.
For ladies who like their wigs to appear more authentic and natural in real life, this wig is ideal. Also, you won't need to worry about aggressive baby hair, covert lace holes, or blending in with your natural hairline. With no leave-out or only a few sparse hairs left out, you may now wear your own natural hairline and real part.
The drawbacks of a V part wig are:
– It may not fit well if your head size or shape is different from the wig cap.
– It may not suit you if your natural hair texture or color is very different from the wig hair.
– It may require more maintenance and care than other types of wigs.
A headband wig is a type of human hair wig that has an elastic band attached to it. The band covers the edge of the wig and acts as a headband. You can wear any headband of your choice over the band to create different looks. You can also leave some of your own hair out at the front to blend with the wig.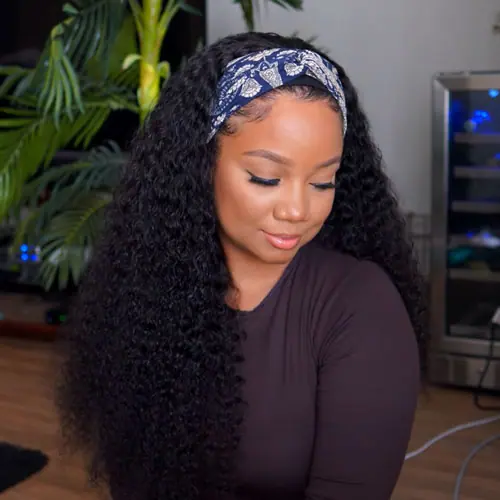 The benefits of a headband wig.
I. Safeguard your natural hairline.
The headband half wig may be attached without the need of adhesive, protecting your skin and natural hairline from being damaged by low-quality glue.
II. Avoid wasting time.
Human hair headband wigs have no lace, so you won't need to spend any time whatsoever trimming additional lace.
III. Simple to put on.
The lace does not need to be cut, and you can put it on in three minutes. You may put on and take off every day. It is without a doubt a lifesaver on hectic days, gym days, and some unforeseen meetings.
IV. A range of adaptable styles.
Just by selecting different types of top headband wigs and various colours and designs of the headband, you may choose whatever haircut and colour you choose.
V. Cost-effectively.
Because of the machine-made wig caps, headband wigs made of human hair are less expensive than comparable lace frontal wigs.
VI. Lightweight and cozy.
The African American headband wigs are light, soft, and breathable even though they may completely cover the head. Hence, users can style their hair in buns or ponytails for special events, especially during the hot summer.
VII. Almost all head sizes are accommodated.
This headband wig is ideal for practically all head sizes since the turban is constructed of elastic material. The headband is also extremely soft and elastic, and it can perfectly fit the wig on the head.
VIII. Work for any event.
Affordable headband wigs not only provide a natural appearance but also give charm to a person's personality and may make individuals feel more confident. You may wear it to work, church, school, shopping, theme parties, weddings, dates, cosplay, and other formal and special events.
The drawbacks of a headband wig are:
– It may not look as natural as other types of wigs that have lace or skin-like materials at the front.
– It may slide off or shift if the band is not tight enough or if you move around too much.
– It may cause headaches or discomfort if the band is too tight or if you wear it for too long.
The parallels between headband wigs and wigs with a V section.
The two glueless wigs have a lot of characteristics. In the section after, we shall list them.
1. Simple to put on and remove.
Due to the laborious wearing procedures, many girls may experience such agony that they must sleep in a wig after wearing a lace front wig. People frequently only remove their wigs to have them cleaned. Because a V part wig and a headband wig are simple to wear, you may take them off every night before bed to allow your scalp plenty of time to breathe and unwind without spending a lot of time putting them on in the morning.
2. No adhesive is needed at all.
As they are both glueless wigs, the first thing they have in common is that the wig caps don't have any lace, which means you may stop using glue to attach the lace to your skin. In this method, both the discomfort of the wig and the symptoms of adhesive allergy may be effectively prevented.
3. Suitable for beginners.
You no longer have to be concerned that you can't handle the lace element of their wig hats very well. In reality, many novices find it quite challenging to make lace appear natural on the skin. V part wigs and headband wigs, on the other hand, don't require you to deal with lace; all you need to do is put them on, make any necessary adjustments, and use the little combs inside to secure them to your head. When compared to wearing a lace front wig, the entire process is quite straightforward for everyone.
The distinctions between headband wigs and V-part wigs.
In this part, we'll expose you to the distinctions between these two wigs so that you may better comprehend them and choose which one is best for you.
1. Pricing.
In actuality, lace front wigs are more expensive than headband and V part wigs. V-part wigs are still more expensive than headband wigs, though. Thus, you may select one based on your budget.
2. Natural hair requirements.
You'll look better using headband wigs if your real hair is quite thin. Because V part wigs need you to comb little combs into your cornrow braids. Thin hair is not strong enough to sustain V-part wigs.
3. Different install methods.
V-part wigs: To start, braid all of your hair into cornrows. Then, depending on your preferences, determine how much of your natural hair to leave out. After completing these processes, attach the clips and wig's adjustable straps to your hair's braids. To make it seem more real, blend your own natural hair with v-part wigs afterward.
Headband wigs: Start by braiding all of the hair into cornrow braids, as you must do for V part wigs. Finally, place the wig cap linked to the hair bundle on your head, followed by the headband covering the front end of the hair cap.
Which one should you choose?
The answer depends on your personal preference, budget, lifestyle, and hair goals. Here are some factors to consider when choosing between a V part wig and a headband wig:
– If you want a more natural-looking hairline and scalp appearance, go for a V part wig.
– If you want an easy-to-wear and hassle-free option, go for a headband wig.
– If you want more styling options and versatility, go for a V part wig.
– If you want more comfort and convenience, go for a headband wig.
– If you want to protect your edges and scalp from damage, go for either one as they both do not require glue or lace.
In conclusion.
Both V part wigs and headband wigs have their pros and cons. Ultimately, it comes down to what suits you best. You can also try both styles to see which one works better for you. No matter which one you choose, make sure to take good care of your natural hair underneath as well as your wigs. With proper care and maintenance, both types of wigs can last long and give you beautiful results.
We hope this blog post has helped you understand more about these two popular types of wigs. If you have any questions or comments about them, feel free to leave them below. We would love to hear from you!