Being beautiful is almost every woman's dream, and having a charming hair appearance will undoubtedly add a lot of beauty to you. Wigs came into being and became more and more popular, and headband wigs are one of the most popular types of wigs in the hair industry.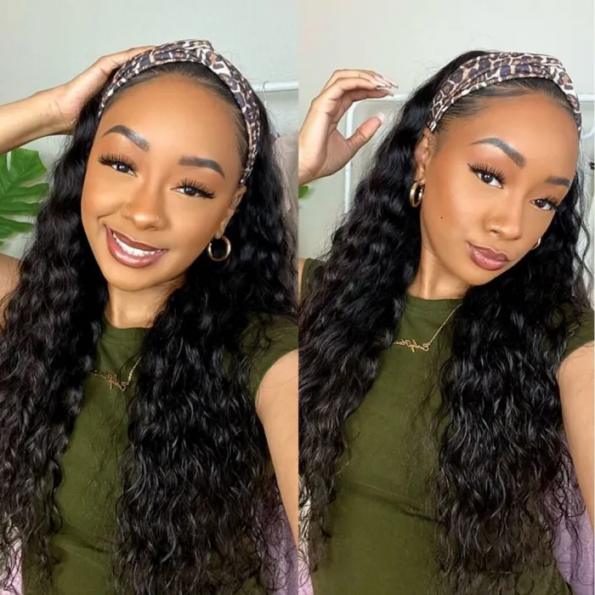 The headband has become a necessary wig for women who love beauty. However, a lot of individuals are still unaware of it. So, today's blog will introduce you to this wig and how to wear it.
What is a headband?
A headband is a hair clothing accessory, typically to keep hair out of the face or eyes. Headbands generally are made of elastic material. They are used for both practical and fashionable purposes and available in a variety of sizes and forms.
What is a Headband wig?
This wig is a combination of a wig and a headband. Headband wig is made of soft, breathable and high-quality materials, and its hair is made of 100% original human hair of untreated donors.
This wig has no lace, and the whole manufacturing process can be completed by machine. There is an elastic belt at the back of the wig and four hairpins around it, which ensures that you can install it without glue.
The biggest difference between lace wig and headband wig is whether lace or headband is used at the hairline of wig.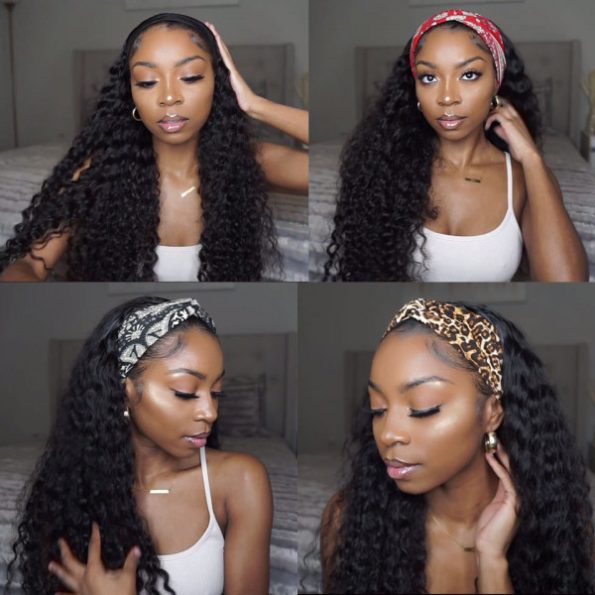 Why choose headband wig?
1. Protect hairline and hair
No wig lace, you don't need to fix it with glue, which can prevent inferior glue from damaging your health and protecting your skin. You can also protect your hair from many factors, such as protecting it from sunlight, dust, wind and pollutants.
2. Breathable and light
Hair wig is light, breathable and suitable for four seasons. Wearing a wig makes you feel as light and breathable as natural hair, which is perfect for hot weather.
3. Easy to install
The headband is lace-free and installed without glue, so you can save a lot of installation time due to the simplification of steps. Compared with wearing a lace front wig, wearing a wig can save you a lot of time.
4. Friendly to beginners
A wig is very convenient. You can install your wig very quickly with the adjustment belt, hairpin and headband, and the whole process even takes less than a second. Headband is one of the most ideal hairstyles for beginners.
5. Various styles
Give the wig wearer a sense of fashion atmosphere. It's the highlight of the wig. You can buy headband in various colors and patterns, and choose your favorite headband according to your mood or the color of your clothes.
6. Different lengths and densities
You can buy wigs with any desired length and density, because there are many lengths and volumes of fake wigs in our shop.
7. Improve hair loss
Please don't worry when your hair loss is serious. You can cover your bald head with a wig and look cool at the same time. A wig will restore your confidence!
8. Suitable for various occasions
This can help you play different roles when attending a fancy dress party or any role-playing activities. These wigs will enhance your style and give you the opportunity to be any character you like.
9. Environmental protection and fashion
There is no chemical process in the installation of the wig, which is very environment-friendly. If you are an environmentalist, wearing a wig is undoubtedly one of the best choices for you.
10. Natural hairline
You can freely choose to expose or cover your hairline by wearing a wig, which is very natural and can also cover some flaws on your forehead to a certain extent.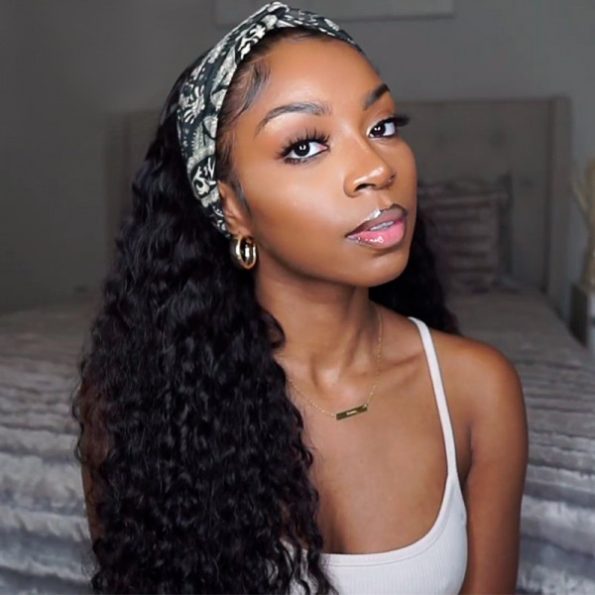 How Wear A Headband Wig?
1. Comb your wig
After placing the wig on the wig rack, you should use a wide-tooth comb to remove any knots. If you encounter troublesome tangles, you can spray some olive oil to help remove the tangles.
2. Comb your hair or braid your hair
You should put your own hair back or braid it, or your hairline or bun may get stuck in the wig when you wear it. And the you need to make sure the top of your head flat. The flat head can make your wigs more natural after the installation.
3. Wear a wig cap
After braiding your hair, you can wear a wig cap to make your head much flatter.
4. Wear the wig
The wig can be placed directly on your head and moved to the ideal position. Once the wig is the proper size for the head, tighten the elastic band, reinforce it with the clips inside the hair cap, and repeat. Your wig will then be adjusted.
5. Do styling
You have the option to style with heat-setting props. Before styling, make sure to use the lowest temperature and fully consult with professionals to avoid damaging the wig.
6. Choose a headscarf
You can choose the headband to you like to wear it for a fashionable hair look. You can buy the headband in your local shop or online.
7. Look the mirror
Finally, you may admire your attractiveness while standing in front of the mirror.
Reminder
Our hair shop has great-quality head wig which are 100% human hair wigs and we have various styles headbands to send to you as a gift if you buy our headband wigs. They are in a discount promotion now. Waiting for your order.