Whether you're looking to change your hairstyle, add volume, or simply enjoy a different look, lace front wigs offer an exciting array of options. In this comprehensive guide, we'll explore the best lace front wigs available in the market today, highlighting their key features, benefits, and what makes them must-haves in your hair accessory collection.
Several factors lead people to wear human hair lace front wigs:
Before we dive into the best lace front wigs, let's understand what makes them so special. Lace front wigs feature a sheer lace base at the front, which mimics the natural hairline, giving the illusion of a seamless transition between the wig and your skin. This delicate lace allows for a more natural look, making it appear as if the hair is growing directly from your scalp. Here are some reasons why lace front wigs have gained immense popularity:
1. Hair loss or thinning:
One of the most prevalent reasons for wearing lace front wigs is to conceal hair loss or thinning. Whether caused by genetics, medical conditions, or treatments like chemotherapy, lace front wigs provide a natural-looking solution to regain confidence and self-esteem.
2. Convenience:
Lace front wigs offer a convenient alternative to spending hours on daily hair care routines. They can be easily put on and taken off, saving time and effort, especially for those with busy lifestyles.
3. Versatility:
Lace front wigs are highly versatile. Wearers can style them in multiple ways, parting the hair differently or creating various updos and braids. This flexibility allows for endless styling options.
4. Aesthetic preference:
Some people simply prefer the look and feel of lace front wigs over their natural hair. They appreciate the flawless, polished appearance that these wigs offer.
5. Special occasions:
Lace front wigs are popular choices for special occasions such as weddings, proms, and parties. They ensure a flawless look that lasts throughout the event, even in challenging weather conditions.
Human hair lace front wigs.
1. Virgin Brazilian lace front wig:
Known for its natural shine and thickness, Brazilian hair is a popular choice for lace front wigs. These wigs are highly durable and can be styled just like your natural hair. Whether you prefer straight, wavy, or curly locks, Brazilian lace front wigs have you covered.
2. Indian Remy lace front wig:
Indian Remy hair is another premium choice. These wigs are known for their smooth texture and versatility. They can be straightened or curled with ease, allowing you to switch up your look effortlessly.
3. European human hair lace front wig:
If you're seeking the crème de la crème of lace front wigs, European human hair wigs are the way to go. These wigs boast a fine texture and natural luster, making them indistinguishable from your own hair. The European hair is also incredibly soft, ensuring a comfortable fit.
Lace front wig styles.
1. Straight lace front wigs:
For a sleek and polished look, straight lace front wigs are the go-to choice. They exude elegance and simplicity and are perfect for both casual and formal occasions.
2. Wavy lace front wigs:
Achieve a beachy, carefree look with wavy lace front wigs. These wigs add texture and movement to your hair, creating a relaxed and trendy appearance.
3. Curly lace front wigs:
Curly lace front wigs offer a touch of drama and romance. They come in various curl patterns, from loose waves to tight curls, allowing you to express your unique style.
4. Bob lace front wigs:
Bobs are a timeless hairstyle, and lace front wigs make it easy to switch to this classic look. Whether you prefer a blunt bob or an asymmetrical style, bob lace front wigs offer endless possibilities.
Customization and maintenance.
While lace front wigs come in various styles and textures, customization is often necessary to achieve the perfect fit and look. Here are some customization tips:
1. Cut and style:
Visit a professional hairstylist who specializes in wig customization to trim and style your lace front wig to your liking.
2. Hair color:
Consider dyeing your lace front wig to match your natural hair color or to experiment with a new shade.
3. Baby hairs:
Pluck and style the baby hairs along the hairline for a more natural appearance.
4. Wig caps:
Use a wig cap to protect your natural hair and ensure a comfortable fit.
Where can I get lace front wigs that are the greatest quality?
Recool Hair stands out as the ideal destination for purchasing lace front wigs. Renowned for their commitment to quality, Recool Hair offers a diverse array of lace front wigs, catering to various preferences and styles. Their products, whether human hair or synthetic, exude naturalness and comfort, ensuring a seamless and enjoyable wearing experience. With competitive pricing, customization options, and a reputation built on positive customer reviews, Recool Hair emerges as a trusted and reliable choice for those seeking high-quality lace front wigs. Explore their offerings and discover the perfect wig to enhance your style and confidence.
Why is Recool one of the top websites for lace front wigs?
When looking to purchase lace front wigs, Recool Hair is a highly recommended option. Recool Hair is renowned for its quality lace front wigs and a wide selection of styles, hair types, and colors to suit various preferences. Here are a few reasons why Recool Hair is considered a top choice:
1. Quality assurance:
Recool Hair is known for its commitment to high-quality wigs. They use premium materials, ensuring that their lace front wigs look natural, feel comfortable, and last a long time.
2. Variety:
Whether you're looking for human hair or synthetic lace front wigs, straight or curly, short or long, Recool Hair offers a diverse range of options to cater to different styles and occasions.
3. Customization:
Recool Hair often provides customization services, allowing you to tailor your wig to your specific needs, such as hair color, length, or density.
4. Affordability:
While maintaining quality, Recool Hair also offers competitive pricing, making it accessible to a wide range of customers.
5. Customer reviews:
Positive customer reviews and testimonials can be a good indicator of a reputable supplier, and Recool Hair has garnered many satisfied customers over the years.
6. Customer support:
Excellent customer service is crucial when buying wigs, especially when you need assistance with selecting the right product or addressing any concerns. Recool Hair typically provides responsive and helpful customer support.
Some best lace front wigs you can find in Recool Hair.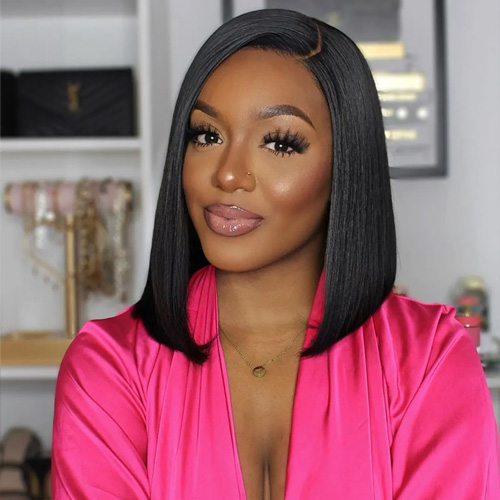 Elevate your style with our Short Bob Wigs Brazilian Straight, a captivating choice for those who appreciate the chic simplicity of a bob cut. Crafted from premium Brazilian human hair, these wigs boast a 180% hair density for a lush, full appearance. The 5×5 and 13×4 HD lace frontals create a flawless, natural hairline, seamlessly blending with your own. Whether you prefer a classic or trendy look, this wig offers versatility and elegance, making it a must-have for any fashion-forward individual.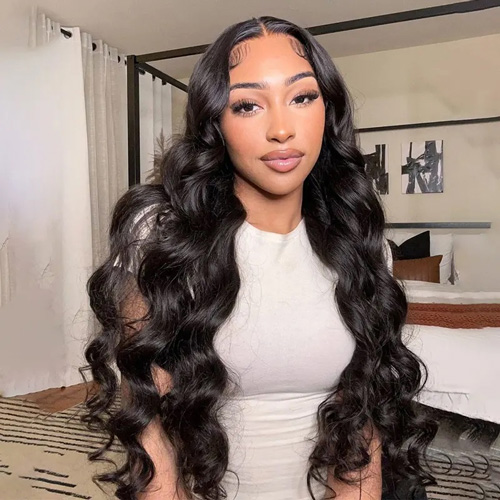 Don't miss our Flash Sale Body Wave Hair, a striking 5×5 and 13×4 HD lace front wig crafted from luxurious Brazilian human hair. This wig is pre-plucked to perfection, ensuring a realistic and effortless hairline. The body wave texture adds a touch of sophistication and volume to your look, making it suitable for various occasions. Take advantage of this limited-time offer to elevate your style and embrace the beauty of natural-looking waves.
Go get yourself a lace front wig.
Lace front wigs have transformed the way we approach hair fashion. With the variety of styles, textures, and customization options available, they offer endless possibilities for reinventing your look. Whether you prefer the luxury of human hair or the convenience of synthetic wigs, there's a lace front wig that suits your needs and style preferences. Invest in a high-quality lace front wig, and you'll discover a world of creativity and confidence waiting at your fingertips. Say goodbye to bad hair days and hello to the best lace front wigs you cannot afford to miss.