Bob wig is one of the most unique, eternal and classic hairstyles in the world. It not only has a beautiful and natural appearance, but also is comfortable to wear. Bob wig has a variety of hair types. Choosing the right short hair will give you the best wearing experience. For Bob wig, most people will choose the most common way to design the middle part, but gradually, this method can't satisfy people's pursuit of fashion. Today, we will bring you another style of learning and understanding by bob wigs with sides.
Content:
What is a bob wig with side part?
Why choose the short bob wig with side part?
Tips to style your bob wig with side part
Some hot-sales popular bob wigs with side parts
Final reminder
What is a bob wig with side part?
Bob wig with side part is one of the types of Bob wigs. The side bob wig is also called asymmetric bob wig. The length of this wig is generally short, and the two sides of bob wig are unevenly cut. This is a unique style of bob wig, which brings unique and fresh vitality to the appearance of bob wig. You can become more fashionable by wearing this novel bob wig with side part.
Why choose the short bob wig with side part?
1. Fashionable and novel

Bob with a side part is novel fashion bob wig style adds extra volume and layers to Bob's wig, making it more beautiful, which not only meets the requirements of short hair, but also meets the needs of fashion.

2. Easy to maintain.

You don't need to spend too much time and energy to maintain it. It's a low-maintenance wig type, and you just need to clean and maintain it regularly. You will have more time to do other things!

3. Easy installation

Bob wigs with side part have easy installations and this can save time and energy for us.

4. Suitable for sports or busy life.

If you like sports, or your life is busy, and you don't want to spend a lot of time on your wig, then bob wigs with side part will be one of your best choices.

5. Economical

Length is an important factor affecting the price, while the length of bob wigs with side parts is shorter than other types of wigs, usually 8-16 inches. So, you can buy a Bob Wigs with Side Parts with the same hair quality for less money. This can greatly protect your budget.

6. Supernatural

Bob wigs with side parts in our shop are all of high quality, and they are all made of 100% human virgin hair. You can get the most natural hair appearance.
Tips to style your bob wig with side part
1. Determine the side part' position
You should put it on the head of the wig model first, and then use a comb to determine the position of the side to be made, and divide the hair into two unequal parts.
2. Use moisturizing and thermal protection spray
You can apply olive oil to bob wigs' hair to increase and keep the moisture in the hair, and then use heat protection spray to form a protective barrier to protect your wig hair from the heat damage of heat setting tools.
3. Use a heat setting tool to set the hair.
After you put on the thermal protective gloves, you can start using a hair straightener or curling iron to style your hair, which can smooth or curl your wig. You are free to design your hairstyle and make it any style you like.
4. Let your wig rest after the hot-setting.
After you finish all the work, you shouldn't use the wig immediately. You can spray some moisturizing spray on the fake issue, and then let it stand for several hours to restore and keep the wig in its natural state before wearing it.
Some hot-sales popular bob wigs with side parts in our hair shop: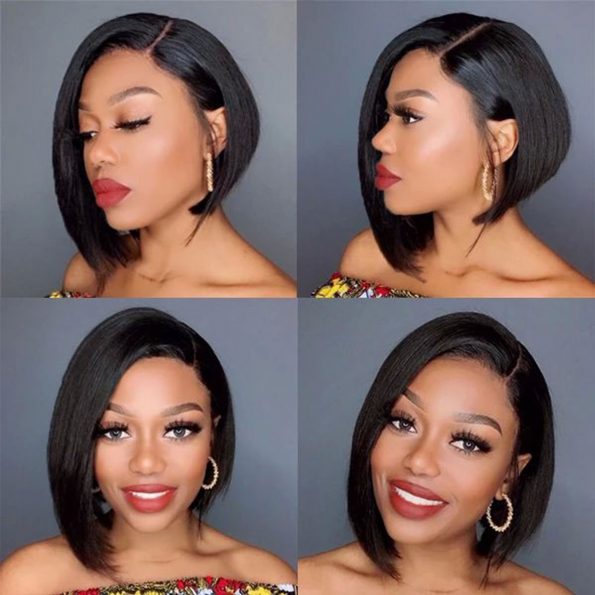 This wig is shot straight hair style, which is human hair virgin hair. The hair length is 10in~14in .You can choose the hair wig for your preference. The side part bob wig has a lace area 13×4, for which you can do more hair styles.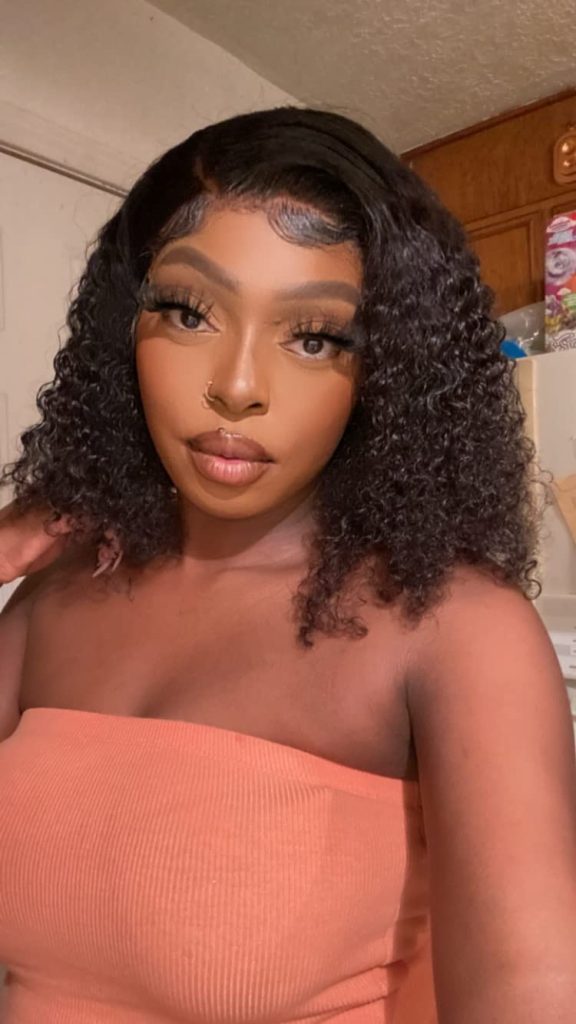 This wig has curly bob side part hairstyle. The hair length is 12in~14in. The hair density is only 200% density, which is enough to make your hair volume full. The hair style is cool and fashionable. You must have a try.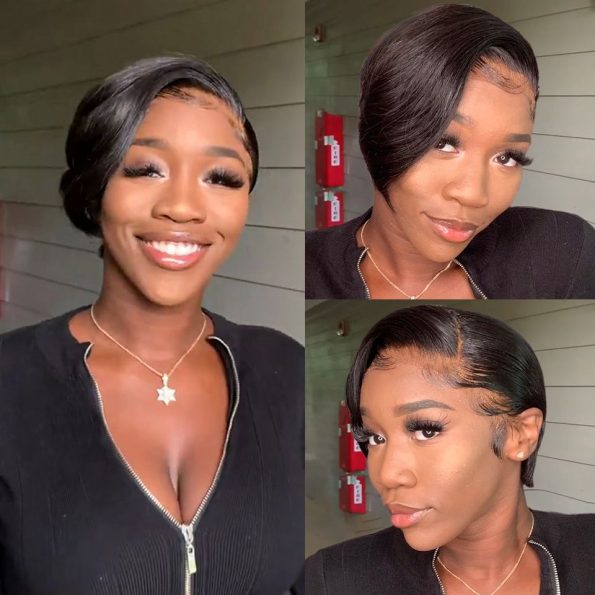 The wig is a pixie cut side part short straight wig. You can choose the way you like to do the installation. And the hair length is 8in with hair density 180%. The hair color is natural black color. The lace area is 13×4.
Final reminder
So many awesome short bob wigs with side parts are for sales in our hair shop. They are all made in high quality 10A. And we have great promotions now. You can get the lower and affordable hair prices. Waiting for your checking and ordering dear.