In order to create a defined area of hair at the front of your head while the rest of your hair is left to hang flat on your head, you may use a V part wig, also known as a part wig. V part wigs come in a variety of colors and styles, so it should be simple to choose one that meets your demands.
In order to help you choose wisely while making a purchase, this article will explain the many varieties of V part wigs, explain how they work, and go over their benefits and drawbacks.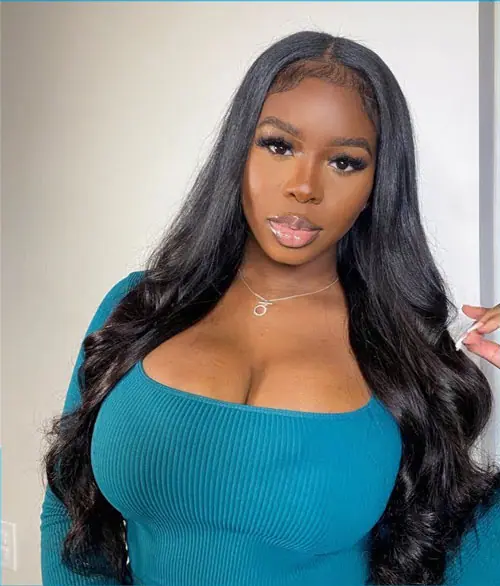 I. The V-part wig: what is it?
A human hair hairpiece that adheres to your natural hair is called a V part wig. It gives the impression of having a full head of hair with naturally parted hair on either side. V part wigs are generally used by those who have lost their hair as a consequence of an illness, an accident, or chemotherapy. They can also be used to provide temporary covering while waiting for natural hair to regrow.
V part wigs come in a broad range of lengths of straight hair, layered appearances, and shorter haircuts, as well as different colors and patterns. They may be dressed in a variety of ways to suit your preferences.
Your V-part wig may be conveniently stashed away until you need it again if you wish to switch up your look or store it. Some V-part wigs can last up to five years with appropriate maintenance, depending on their quality.
II. Who needs a V part wig?
For individuals who fantasize of having longer, thicker hair, this product is perfect. It assists in hiding the flaws on top of your head and turns your thin, short hair into lovely, long, thick hair.
Since the real V part wig is made entirely of natural hair, people may freely express themselves with it. It is OK to dye it blonde or to trim it into a bob. But keep in mind that you should pick a wig that matches your natural hair in terms of colour and texture. You should get assistance from a hair salon if possible.
If you are concerned that the conventional hair wig may start to shed after a while, pick a V-part style. Intricate stitching is used to sew the hair. Furthermore, because it is fastened with clips and combs, you don't need to fear that it will slip down when you're wearing it.
Even though your skin is delicate, you still wear this wig. Your natural hair is not harmed by this clip-on wig either. It is safe to utilize the unprocessed chemical hair. The wig is worn while you sleep just like your natural hair is.
III. The advantages of the V-part wig design.
Straight, curly, and wavy styles are just a few of the options for styling V part wigs. In terms of hair length, they have alternatives that range from shoulder-length to waist-long, making them highly adaptable. Human hair and synthetic hair are two options for V part wigs.
A human hair V part wig will often move more naturally than one made of a synthetic substance.
1. Friendly to new user.
It's totally accurate to say that styling lace front/closure wigs calls for a certain level of talent. One may end up investing numerous hours to make it "perfect" by bleaching, trimming, and trying to conceal their lace. For your benefit, V-part wigs eliminate all of these concerns. We adore hairstyles that don't cause us any worry, so they're also quite simple to put on and take off with the typical assistance of slide-in grips at the wig opening.
2. No lace means no glue.
V-part wigs don't require adhesive because there aren't any lace frontals or closures involved. For people who either have sensitive skin, are allergic to lace adhesives, or just don't like them, V-part wigs are an excellent option because there is no scalp itching with them.
3. Take on a natural appearance.
V-part wigs, in contrast to most wigs, let you showcase your hairline's gorgeous naturalness. You won't again have to worry about your lace matching your hairline again! This makes it quite tough for folks to tell that you're actually wearing a wig. Furthermore, V-part wigs don't have any weft on top or, if they do, it is so thin, unseamed, and flat that it is hard to tell it's there. As a result, they don't have artificial bulks and bumps. This wig could need to be your next attempt for all of our natural-wig aficionados.
4. This is an affordable and cost-effectively wigs.
Because it is a machine-made structure, a V part wig is less expensive than lace wigs. Wig websites provide discounts so you may get wigs for less money.
There is no restriction on how you may create middle or partial pieces. Accessories like headbands, barrettes, and other similar items can be added to try with various looks.
IV. Considerations to make before purchasing a V-part wig.
Before making a purchase of a V-part wig, there are a few things to think about.
To begin with, ascertain if the wig you are thinking about is composed of synthetic or human hair. For special occasions, synthetic wigs can be entertaining, but they shouldn't be worn for extended periods of time because they don't match your real hair as well. Because they have follicles that more closely resemble actual hair, human hair wigs have more realistic attributes. It's crucial to know what style you want before buying a wig because V part wigs come in a variety of hues and styles.
Last but not least, keep in mind that excellence is not free. The cost of the wig will increase with the grade of the hair and the level of artistry. However, it is worthwhile to spend the money after you've discovered a great wig. Take your time before making any judgments because there are many of options when shopping for a V-part wig!
The type of hair being utilized is a crucial factor to take into account when buying a V-part wig. Depending on how you want to use your wig, some wigs may contain either synthetic or human hair, which offers a variety of benefits.
If you intend to wear your V-part wig frequently, it's crucial to get a high-quality unit made of human hair since it matches your own hair better and is less likely to irritate you or create other issues owing to shoddy manufacturing.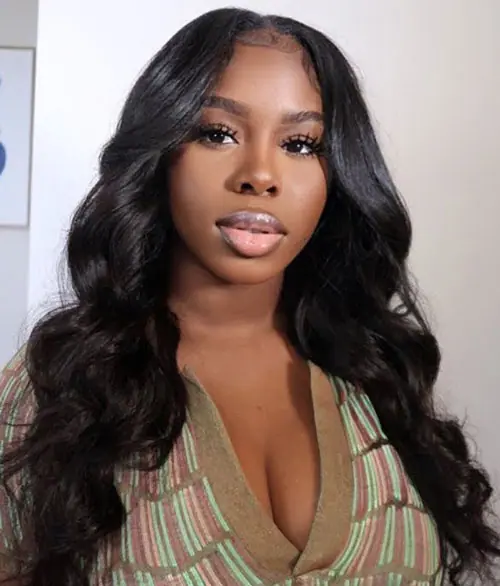 V. How do I put on a V-part wig?
V-part wig installation is identical to U-part wig installation, and several users have uploaded their techniques on various video sharing websites. which I will show you later.
The installation method of no leave-out:
Step 1: Begin by creating a centre part in your hair.
Step 2: Cornrow them in braids.
Step 3: Put on the V-part wig and secure it using cornrow clips.
Step 4: Brush the hair.
Step 5: Use your hands to style it and give hair a natural appearance.
The installation methods of leave-out:
Step 1: Grab a small piece of the hair leave out.
Step 2: Braid or twist it away.
Step 3: Braid all of the side hair behind you or down.
Step 4: Prepare and apply baby hair.
Step 5: Airy curls were blended into the top hair.
Step 6: Use hair spray to let the wig hair down.
Step 7: Top natural hair should be curled.
Step 8: Curl the natural hair on top.
The V part wig may be installed using one of these two techniques. Watch the following video for additional information about installing:
VI. The V part wig—is it a wise choice?
Totally yes! As there is no lace on these wigs. You don't have to attach a wig cap, bleach any knots, or manage your hair or hairline excessively. Simply split your hair, put on a wig with a V part, and clip it in place.
This wig installation is for you if you want something that looks more natural than lace but has less hair out than a U-part wig. And curled, it looks so natural.
Bottom line.
The advantages greatly exceed the drawbacks. The advantages are worthwhile! There are many different textures, hues, lengths, and styles available for V-part wigs. They are not as vulnerable to scorching or damage from heat tools as synthetic fiber is, so you may use them on them without fear. If done correctly, you may color them without worrying about damage or dryness.
There is a wig out there for everyone, and finding the ideal one may be a process. Why not try a V-part wig for a more natural, less-chemically intrusive haircut if you've had trouble with lace-based wigs? If you've tried one previously or plan to try one in the future, let us know in the comments.