Now the epidemic level in Covid-19 has been lowered. The world is gradually returning to the previous order, so there are more places you can travel, not only the beaches in your country, but also foreign tourism. When traveling, many women who wear wigs wonder if they can swim with wigs. In fact, the water in the sea and swimming pool will hurt your wig. If your natural hair is healthy, taking off your wig will not affect your mood. You can take off your wig and swim, which will protect your wig better. But if you need to wear a wig to participate in swimming activities, you need some skills to protect the firmness and health of your wig.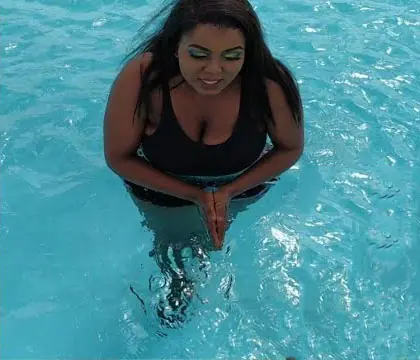 Today's blog will analyze the possibility of wearing a wig in swimming and how to avoid the adverse effects, so that you can swim with a wig at ease.
The trouble you will meet if you swim with wigs
1. Easy to fall off
The main type of wig is lace wig, and most of these wigs need to be installed with glue. However, if you wear a wig installed with glue when swimming, your lace wig will easily fall off due to the long-term contact of lace with water. The stability of lace itself will also be hurt.
2. Salt and chlorine damage wigs
Both swimming pools and seawater contain salt and chlorine. This will do harm to your wig, make your wig hair dry, fragile, dull and curly, and seriously fall off.
3. Tangle
When your wig hair floats in the water, it is easy to tangle with each other, especially the long wig. The tangle will damage your hair, cause shedding, loss of beauty and other bad effects.
Can you swim with wigs?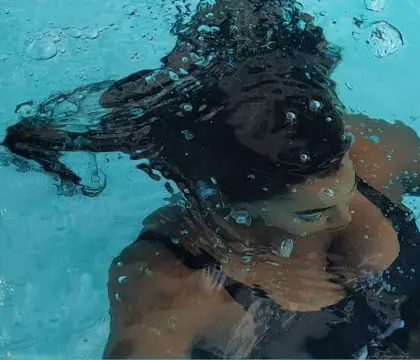 Yes, you can. But when you swim, you should pay attention to protect your wig. You can choose some wigs that are more suitable for swimming, and then go swimming, and you can also take some measures to protect the wigs when swimming to make your swimming safer and smoother.
How to choose suitable wigs for swimming
1. Choose human hair wigs
Human hair wigs are less likely to be damaged, tangled and dry. Compared with synthetic hair wigs, synthetic hair wigs will suffer more damage during swimming and get worse easily. So, if you want to swim with a wig, you need to wear a human hair wig instead of a synthetic hair wig.
You should choose the method of installing hairpieces without glue. For this reason, you can choose to buy hairpieces without glue and lace and hairpieces without glue, both of which allow you to install hairpieces without glue. Glue-free installation is also stable, and it can also prevent your glue-installed wig from falling off because of too much contact with water.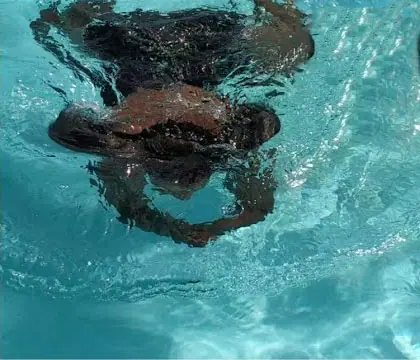 Why not choose the synthetic hair wigs?
When you read other articles about wearing a wig to swim on the Internet, there are many things that are right for you. If you want to choose the cheaper synthetic hair wigs, I think you should still choose the human hair wigs. Because the synthetic hair wigs are of poor quality and have an unnatural luster.
If you don't wear a swimming cap to swim, your synthetic hair wigs will become a mess after you go ashore, and the synthetic hair wigs have an unnatural appearance and won't be used soon. If you don't wear a swimming cap to go swimming, the better choice is the human hair wigs. If you choose to wear a swimming cap to go swimming, why not choose a more beautiful, better quality, more natural human hair wigs.
Choosing a disposable synthetic hair wig is bad, a waste of your money, and you can safely wear more beautiful and more real human hair wigs to go swimming, if you do a good job of protection, your human hair wigs will be little hurt.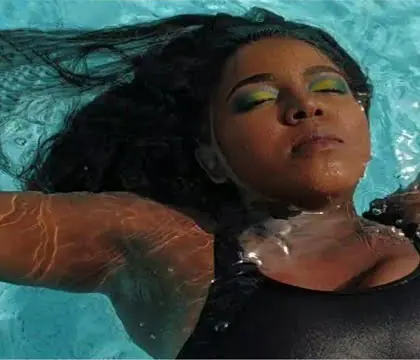 Some warm tips to help you swim with a wig safely
1. Test wig glue
Before you go swimming with a wig, you should test your wig glue to see if it is waterproof and firm enough. Besides, before you swim, you should also make sure that your wig is firm and the adhesive is completely dry.
2. Choose high-quality waterproof glue to install lace wigs
If you want to wear your lace wig in the water, you can use high-quality firm waterproof glue to install your wig. So, you don't have to worry about hair slipping.
3. Braid your long hair wigs
For long-holiday hair, you can make your wig hair into pigtails and horsetails before swimming. this hairstyle can reduce contact with water and is more suitable for swimming. moreover, this hairstyle can prevent tangles between hair.
4. Wear swimming caps
You'd better wear a swimming cap when swimming, which can best protect your wig.
5. Care your wigs timely after finishing the swimming
You need to wash and maintain your wig in time after swimming. You can clean your wig and apply some nourishing conditioner to keep it hydrated and lustrous.
Rinse the wig with water to remove chlorine or salt.
Apply a moisturizing conditioner to the wig.
After rinsing, allow the wig to air dry.
Remove hair tangles.
Don't wear swimming cap, not diving
If you are not wearing a swimming cap, then you should try to avoid diving, avoid your wig hair contact pool of salt water and chlorine.
Final thoughts
Hope this blog can help you, if you need a high-quality human hair wig, you can buy it in our wig shop, 10A quality will not disappoint you, and there are many kinds of wigs, you will find your own suitable wig.
Related Articles
Hair Washing Mistakes That You Need To Know
Why Your Wig Is Shedding And How To Avoid Them