The bangs on the wig are a unique style, adding rich layering and more fashionable and beautiful elements to the appearance of your hair. You can quickly change the appearance of your hair by cutting a fringe in your wig. Before you cut it, you need to choose the right tools and your bangs, and then design it. Today's blog will share the design knowledge of practical wig bangs. After learning, you can definitely create bangs that you like and want.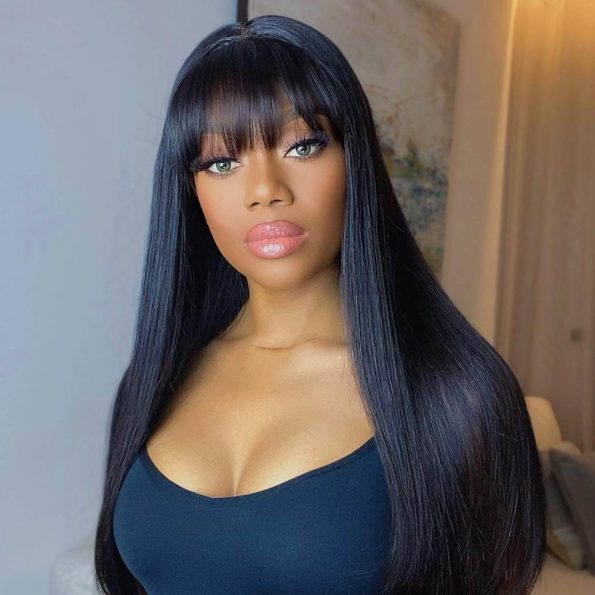 What are bangs?
Bangs, also known as tassels, refer to a strand or lock of hair hanging from the front hairline of the scalp, covering the forehead, usually above the eyebrows. Bangs have different shapes, adding different layering and beauty to your forehead. You can design side sweep bangs, straight bangs, curly bangs and so on.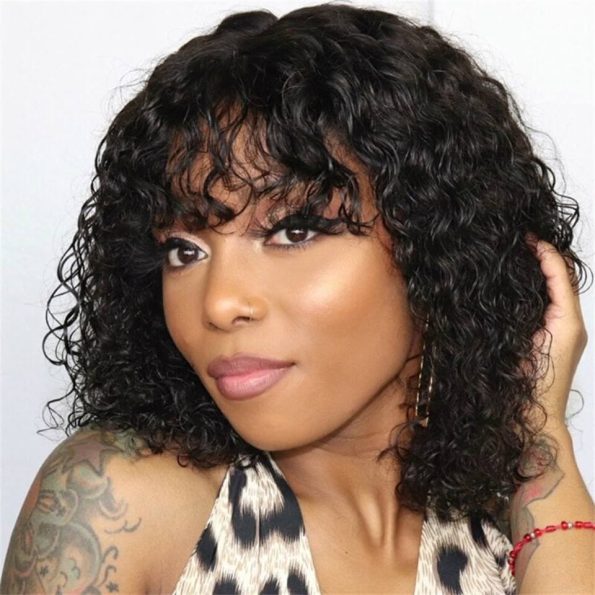 Why cut your wigs' Bangs?
Wigs with bangs can cover your face, especially the blemishes on your forehead, such as pimples on your forehead or thin hairlines. And you can create a very natural hairline by designing bangs. Besides covering flaws, your bangs can also achieve a unique hair appearance for you, making your face and hair more natural. It can also highlight some advantages of your face and increase your beauty and charm.
Tips to choose suitable bangs
You can choose your favorite bangs according to your face shape:
Oval: Your oval faces are versatile and can be suitable for almost any type of bangs.
Round: You can try thick side sweep bangs and French bangs.
Square: You can avoid short bangs, but choose bangs that can soften facial lines.
Long bangs: Fluffy Teddy's curly hair and bangs will suit you better.
Diamond face: You can try straight bangs.
How to cut bangs on wigs?
1. Untangle and clean the wig
You should clean your wig to make sure it is clean and dry. Then you can comb your wig with a wide-toothed comb to remove the tangles of the wig hair. Soft hair will make your bangs cut more smoothly.
2. Prepare tools
Before you start cutting bangs, you should make sure your tools are ready. The basic tools are: wig, wig head, fixing needle, hairpin or hairband, marker pen, scissors, moisturizing spray and essence spray. Additional styling tools include curling irons, hair straighteners and hairspray.
3. Fix the wig
You should fix a clean and dry wig on the foam head. To ensure a firm fixation, you can pin the wig on the foam head with a fixing needle, so that it won't move during styling.
4. Braid your hair and leave bangs.
You should knit your hair. You can use a comb to help you. Distinguish the bangs you need and put them on your forehead. You should knit all other hair and fix it at the back of your head to prevent your excess hair from hindering your cut. You can fix the rest of your hair with a hairband or a hairpin.
5. Determine the length of your bangs
You can use your finger on the foam head to determine the length of bangs you need, and then you can make a mark on the foam head with a marker pen.
6. Start cutting bangs
You can tighten your bangs with one hand and cut your hair with the other. Your scissors should be 45. When cutting bangs, you can cut them from the middle and then cut them to the sides. Every time you cut your hair, don't cut too much, preferably 0.25 inches. When you get close to the mark you made, leave about 0.5 inch of hair for later trimming or extra styling.
7. Primary pruning
You need to observe your hair as a whole, and then trim it to ensure the natural and smooth appearance of your hair.
8. Untie the braiding and trim again
You can untie the rest of your hair that you fixed and knitted before, and then mix it with your bangs. You need to trim your bangs again and the place where your bangs contact with the rest of your hair to make sure it's natural and flat.
9. Design new bangs
Now that your bangs have been finished, if you need more styling for your bangs, you can then curl or straighten your bangs and other styling. When you use the heat setting tool, remember to protect your bangs' hair, and you can apply some heat protection. Then, the bangs you need will be presented.
10. Spray moisturizing and essence
Finally, after you have finished all the styling, you can spray some moisturizing spray and spray essence, which will make your hair shinier and more beautiful. if needed, you can use some hairspray to fix your style. When trimming your hair, if your hair is excessively dry, you can also spray some humectants in time.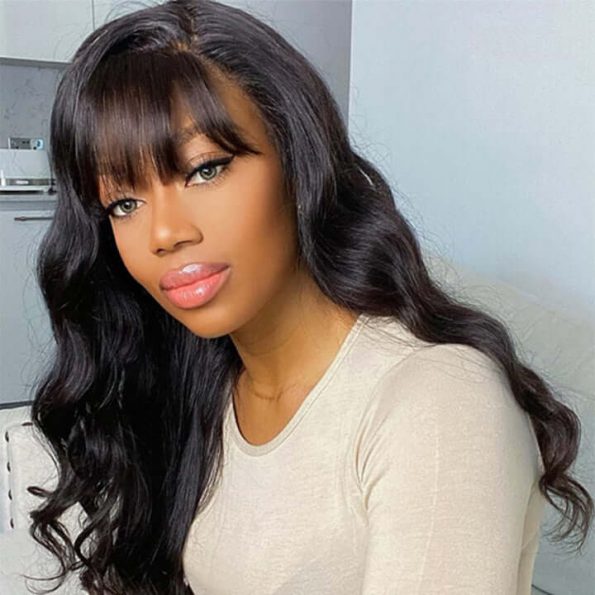 Reminders when cutting bangs on wigs
According to your characteristics, use the appropriate bangs shape and length. You can consult a professional hairstylist to help you choose.
Don't cut off too much at once, because the cut hair is irreversible, and you should trim it carefully and slowly.
Unless you have experience, don't cut your wig when it's wet. Wet hair will make it more difficult for you to cut it.
Don't use hand scissors or other unprofessional scissors, you should use professional hair scissors.
If you encounter problems during pruning, you can consult a professional in time or operate under the guidance of a professional.
When removing hair tangles, you can use essential oil to help you, and then quickly remove it with a wide-toothed comb.
Final thought
Hope you can learn excellent bangs cutting techniques through this blog. It's not difficult to cut bangs. You can do it at home. If you don't want to spend time designing your wig bangs, you can buy a new bangs wig directly. The new bangs wig is of very high quality and brand new.
You can choose our wig shop to buy bangs. We are having a discount. All wigs, including bangs, are excellent discounts, and they are of high quality. They are 10A human virgin hair. Welcome to buy them.