You can easily learn to make a U-part wig by studying. This wig is a lace-free wig, and its structure is relatively simple. If you want to make a U-part wig yourself, this can be achieved. And making it yourself can save you more budget and help you decide the positions of U-part by yourself. If you buy the U-part wigs, the U-part opening usually is in the middle of wig cap. Today's blog is about how to make U-part wigs. Hope you can learn what you desired. Please keep reading and study.
What is a U-part wig?
U-part wigs are hairpieces without lace and glue. Usually, there is a U-shaped hole in the middle of the wig cap. You can expose your natural hair from this hole and mix it with the wig hair, which can create a more natural hairline and hair appearance.
Benefits of U-part wigs
U-part wigs are inexpensive, because there is no lace and there is a U- shaped gap in front of the wig, so the price is low.
U-part wigs is comfortable and breathable to wear, and its installation does not require glue.
U-part wigs can avoid the damage of glue to skin and hairline.
U-part wigs are low-maintenance wigs. You can save money and time when you maintain wigs.
U-part wigs is easy to install and remove and is suitable for lazy girls or working women.
U-part wigs can blend your natural hair with hair of wigs to create the unique natural hair look.
U-part wigs can protect your natural hair from environmental damages, such as hot sun and heavy wind and so on.
How to make a U-part wig?
1. Prepare your hair
You need to prepare your natural hair, braid them, and braid and coil the hair that you need to wear a U- shaped wig separately. All the other hairs are made into corn braids and neatly coiled on the top of the head.
2. Determine the size and location of your U-part
You need to determine the size and position of your U-part opening, according to the size of your braided hair and the position of your U-part in your hair cap.
3. Measured values
You need to measure the size of your head and the size of the U-part, and then make it easier for later production.
4. Fix the wig cap
You need to fix the wig cap on the Styrofoam wig head, and then draw the U-shaped pattern you need according to the measured value.
5. Sew hair bundles
You need to sew your wig bundle to the wig cap using hairpins and threads. You need to sew the first weft from one ear to the other along the top edge of the wig. It's best to wrap the thread around the needle twice and form a knot, which is conducive to fixing the weft. Then turn the wig cap inside out and sew the weft.
6. Continue sewing until it is finished
You can sew hair bundles continuously until all hair bundles are sewn.
7. Cut out the U-part pattern
You need to cut off your drawn U- shaped pattern according to the blank space left by your sewing, and the U-part opening appears.
8. Add a clip or comb to the wig
You can install an adjusting belt behind the wig and some clips and combs inside the wig, which can help you to fix your wig stably.
9. Design your U-part wig
Your U-part wigs is basically finished. You can design your wig in different shapes and colors that you like.
How to Wear U-part Wig?
1. Put on a wig
You have knitted your hair at the beginning. You can directly put your made wig on your head, and then adjust the wig with your hairpin comb and adjustment belt to make sure its position is correct and appropriate.
2. Mix your hair
You can untie your braided natural hair, and then let it mix with your natural hair through the U-part opening. You can also make your natural hairline with your natural hair. Let them complete the fusion, and you will get a very unique and natural hair look.
3. Apply the essence
You can apply some gloss essence to your hair. This can make your hair more shiny, beautiful and natural.
4. Trim your hairline
You can improve your hairline slightly, and excellent edge control will make your hair look more attractive and charming.
Hot-selling styles of U-part wigs in our hair shop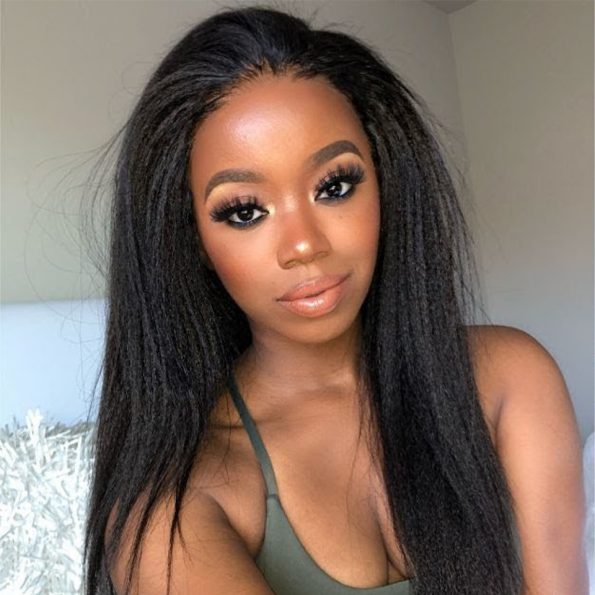 It is kinky straight hairstyle that suits the African American women very much. And you can also call it as Yaki hair wigs. The wig is no glue and no glue. And the price is low for our promotion. The length is from 10inch to 26inch with hair density 150%. The wig has a 2×4 size opening in the middle of wig cap. You can wear it by the 3combs inside and the adjustable belt behind the cap.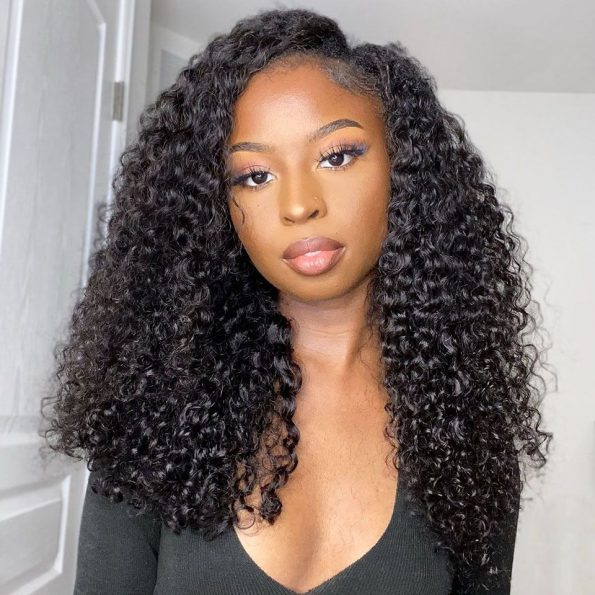 This is a human hair Jerry curly U-part wig. The hairstyle is so fashionable that you can be the most attractive women with the full and plump hair look. The wigs can be worn without glue that you can protect your hairline well. And this kind of U-part wigs is hard to make. You can buy the wigs to get the hair look directly. The length for your choices is 10~26inch. And the hair density is 150%, by which you can get the full hair.
Final reminder
Hope this blog can help you make your U-part wigs. And if you want to save time, you can also buy the 10A virgin hair U-part wigs in our hair shop as well. They are in promotion now with big discounts for your choices. Welcome to check the wigs and buy one in our hair shop. Any questions, pls come to our website and give us a consultation.