Pink color is always my favorite hair color, and also I've been receiving a lot of questions on how i got my hair to this pastel pink. So today I'm going to show you how i dyed my hair.
So first thing first, if you want to get the pink hair, you do not want to get a black hair to bleached it. Because most black hair is not easy to take the pink color. You may need to bleach it more than 2 or 3 times. So for the hair weave. You will need the #613 blonde color hair. That's more easy to dye it to pink.
And for the hair i used it's from Recool Hair. And my hair is Brazilian straight hair 613 color 3 bundles 20 22 24 with 18 frontal. All blonde color. This hair is the best quality I've ever got for 613 color. It's take color very quickly and stay soft after i dyed it. Shedding only a minimum and it's not a problem for me at all.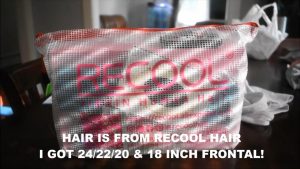 And for other products I've used is in below picture. Some conditioner or developer, mixing bowl and hair dye brush! The hair dye I'm using is the ion color brilliance in the color rose, I also used the Clairol pasteurize to make the pink a light color. Also need gloves.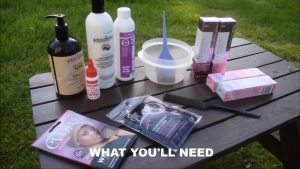 So now you can start to dye your hair, I've always start with the frontal. The first step is take some of the rose dye color into the mixing bowl.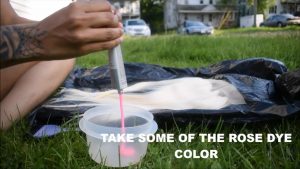 Then you need to mix the pasteurize and the dye together to get that light pink color.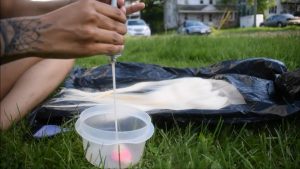 In section start applying the color to the frontal.
After you done with the frontal. The same way goes with the bundles. Repeat the same process to all of the bundles and leave the color on for 30 minutes.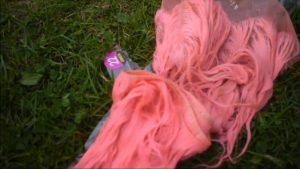 So here is how it looks after I've dyed it twice & freshly washed.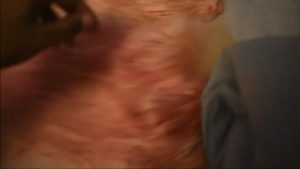 And this is the hair the next day, it came out the pastel pink i wanted!it feels so soft and take color perfectly. I do hope you can learned something from this tutorial!