Dyed wig is a new fashion wig fashion, color wig is very attractive, rich colors make your hair look more attractive. One of the most popular dyed wigs is the highlight wig. Do you know how to clean and maintain high-gloss wigs? Only good maintenance, your high-gloss wig can maintain a long time does not fade, maintain a natural charming appearance, can serve you longer. Today's blog will give you a clear understanding and understanding of high-gloss wig, and how to clean and maintain your high-gloss wig.
What are highlight wigs?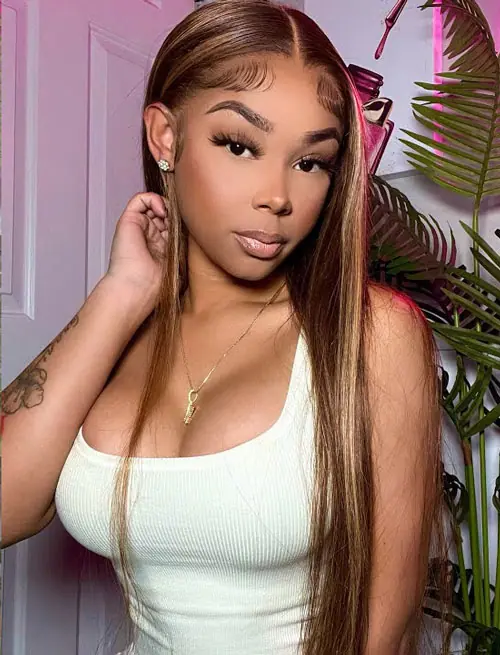 Hair that has been colored with at least two colors is said to have highlights. This is a new style that is gaining popularity and makes the entire head of hair look really stylish and attractive.
Why to choose highlight wigs?
If you directly highlight your natural hair, it will cause certain damage to your hair, and if you operate improperly, it will cause great damage to your natural hair, leading to dry, brittle and broken hair, etc.
If you choose a highlight wig, it can avoid modeling your natural hair, and you can directly get a very good highlight color hair look.
Why to choose human hair highlight wigs?
Human hair highlight wigs can make your hair look more natural and make your hair color prettier. And human hair can make your caring easier and make your lifespan of wigs last longer. Good care can make your human hair highlight wigs last at least 1 year.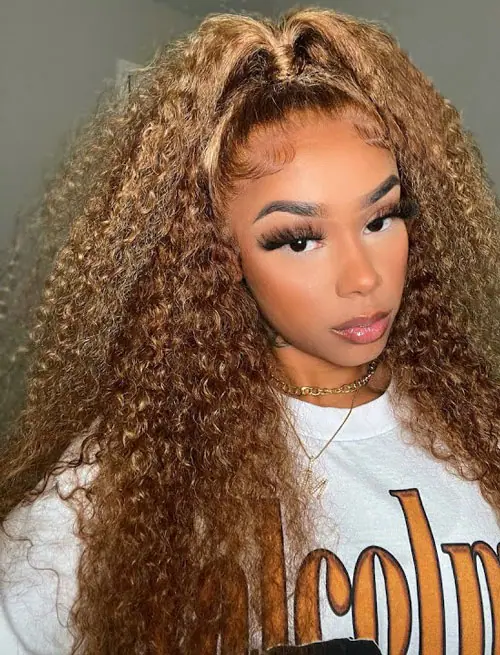 How to wash highlight human hair wigs?
1. Comb hair to remove knot
You can use a wide-toothed comb or finger to gently brush the high-gloss lace front wig from bottom to top to untie each knot, and if you encounter a stubborn knot, you can apply some essential oil to help remove the tangles. Disentangling helps with subsequent cleanings, prevents hair from breaking, ensures optimum cleaning and saves time.
2. Prepare enough warm water in advance
You should use warm or cold water instead of hot water to soak your hair. Hot water can easily discolor your highlights and cause hair fibers to expand, leading to excessive loss of hair nutrients. Warm water, on the other hand, allows the shampoo and conditioner to penetrate and clean the hair better.
3. Apply shampoo
After you soak the wig, pour some sulfate-free shampoo on your hand and massage gently to clean the dirt from your hair. Remember to use a sulfate-free shampoo. Routine shampooing water will remove the color from the hair and cause it to start to oxidize. Instead, the sulfate-free shampoo cleans hair more gently and protects the hair.
4. Wash the shampoo thoroughly
You should rinse the high-gloss wig with warm water from the root to the tip until all the shampoo has washed out completely. You can squeeze hair to remove excess moisture.
5. Apply conditioner on the high-gloss wig
You need to apply conditioner to your high-gloss wig, let it stand for a few minutes, and then wash it. Do not apply conditioner to the root of the wig as it may loosen the knot on the wig and cause it to fall off.
6. Rinse the wig conditioner with cold water
You should use cold water to thoroughly remove the conditioner from the high-gloss wig, which seals the moisture in the conditioner and the cuticle, prevents hair color from fading and adds shine. After a thorough rinse, squeeze the tow to remove excess moisture.
7. Towel water absorption
You can place the hair from the high-gloss lace front wig on a towel and gently hold and squeeze it with the towel, from the root to the tip. Just use a towel to gently absorb any excess moisture.
8. Air drying
Finally, you should naturally air dry your wig, which is the best way to do it. You can also use a hot blower for quick drying, but be careful to use heat protection.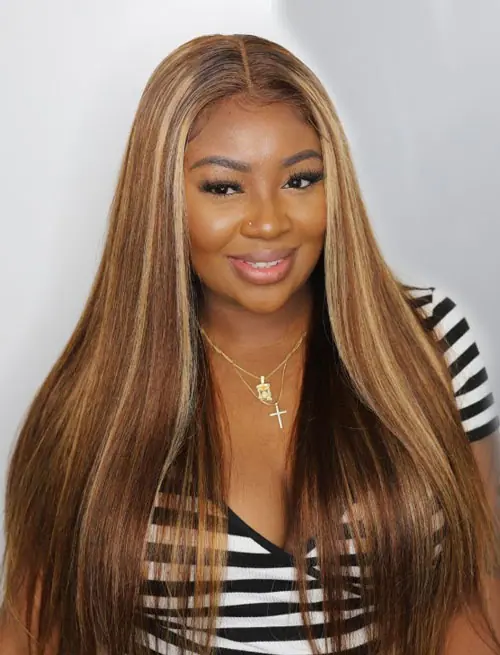 How to maintain the highlight wigs?
1. Reduce the frequency of washing hair
When you wash your hair, you will not only wash away the natural oils that moisten and refresh your hair, but also wash a little bit of the hair dye.
To keep the hair longer, you'd better avoid washing it every day and try washing the honey blonde highlight wig 2-3 times a week.
2. Use of thermal protectants
You need to be careful about high temperature damage to the hair. High temperature can take away the color and moisture of hair, causing damage to the hair. So, you should reduce the use of heat-setting tools. If it has to be used, in order to prevent these problems when using hot tools, you should use some hot protective agent spray before drying and shaping. The thermal protectant spray helps reduce moisture loss from the inside of the hair and protects the hair from moisture after heat setting, which will help maintain the color of the hair.
3. Stay away from UV, chlorine, and salt water
Ultraviolet light, chlorine, and salt water may cause your hair to change color, darken, dry, and even lose luster.
You should take some measures to protect your hair from chlorine and salt water when you are swimming, such as wearing a hat or applying conditioner to your hair.
When you go out in the hot sun, take care to put on some UV-blocking hat or umbrella to protect your colorful wig. You should also take care to avoid and reduce the use of some ultraviolet tools in your life.
4. Sleep protection
You should take care to protect your wig from excessive friction when you are sleeping. You can choose a silk nightcap with a smooth texture, which allows the hair to slide over without excessive friction, preventing hair from drying, tangling and curling.
5. Reducing the wearing time of highlight wigs
You should not wear the same wig for a long time, the wig needs rest and maintenance to better provide you with a natural and beautiful appearance. You can prepare multiple wigs and then use alternate methods to keep each one in good condition.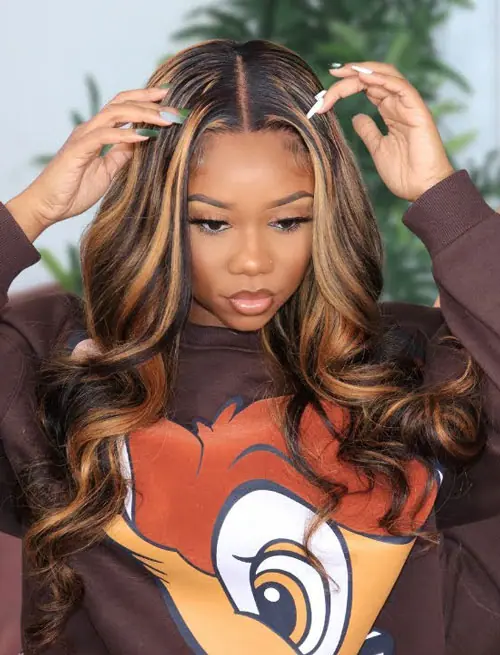 Final thoughts
Hopefully you can learn how to properly and effectively maintain your highlight color wigs. If you need to buy a high-quality highlight wig, you can choose Recool Hair which has the Highlight Wigs Made of 100% Virgin Human hair.