14inch wig is a common wig length, which is usually in stock in wig shops. So how long is 14 Inch for a wig? Why and how can I choose 14inch wig? Where can I buy 14inch Wig? These queries will be addressed in today's blog post.
What is a 14inch wig?
14inch refers to the length of hair and the 14inch wig is neither too long nor too short. The 14inch wig is about 35cm in length, which is medium length. Under normal circumstances, after wearing it, it will reach to the shoulder. 14inch curly hair is usually 2-3 cm (about 1 inch) shorter than 14inch straight hair.
How to measure a 14inch wig?
You need a ruler and a wig. Before you measure, you need to make sure that the wig is straight, from the root to the tip, otherwise the measurement result will be inaccurate.
Why should you choose a 14inch wig?
1. Unique appearance
14inch wig is shoulder length wig. You can get shoulder length's hair styling. A suitable wig length will give you the best natural appearance.
2. Common
14inch wig is a very common and universal hair length. Every store will make 14inch wig, which is easy to buy.
3. Cheap
The length of a wig plays a vital role in its price. The longer the wig, the more expensive it will be. 1inchwig is a medium-length wig that is not long. It is inexpensive and can save you a lot of budgets.
Compared with longer wigs, 14inch wig is easier to maintain, simpler to install and saves more time.
4. Not easy to tangle
14inch wigs don't tangle easily. Long wigs are easy to tangle because of their length. However, 14inch wig is not very long, and its entanglement resistance is very good.
5. Any lifestyle
There are many factors to consider when buying a wig. One of the factors is your lifestyle.
If you are an active person who often exercises and perspires, then you can choose a medium-length or shorter wig, and 14inch wig is also a good choice.
6. Simple nursing
You don't need to wash your hair frequently. The longer your hair is, the easier it is to get dirt. 14inch wig doesn't need to wash your hair frequently.
How to buy a 14inch wig?
1. The quality of the hair
You should buy a 14inch human hair wig, which is much better than a synthetic hair 14inch wig. The Human hair wig is durable, looks more natural, lasts longer, and can be permed or bleached for easy redesign.
2. The size of the head type
The 14inch wig you buy should match your head and be neither loose nor tight, ensuring stability and comfort and looking more natural.
3. Different styles
14inch wigs have different styles, such as straight 14inch wigs, curly hair 14inch wigs, kinky straight 14inch wigs and bangs 14inch wigs and so on. You are free to choose according to the type you like.
4. Different colors
The 14inch wigs also come in different colors, including brown, burgundy, red, black, gold and more. You can choose to match the color of your skin wig to make the appearance more natural. If you're new, you can start with the natural black wig and try other colors later.
5. Budget-friendly
Generally speaking, the longer the hair, the more expensive the wig. 14inch wig is a less expensive option, less expensive and a great length to the shoulders.
6. Your lifestyle
At the same density, the longer the hair, the heavier the hair. If you need lightweight wigs, you should choose short or medium length wigs such as the 14inch wig. If you need to wear a wig for some important occasions, long hair wig would be a better choice, more design possibilities and eye-catching appearance.
7. Density
The most suitable density for a 14inch length wig is 150%. If you want a fuller wig look or density, you need to choose a longer wig.
8. Feature
14inch wig is usually more suitable for oval face, round face, heart-shaped face, etc., if you are this kind of face, you can rest assured to buy. 14inch curly hair wig best for heart-shaped face.
9. Height
If you are tall and the 14inch wig is not for you, you need a longer wig to match your height and look natural overall
If you are very low, the 14inch wig is not suitable for you, because it will make you appear lower, you need a shorter wig to match yourself.
10. Maintain
14inch wigs are less maintainable than other longer wigs. You'll save more time and energy using a 14inch wig.
Some popular 14inch wigs in our hair shop
They are all made by 100 % human virgin hair in 10A.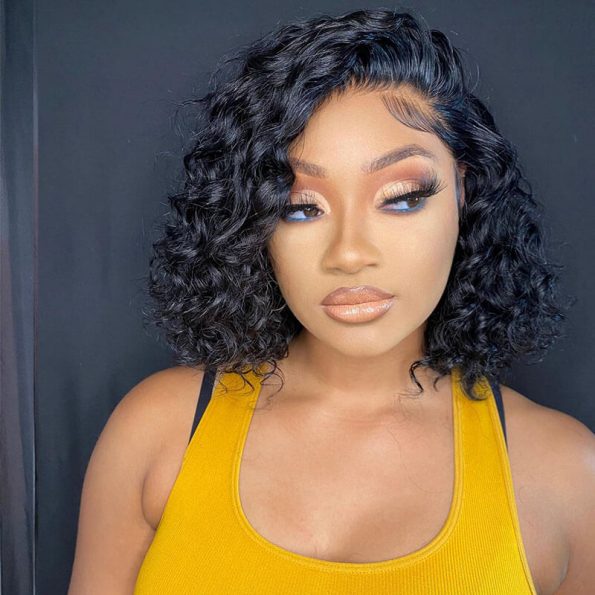 The 14-inch water wave wig is popular with most customers. Water wave hairstyle can give you a very plump and natural curly look, which is very cool and sexy. curls of this wig can last for a long time.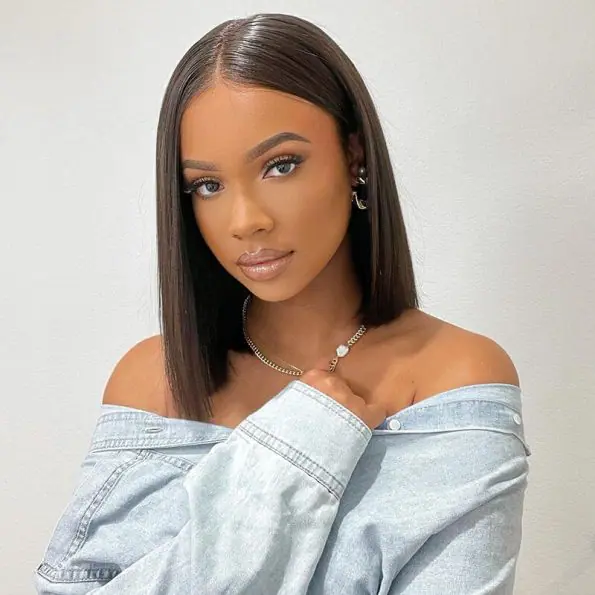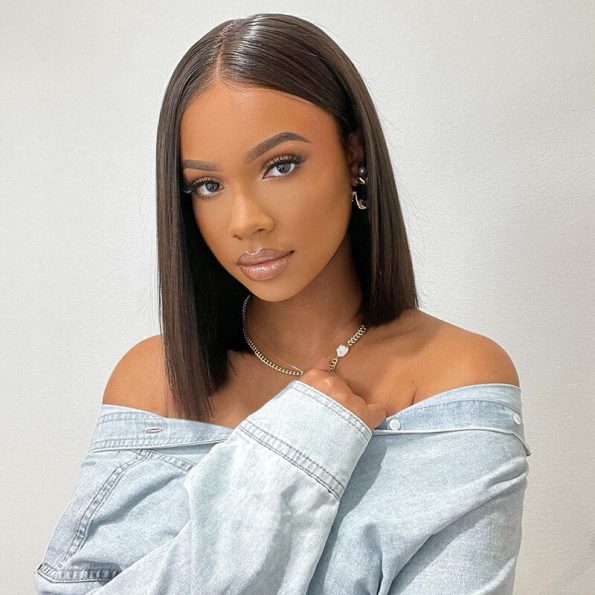 The 14inch bob straight wig has HD lace for your best lace quality, which can give you the most natural hair look. And you can wear this wig without glue, which can protect your hair wig well.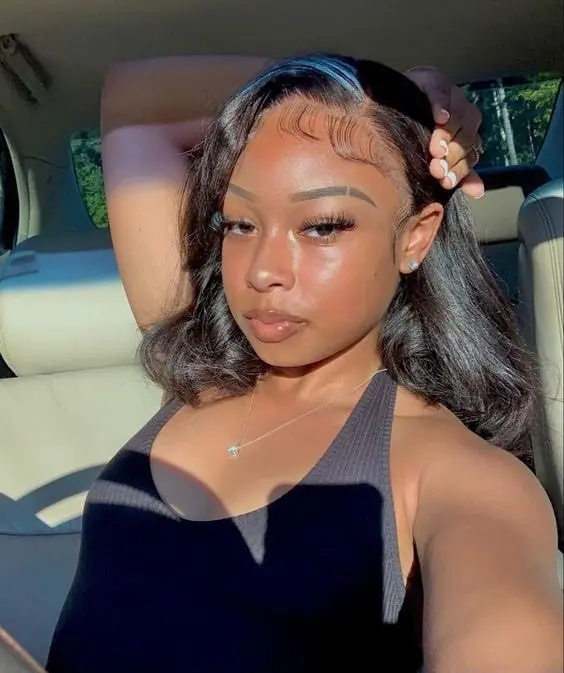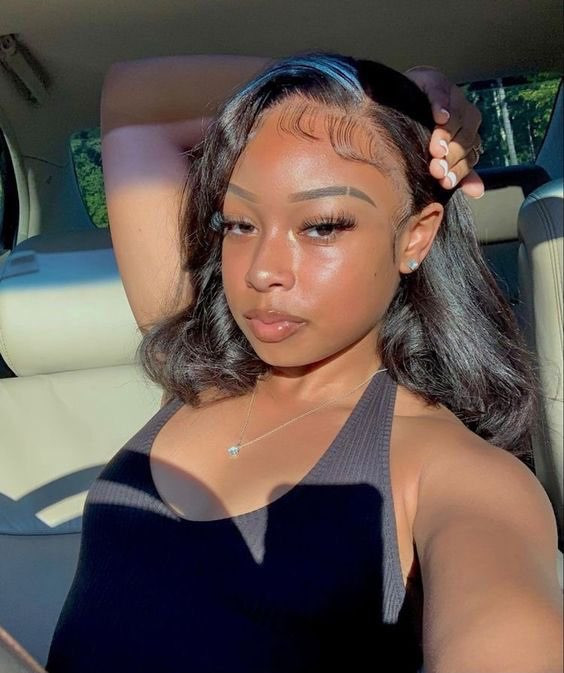 The 14inch wavy bob wig are so popular for its fashionable style. You will be eye-catching if you wear on this wig. And the lace is working for black women. The style is unique and the price is discounted. Why not make an order here?