Do you want to grow 12 inches of hair in one day? Invest on a lengthy wig. Want to channel the 80s back in time? Pick up a curly wig. There are countless wig styles, so if you enjoy changing up your hairstyle with the seasons, you won't ever get bored. Finding the ideal color wig, however, is always the most difficult step in the wig purchasing process, regardless of the length or style you select.
Nowadays, anyone is allowed to dye their hair whichever they like, but it doesn't mean they necessarily should. We've put up a guide to assist you, concentrating on how to select the perfect wig color for you and why. Choosing a pleasing hue is the greatest method to ensure an overall lovely appearance, and accomplishing so involves more work than simply holding up a color ring to your face in the mirror.
I. Alter the color of your hair.
Every cosmetologist worth their style charge will advise you to choose a new hair color that is only two shades lighter or darker than your original hair color. Everyone who dyes their hair or wears a wig is subject to this restriction. The chances of you being dissatisfied with your purchase increase if you choose a significantly different new hue. Making sure you enjoy the human hair wig you spend a lot of money on is essential, especially if you do.
When making major colour changes, novice wig buyers should take extra precautions. Prior to attempting color experimentation, it is more crucial to select a comfy wig in a style you enjoy. Get two wigs: one that is closer to your natural hue and one that is the new, dramatic color if you want try a striking color (good for you!).
If you decide fire engine red wasn't the best decision after all, you will still have something to wear.
II. Why is it important to pick the proper color wig?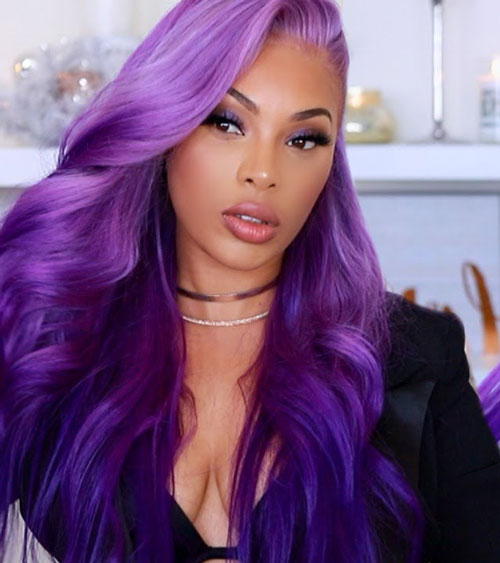 In addition to being useful, wigs are a simple method to alter your appearance. Wigs are the ideal choice if you want to test a new color, style, or just want to experiment before altering your hair. Whether you're a "cosplayer" or seeking for a wig for regular use, you need be cautious while picking the proper wig color.
#1. Light and hair color go along quite well.
Light and color are inextricably linked in nature. Every type of light reflection will produce color. Online wig sales should be noted since there will be some color variations. The visual impact will vary depending on the lighting, color, hair dying method, and other variables, making wigs of the same hue appear different. In the same way as real hair does, wigs appear brighter and more detailed on the exterior when the sun is directly above and darker and less textured when the light is dim or at night.
#2. Skin tone and hair color both have a significant impact.
Wigs are frequently used by people to make their hair seem wholesome, full, and thick. Other than that, even if people are aware of it, your wig shouldn't make you appear awful. It is simple for others to see that some people are wearing wigs because they use wigs with exaggerated hues that are drastically different from their real hair color. The selection of color is therefore very important.
Undertones are shades that are lighter than your primary skin tone and are present in both your skin and hair. It's crucial to select a hair colour that complements your skin tone. Because skin-tone-neutral or slightly lighter-than-skin-tone hair colors can brighten your complexion and make you appear younger and more lively. It might be challenging to keep hair that looks "faded" and doesn't match your skin tone for a long time. Whether you prefer a more natural appearance or something more striking will determine the best color for you. The optimal hue depends on a variety of factors, including each person's specific mix of skin tone and eye color.
III. Balancing the hue of your skin and hair.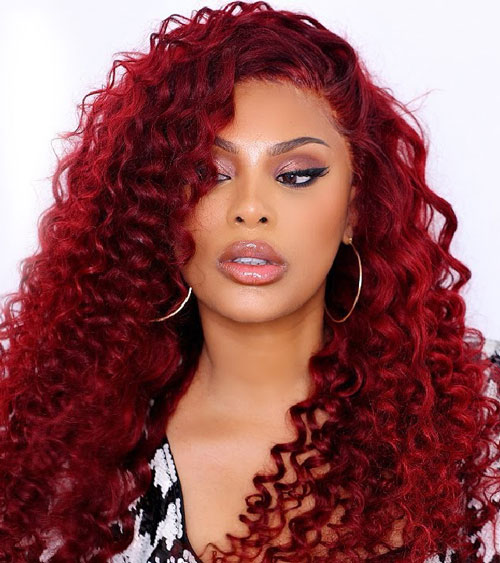 #1. Choose a color that looks well on you.
While choosing a new hair color, skin tone is the most crucial factor. Using the wrong color choice might result in a washed-out appearance or a harsh, exaggerated image. You must first identify which color family your skin tone belongs to in order to locate a wig color that complements it. Warm tones and cold tones are the two primary categories. Go to the bathroom and switch on all the lights to determine which family your skin tone belongs to. Then, wash your face well to remove all of your makeup.
Contrary to popular belief, you should color match to your skin tone rather than your foundation. Get some solid-colored t-shirts in a few various shades of green, red, yellow, and blue next. Hold each shirt up to your face individually while standing in front of your mirror.
In comparison to the blue and green shirts, does your skin seem better? If it does, then your skin hue is cold.
Compared to the red and yellow shirts, does your skin seem better? If it does, then the hue of your skin is warm.
After doing the t-shirt test, are you still unsure? The veins on your wrist should be observed. Blue or purple veins are more common in persons with cold skin tones, whereas greenish veins are more common in those with warm skin tones.
#2. For warm-toned complexion, choose warm hair colors.
A cool-toned hue should be chosen to match warm-toned complexion on people. Consider cold browns, ashy blondes, and brassy reds. You'll seem washed out or lifeless if you choose with a warm hue, like golden blonde.
Choose a pale blonde or platinum tint if your complexion is pale warm toned. On these folks, silvery blonde hues seem very lovely. Choose a deep black-brown or fawn-colored light brown if you like a darker shade of brunette.
If you have warm-toned medium to dark complexion, choose a hair color that is two to three shades lighter or darker than your natural hair color. You'll seem overall faded if your hair color and skin tone are too similar.
#3. Hair color choices for cool-toned skin.
Contrary to the advice of their warm-toned pals, those with cool complexion should choose a rich, warm hair color. Look for adjectives like "warm, "honey," or "chocolate" in the beauty supply shop or on your wig's color ring.
Avoid adjectives like "champagne," platinum", or "silvery" if your complexion is pale and cool toned. Use bright orange reds, rich browns, or beachy golden blonde instead. Use a deep, chocolate-colored lipstick if your complexion tone is medium to dark and chilly. Avoid using harsh black colors or choose clothing with warm accents to give your outfit more dimension.
Choose a wig colour that complements your eyes.
IV. Let your eyes stand out.
No matter what colour your eyes are naturally, making them stand out is what we all aim to do. It's crucial to pick a wig color that contrasts with your eyes, just like it is with skin tones. Choose a cooler toned wig for persons with warm color eyes, such as those that are green-blue, golden brown, yellow-green, turquoise, or hazel with gold or brown flecks. Warm toned wigs are best for those with cool eyes, such as ice blue, hazel with white, gray-blue, black-brown, dark blue, deep brown, blue flecks, or grey.
Go with the colour you selected based on your skin tone instead if this disagrees with it. It's more crucial to seem unified overall than it is to avoid looking washed out. Moreover, you can always make your eyes shine out with the correct cosmetics.
V. Selecting a hair color appropriate for your time of life.
The lighter the color of our hair, the more attractive it is as we age.
Paler skin tones are given a softer, more natural appearance by lighter, warmer hues. Even though such colours are frequently the most attractive, many individuals are reluctant to age in them.
Remember that your skin may start to appear paler than normal if you are receiving chemotherapy treatments as well. Selecting a wig two or three shades lighter than your actual hue is a simple approach to make up for that.
A dark brown tone, for instance, might be an excellent supplementary color if your hair is originally pitch black.
VI. Choosing a hair color will not fade easily.
Maybe avoid choosing a bright red or black wig if you reside in the desert area.
Women who live in sunny regions are already aware of this, but it's still important to mention: wigs and dyed hair fade in the sun, and the richest, darkest hues fade the most quickly.
A human hair wig that can be re-dyed or a lighter shade that won't fade as rapidly should be selected if you plan to purchase a new wig more frequently because of your location in an extremely sunny area.
VII. Think about the occasion you are in.
Whether you want a wig for business and professional use, a crazy wig for a night out on the town, or a fun, bright highlight to wear whenever the mood strikes will depend on the occasion and the color of the wig. You may always buy a good wig that matches your natural hair colour if you don't want to make too many alterations. Use a light-colored wig if you want a distinctive style but don't want to go overboard because deeper tones may eventually overpower your face and give you a faded, pale appearance.
VIII. Keep in mind that the weather might alter your hair.
Although hot-weather residents are well aware of this, it's nevertheless vital to state: heat can damage your wig, and too much sun exposure can fade your hair colour since UV rays weaken the chemical bonds in coloured hair. Under the sun, wigs and coloured hair will fade, but the most intensely dark hues will do so most quickly.
Choose human hair wigs that can be re-dyed if you live in a sunny area and intend to replace your wigs more frequently. Instead, go for lighter tones that won't fade as rapidly as dark hair.
Have trouble deciding on a wig's color? It's all right!
Just keep in mind that you are only purchasing a wig—not permanently coloring your hair! When you wish, you may get a new one (or color a human hair wig again).
Email us for more assistance if you need it in deciding on the ideal color for you.
Try out various wig colors; just remember to have fun with it. A possibility to be a new you exist with a new color!
Related Articles
What Is The Best Colored Wig For Beginner