You may experiment with various hairstyles, length, texture, density, and colors while wearing a wig without endangering your own natural hair. But, putting on a wig for the first time might be frightening. No matter if it is a human hair wig or a synthetic wig, you may cut the wig to seem more natural when you acquire a new one. For a different appearance, you may, for example, shorten the wig, add layers, or make bangs.
There are a few straightforward techniques to trim and style your wig at home, step-by-step directions, this is your comprehensive guide to learning how to trim a wig by yourself as a novice. You'll have all the knowledge need to cut a wig with confidence after reading this tutorial.
Choose the ideal wig for you.
You won't get the desired results no matter how well you prepare and apply a wig if it does not fit you well. Determining which wig is ideal for you is the first step, then. The choice of a wig should take into account three factors.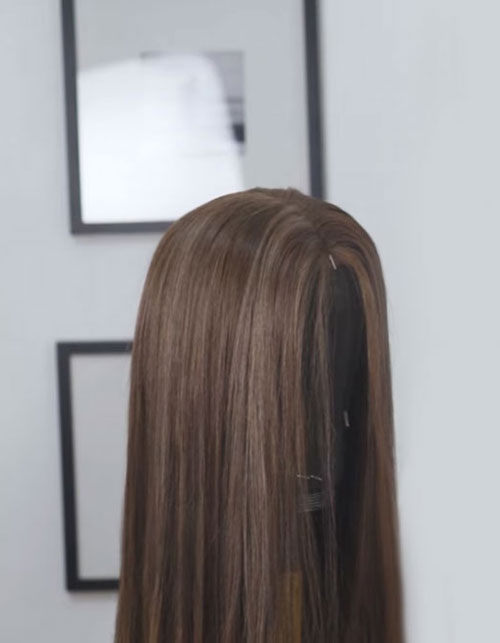 1. Style of the wig.
You must first choose your chosen hairstyle, including the length, cut, and texture. You won't have any problem selecting a wig that suits your own style, face shape, and price range because there are so many wig types to choose from, including short and curly, long and straight, and everything in between.
2. Hair texture.
The next choice is whether you want a wig made of human hair or synthetic hair. Since that synthetic hair doesn't last as long or appear as natural as real hair, synthetic wigs are substantially less expensive than human hair wigs. Human hair wigs, on the other hand, endure a very long time and appear remarkably natural—almost identical to the hair that naturally grows from your scalp.
3. Design of the wig cap.
The wig's cap style is an additional crucial factor to take into account. How you put on a wig is greatly influenced by the cap design. Wig caps come in three different styles that are quite popular.
4. Lace front wigs.
Because they seem the most natural with the least effort, lace front wigs are perhaps the ideal choice for novices who have never worn a wig before. This kind of wig features a transparent lace front that mimics a natural hairline. Also, it is the best solution for people who are losing hair around their front hairline. Get familiar with lace front wig use.
5. Full lace wigs.
Full lace wigs are exactly what their name implies—they have a lace cap. Because you may separate it virtually anywhere, some people enjoy this kind of wig. As a result, you can wear your hair in pigtails, high or low ponytails, side braids, or any other style you choose. A full lace wig may be cared for just like your real hair.
6. 360 lace wigs.
In contrast to lace front wigs, 360 lace wigs have lace that wraps all the way around the cap. This provides the front and rear of your wig a natural hairline.
A 360 lace wig allows you to separate your hair anywhere along the lace, making it ideal for side braids, low ponytails, and high ponytails.
Advantages of wig cutting.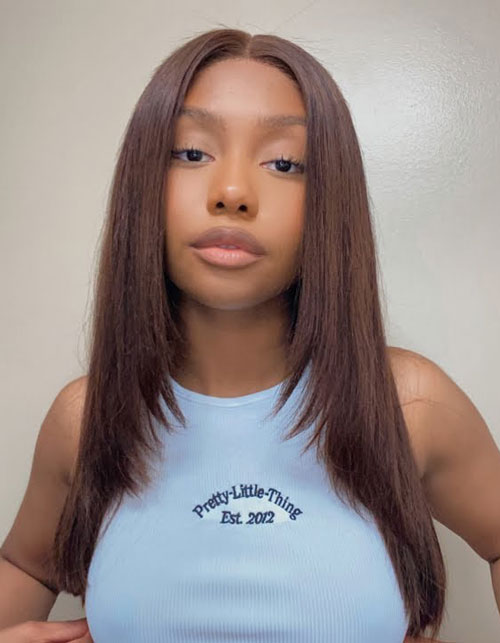 A wig is often cut or trimmed. There are several advantages:
1. Enhance your sense of style.
You may create a style that perfectly suits your face shape for the most alluring appearance conceivable with a subtle trim.
2. Trim or add bangs.
The original fringe wigs are usually too long for your face and need a little trimming to look proper.
3. Repair damaged hair.
Because wearing your wig for long time will damage it. A quick trim may restore your wig's appearance to fresh when the ends begin to separate.
4. Make your entire hair more natural.
Actual hair to give you a more natural appearance, wigs can be thinned or cut to seem more like your own hair. Getting your wig cut will enable your topper style to merge in with your natural hair, which is especially true for toppers.
Wig cut tools.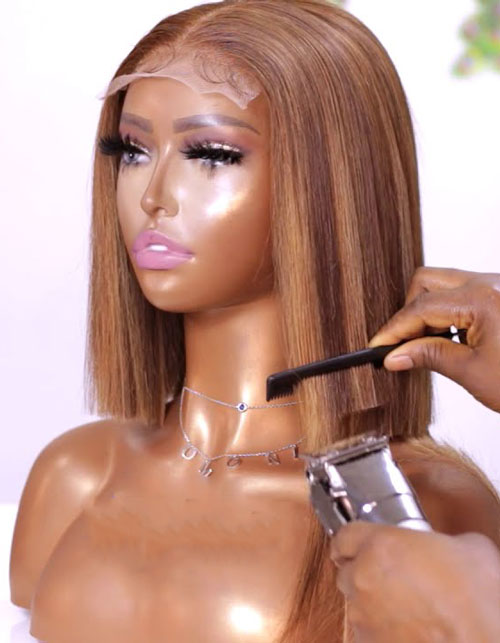 Before you cut your wig, make sure you have the necessary equipment on hand:
T-pins with a mannequin head (Good choice for new user).
Measurement tape.
White cosmetic pencil.
Large hair clips.
Ratty comb.
Razor, brow shapers, or scissors.
Water or foaming mousse.
The process of cutting a wig at home.
For the record, if your wig is good enough, we do not suggest you try to cut it by yourself. But, if you're dare to try new things or have already cut a wig (or your own hair) successfully, we have some advice for you.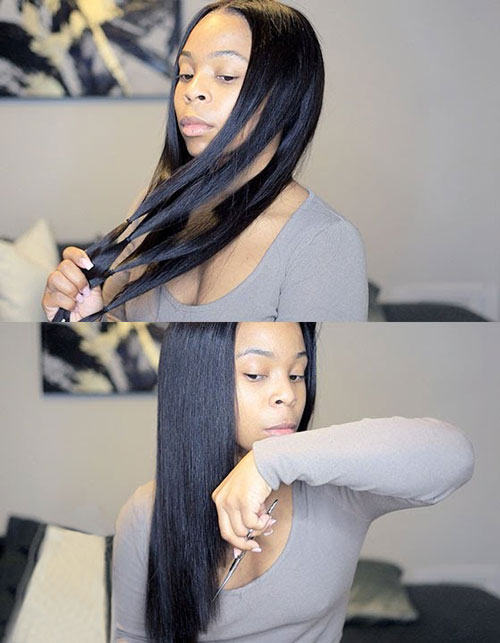 1. Just make minor adjustments.
The less work your wig demands, the better. In particular, if you are trimming your wig, this is true. Start with a wig that already complies with the requirements and make little adjustments like trimming the fringe, reducing the volume, or adding delicate layers around the face.
2. Get a good sharp hair-cutting scissors.
For a flawless cut, use razor-sharp hair-cutting scissors. But be aware that if you use artificial wig, the synthetic hair's plastic fibers could damage the blades faster than natural hair.
3. Trim the back of the wig while it's on a wig stand.
While you might be tempted to cut your wig while it's on your head, but trust me, put the wig on the wig stand then trim the wig will have much more natural-looking results.
4. Put on the wig and trim the front while wearing it.
Trim the fringe or face-framing layers while wearing the wig. By doing this, you can anticipate how your hair will naturally fall around your chin, forehead, and temples to properly frame your face.
5. Divide your hair into the desired part.
When cutting your hair, split it into the proper section if your wig has a hand-tied or monofilament top. Once the wig has been styled, it will have a good appearance as a result.
6. Detangle the wig.
Detangle any potentially knotted hair and smooth it out using a wig comb or wig brush before cutting to ensure a neat trim. Think about also applying the detangling spray.
7. Slightly slant your scissors.
While cutting your wig, tilt your scissors upward at a 45-degree angle if you want a blunt look. This will not only reduce some of the "heaviness" at the wig's base but also give the wig a more natural appearance.
8. Split apart your wig.
The wig should be divided into portions of 1-2″ with a rattail comb, and each section should be held in place with a corresponding hair clip. Smooth the sections with a wig brush or wig comb after you've divided the hair, not after you've combed it. Use the previous cut as a reference when cutting the pieces to achieve equal lines.
9. Make a smaller cut than you believe is necessary.
Slowly trim the desired length up until it is reached. But keep in mind that once you've shaved some of your hair off, it's gone forever.
10. Always have an image to refer to on hand.
For reference and guidance, keep a picture of the ideal haircut close at hand.
11. Check again.
Use your wig brush to brush your entire wig once you've finished trimming all the pieces. The best way to find and fix any loose hairs or little bits of uneven hair is to use this method.
12. Cutting straight hair is simpler.
If you have human hair wig, it can be straightened with heat, do so before trimming. If your wig is made of typical synthetic hair and is curly or wavy, exercise extra caution when cutting. Consider go found a hairdresser instead.
How should wig bangs be cut?
One of the most frequent wig customizations is cutting in or trimming bangs. If your wig already includes bangs, the fringe may need to be cut shorter to properly fit your face. A hairpiece without a fringe may very simply be given bangs. As usual, we advise seeing a professional salon to get your bangs cut. Yet, it is rather simple to get started if you are determined to cut your own bangs: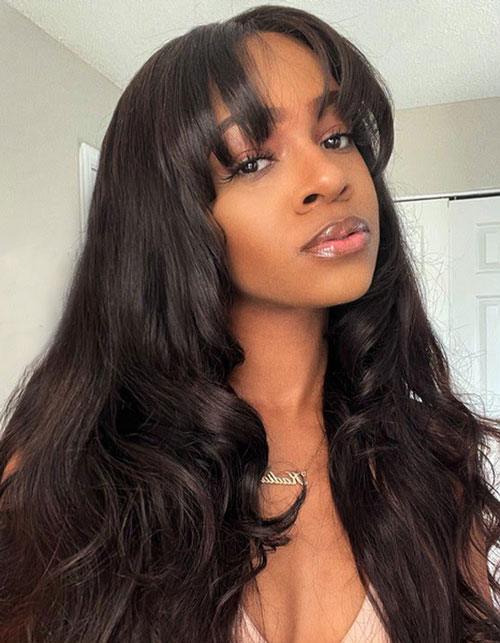 1. Begin with clean, dry hair.
You risk cutting your bangs too short by accident if you start with damp or tangled hair since it will distort the hair.
2. Wear your wig.
While cutting bangs, you should wear your wig to ensure that they are the proper length for your face.
3. To create a triangle.
Your bangs (or the hair you wish to cut into bangs) should be separated from the rest of your hair and pulled toward the front of the face. At the hair portion, a triangle shape should be created.
4. Confirm the hair length.
As you wish to trim the bangs, hold the hair between your fingers at that length. The bangs may be worn longer than you anticipate (If they wind up being too long, you can simply go back and trim additional length).
5. Pull the hair straight.
Pull your hair straight in front of your face while holding it between your fingers.
6. Trim the bangs at an angle.
Cut the bangs beginning in the centre, angling your scissors at a 45-degree angle.
How should I cut the layers on a wig?
One of the most flattering hairstyles that females like is layered hair. It's time to fetch your thinning shears and start cutting if you want to add layers and texture. What is the best way to cut layer on a wig? We are happy to share the step-by-step video instruction with you below.
Cut Layers In Your Wigs Like a PRO! | STEP BY STEP ft. RECOOL HAIR
In conclusion.
You've probably cut your wig before. What happened to it? Don't worry if you're not quite sure in your wig-cutting abilities—we can assist! Please tell us in the comments! If you are skilled in cutting wigs, feel free to provide your best advice in the section below.
Related Articles
How To Do Edges for Beginners Step By Step